Interview With Adidas Ambassador Ellyse Perry
Exclusive: Ellyse Perry For Adidas S/S '13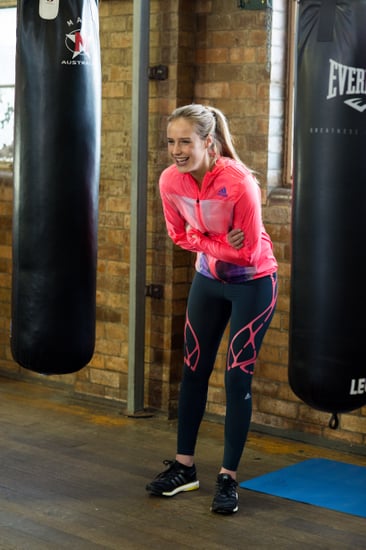 At just 22 years old, she plays soccer and cricket for Australia. We know — gifted. On board as an ambassador for Adidas' Spring/Summer 2013 collection, we sat down with the very eloquent teenage prodigy, Ellyse Perry, while on-set for the campaign shoot.
What it's been like growing up as a professional athlete, while your friends indulge in normal teenage behaviour?
"Truly for me, the biggest thing is that I don't feel like I missed out on any of that, in the sense that I went to school and finished school and stayed in contact with all of my friends. I go to uni now so I always stayed in contact, and had the opportunity to interact with my peers in all different sorts of things, not just with the ones who played sport."
Keep reading. . .
What are you studying at uni?
"I am doing a degree in economics and social sciences."
That seems very different to the sports-side of your life. Was that on purpose?
"Yeah, it's something I have always loved the opportunity to do — especially when we're away on tour — to open up a uni book and read a few things so far away and different from sport can be nice in a lot of ways. It is also good to still use my brain a little bit [laughs]."
So you're an ambassador for Adidas Spring/Summer 2013, how did that come about?
"Fortunately I have been working with Adidas for a couple of years now, and with the sports I play, Adidas have quite a key role in both of those sports around the world, so it was really nice to have the opportunity to use the products and work with them on different things around both cricket and soccer. From my point of view, it has been a really fantastic space to be in with them and certainly, its gear is globally known for its quality and a leader in innovation in sport."
It's so crazy to think that someone can excel to such an elite level in two sports... Do you have a favourite?
"I guess going back, I started playing both at about the same time when I was around six years old, and not only cricket and soccer, I had a go at a lot of other sports as [sport] has always been a big part of my family, both my parents are really active and my older brother as well, so we just use to do it because we really enjoyed it. It was a fantastic opportunity to get out and run around the neighbourhood after school, or on the weekend to go out as a family. So I suppose it's something that just really resinated with me as a child because I really enjoyed it.
"I think with cricket and soccer, it just inadvertently led me down that path because every opportunity I had to try out for a new team or play at a different level, I jumped at, so that is what sort of led me to where I am."
You must have been so busy growing up, to be training at such an elite level, and then doubling that!
"Yes, well I certainly have to acknowledge the incredible support that I've had not only from both cricket and soccer, but my family and friends and the number of hours my parents spent taking me to different places and encouraging and supporting me in different endeavours. It's truly wonderful.
"I think too, when it is something that you have a true passion for and you truly enjoy it, it is never really a chore, and it is never really effort. I don't think you take a lot of notice of how much time you're investing in something."
The Adidas Spring/Summer 2013 collection hits stores in July.