Interview With Kim Kardashian's Trainer Melissa Alcantara
No Wonder Kim K Looks Amazing, Her Trainer Is Nothing Short of Inspiring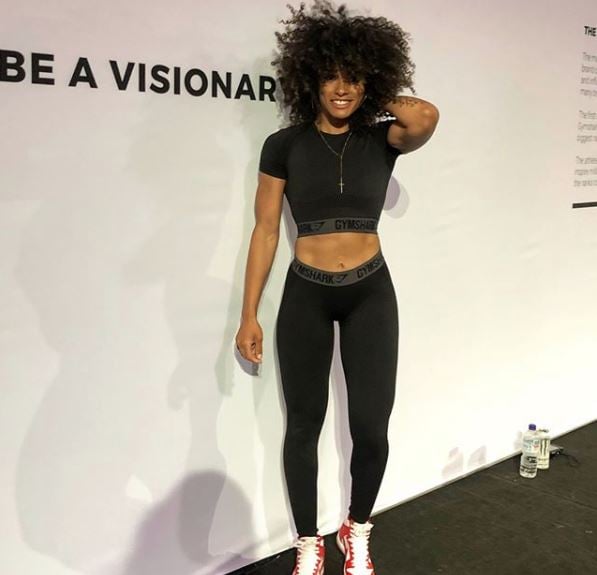 Meet Mel Alcantara, she's not the kind of trainer that will leave you feeling sore with a side of resentment, rather, she'll make you feel sore (granted, she is a PT after all) but so f*cking amazing you'll be running to every session with complete motivation. Her attitude to exercise is a huge welcome change and one we felt instantly over a friendly email chat — anyone who can inspire us to actually want to hit the gym over email is someone worth knowing, no wonder Kim Kardashian is a fan.
We spoke to Mel about gender inequality in the fitness industry (it's a thing, and it needs to stop!), confidence in the weight's room (more like, lack thereof) and Kim K's exercise routine (because of course, have you seen Kim lately?) and through every answer we were inspired — this girl's definitely got a gift!
POPSUGAR Australia: Confidence in the gym is something that can be harder to come by for women who are new to that kind of exercise. What do you like to say to people who are struggling?
Mel Alcantara: I tell them the truth. You will feel uncomfortable, you will feel like an idiot, like you have absolutely no idea what you're doing and most likely you don't. But, no one ever started knowing exactly what they were doing. Everyone was a beginner once, you learn by making mistakes and correcting those mistakes, and feeling your body, in time you will learn. Who cares about the people staring at you? You are there for one reason, and that's not to impress. You are there to create the best version of yourself.
PS: In the weight's room of a gym, why do you think there is a lack of female confidence?
MA: I remember the days of feeling intimidated by the gym and especially the weights in the gym. I always walked in and thought to myself, "Let me go straight to the treadmill or elliptical where I belong!". Women don't have confidence in the gym because they were told all their life they're not good enough, they're not pretty enough, they're not strong enough! Constantly being judged by men and more so by other women.
"The first time you step into the gym, especially with other trainers, you can gauge the level of mild disregard they give you."
PS: Have you ever had to deal with that kind of gender inequality throughout your time as a trainer?
MA: The first time you step into the gym, especially with other trainers, you can gauge the level of mild disregard they give you. Part of it is being a woman, but also the fact that they haven't seen your work, they haven't seen your dedication, the care you give to your athletes (yes, my peeps are athletes and I treat them as such) and your skill level as a trainer.
Anybody can say, "Good job, you got one more rep!", but not everyone can inspire people to do better every single training session (we don't work out, we train). Ultimately, I bring the fire, dedication and skill to the gym, so the other trainers respect and appreciate it and recognise me as such. The best way to overcome any sort of inequality in the gym or otherwise is to outwork and out-talent those who honestly waste too much time worrying about and looking at other people.
PS: In your opinion, what makes the perfect client to train?

MA: The one that shows up, that makes no excuses, the one that seeks a lifestyle change, a level progression, the hungry ones . . . anybody who wants it, like, really wants it, is the perfect athlete to train. If you think that a workout is going to make the difference but you're neglecting your nutrition, and not actively recovering by nourishing your body and your mind then you are not training, you're just "working out." The best client is the one that has a goal that's slightly unreachable so that they'll work hard all the time, but close enough that they can have takeaways within every single training session.
PS: What advice do you have for anyone who is plateauing? How to you encourage your clients to push through?
MA: In short: Dropsets! Dropsets are a well-known technique to get out of training plateaus, you can see an example on my Instagram. It's very common for me to actually train with my athletes rather than just train them, I fuel their workout and they fuel my desire to push through together and by doing so we can smash right through any exercise plateau. Finally, the human body will in time get used to any routine. So, we switch the training roughly every 12 weeks and modify along the way based on progress and goals.
"I love Kim, she's my spirit animal woman and she can outwork and outsmart anybody."
PS: Who are your favourite celebrities to train?
MA: Haha! You know I love Kim, she's my spirit animal woman and she can outwork and outsmart anybody, celebrity or otherwise.
PS: What kind of training sessions do you put Kim through?
MA: I can't tell you specifically what Kim's training program is like, but Kim and I train the exact same way. That being said, it's a hybrid program that combines bodybuilding exercises such as squats, deadlifts, and presses. In addition, we do HIIT in the form of 30 second sprints followed by 30 seconds of walking — we do this for about 10 min straight — and steady state cardio such as walking for 30 minutes at a 3.5 speed on a 4 incline (this is good for slowly burning fat without compromising muscle development). We also work on mobility and constantly challenging the body so that it has to adapt — aka grow muscle and lose fat.
PS: How did you get your start in the industry?
MA: I was one of the hungry ones myself, I wanted to feel good in my own skin and take control over my body and mind. I wanted it sooo bad that I was willing to start from the earth's core if I had to, and I am the sort of person who will not accept anything other than what I set out to do in the first place.
PS: Was there a moment in your life that sent you on the path to becoming a trainer?
MA: People like to obsess over turning points, but life is mostly a series of drops in a giant bucket until the one drop finally spills out. So, the moment I decided to take this direction was really the accumulation of many desires, wishes, pains, and thoughts over a long period of time. I never set out to be a trainer, I did it all for myself because I wanted to know and to achieve at the highest level possible. But, I realised that mastery of any art (including training and being fit) requires the teaching of such art; if you are the best but can't teach people to be as good or better than you, then you're not really that good.
PS: What is your favourite exercise? If you had to pick only one?
MA: I love them all, haha, but right now I'm really feeling the love for deadlifts and my body is feeling so comfortable with the discomfort of a good set of 20 heavy-ass deadlifts.