Lamington Recipe: Lorna Jane's Nourishing Lamingtons
This Healthy Lamington Recipe Is a Guaranteed Crowd Pleaser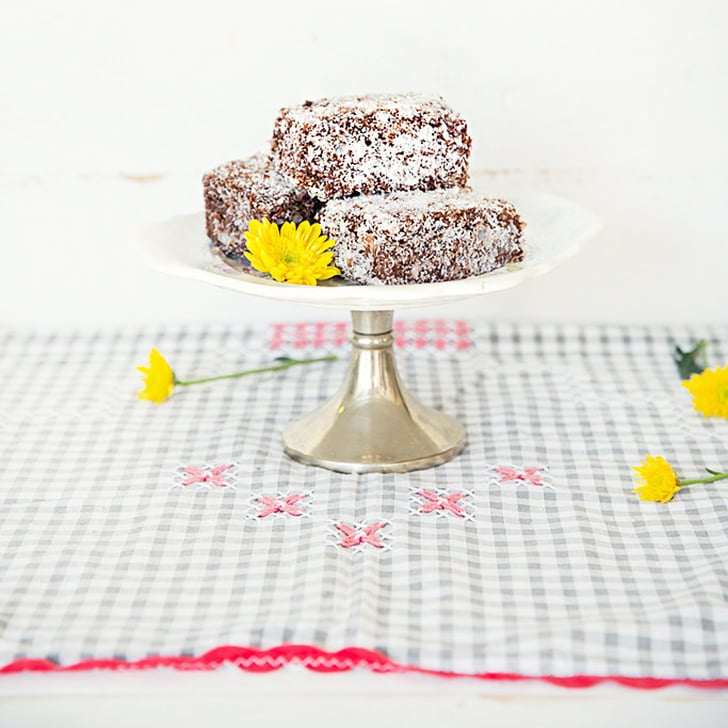 There really is no sweet treat more Australian than the lamington. So this Australia Day, stick to tradition and learn how to cook this delicious Aussie delight, the healthy way. This mouth-watering recipe from one of our favourite fit people, Lorna Jane, has a bit of a healthy twist — it's grain-free, dairy-free and uses cannellini beans instead of flour! Whatever your plans this weekend, this quintessential treat is the perfect way to celebrate.
Ingredients
Vanilla Sponge Cake:
400g can cannellini beans, drained and rinsed well
5 eggs
2 1/2 tsp baking powder
1 tsp vanilla paste
3 tbsp maple syrup
Chocolate coating:
1/2 cup coconut oil
3 tbsp cacao powder
1-2 tbsp maple syrup
Shredded or desiccated coconut, to cover.
Directions
Preheat oven to 160°C.

Blend beans in food processor until smooth.

Add eggs and continue to blend for another 3 mins on low.

Add baking powder, vanilla paste and maple syrup and blend until well combined.

Pour mix into lined square cake tin and cook in oven for approx 20 mins or until skewer comes out clean.

Allow to cool for 20 mins on wire rack.

For the chocolate coating, 

stir together all of the chocolate coating ingredients in a bowl until well combined.

Place a generous amount of shredded coconut on a large plate.

Slice the cake into 12 rectangles.

Dip each slice of cake into the chocolate coating mixture and turn until thoroughly coated.

Immediately place into the shredded coconut and coat again.

Place the coated piece of cake on a wire rack over a tray to catch any drips.

Repeat for each slice of cake.

Place in the fridge to set for at least ten minutes before serving.
Serves 12
Information
Category

Desserts