Learn to Swim: Review on Get Speedo Fit
Need a New Challenge? Hit the Water With Get Speedo Fit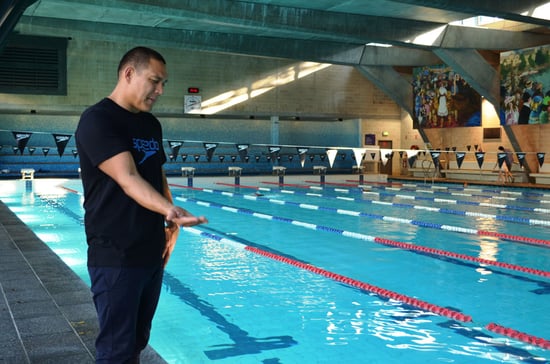 Where would you most like to be on a hot, Summer's day? If your answer is the water, then this one is for you. With warmer days, there really is no better time to hit the pool to mix up your fitness routine. A little nervous? I understand — the last time I was in the pool for laps was high school — But with the new Get Speedo Fit program created by Aussie Olympic swimmer, Geoff Huegill, it will quickly get you up to speed. How do I know? I put it to the test.
Now I'm no Olympic swimmer by any means, but that's OK. This program is suitable for all levels, even beginners like me. When I headed in for my first splash I was a bit unsure of how I would go. And to be honest, the first lap was anything but easy. But if it's your first time or you've convinced yourself to get back into the swing of things after some time off, trust me when I say this program will ease you back into it inch by inch.
The first training session involved getting familiar with the water again. It was all about nailing the correct technique, paying close attention to the way you kick and stroke the arms. In the first lesson I was also introduced to the Speedo Training Aids, including fins, finger paddles and a pull buoy. And if you've never used these, take note. You might feel awkward with the paddles on your hands and a buoy between your legs, but you'll quickly be amazed at how effective they are in strengthening your limbs and correcting your swimming form. Geoff said it's OK to feel nervous in your first lesson, but to just concentrate on taking your time. Focus on your breathing, the way you move your body and how your arms enter the water with each stroke. And if you have to stop mid way, that's OK, too.
The program is extremely easy to follow and provides you with all the information for the tools you need and how to use them. And not only does it take you through each session step by step, but it explains what you need to take to the pool, what to eat before and after a swim and helpful hints and tips from none other than Geoff 'Skippy' Huegill. Your first swim will be tiring — I was exhausted! Geoff said that as soon as you finish up, hydrate and replace the energy you have used within 20 minutes. You might not know it, but you still sweat in the pool, so drinking lots of water and eating a snack like a banana is so important.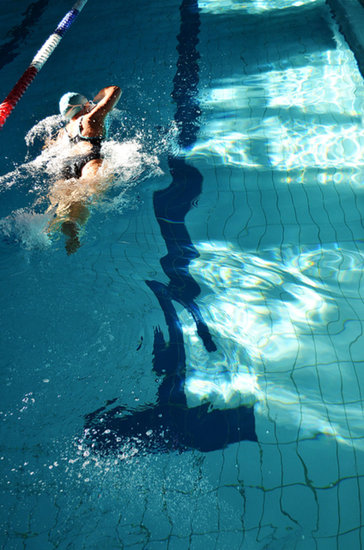 At the end of the four week program I not only completed my goal distance of 1000m, but kept on going for another 500m! Looking back I would never have of imagined I would be able to swi, such a generous distance after just a month of training. In fact, I never thought I would enjoy swimming laps for exercise, but it's safe to say, I'm now addicted and will continue on with the next level in the Speedo program.
Swimming is a total-body workout that is great for weight loss, stamina and muscle tone, and is one of the best ways to enjoy the weather Summer offers. So if you're ready to mix up your running and cardio with a few laps, make a dash to the pool and download the free Get Speedo Fit program. There's a prgram to suit you.