A List of What to Eat on the Paleo Diet
An Appetite For Cross Fit: The Paleo Diet Explained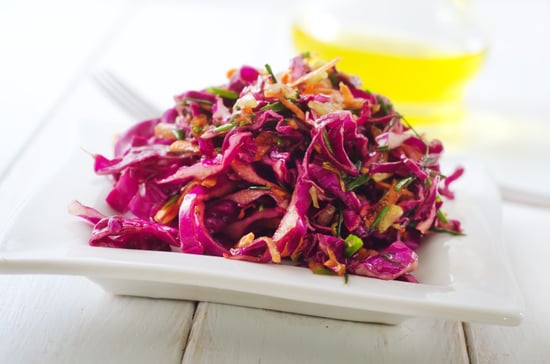 Hold your fork — have you heard about the paleo (caveman) diet? If you're a keen crossfitter, chances are you've already heard about it. The paleo diet is all about eating foods that are fresh and unprocessed, all of which were available to our primal ancestors. Think hunter gatherer.
Irena Macri from Eat Drink Paleo explains: "One of the main benefits of cooking and eating paleo is that you mostly use unprocessed, fresh ingredients and all the junk like processed oils and sugar loaded in packaged foods are automatically [cut] out. That alone improves your wellbeing," she says.
"The food promoted in the paleo diet is very nutrient dense and because the usual staples like grains and legumes are out, you end up using a larger variety of vegetables, meat, seafood, fruit and nuts in cooking. This means new, creative recipes and taste sensations with the maximum nutrient content. Paleo means no empty calorie fillers!"
Of course you don't need to be a Cross Fit contender to enjoy the paleo lifestyle, it's a great way increase energy, reduce bloat, and eliminate bad wastes from the body. But if you're unsure of where to start, keep reading to find our printable table of paleo foods.
In
Out
Occasionally In
Meat and poultry: grass
fed and free range
Sugar and artificial sugars: Equal, Stevia, agave nectar, pure cane, corn syrup, fructose, molasses, honey, maltodextrin
Soy: fermented only

Fish and seafood

Grains: wheat and gluten
Grains: wild rice, white rice, quinoa
Vegetables: except non-starchy potatoes, corn and beans

Dairy: Including milk, cream, yoghurt, cheese
Alcohol: dry wines, clean non-grain based spirits
Fruit and berries: one to two servings and no juice

Legumes and beans: including peanuts, lima beans, kidney beans, black beans
Natural sweeteners: honey, maple syrup, molasses, dried fruit, dark chocolate, palm sugar

Nuts and seeds: in moderation due to high omega 6
Spices and herbs
Good fats: coconut oil, coconut milk and cream, ghee, olive oil, avocado oil, macadamia nut oil, fish oil, sesame oil
Condiments: mustards, wheat free soy and oyster sauces, fish sauce, olive oil, mayonnaise, low sugar tomato sauce, salsas and pestos
Print out this table and stick it on your fridge!