Lorna Jane Clarkson Raw Choc Mint Slice Recipe
Why This Raw Choc Mint Slice Is a Dessert Game Changer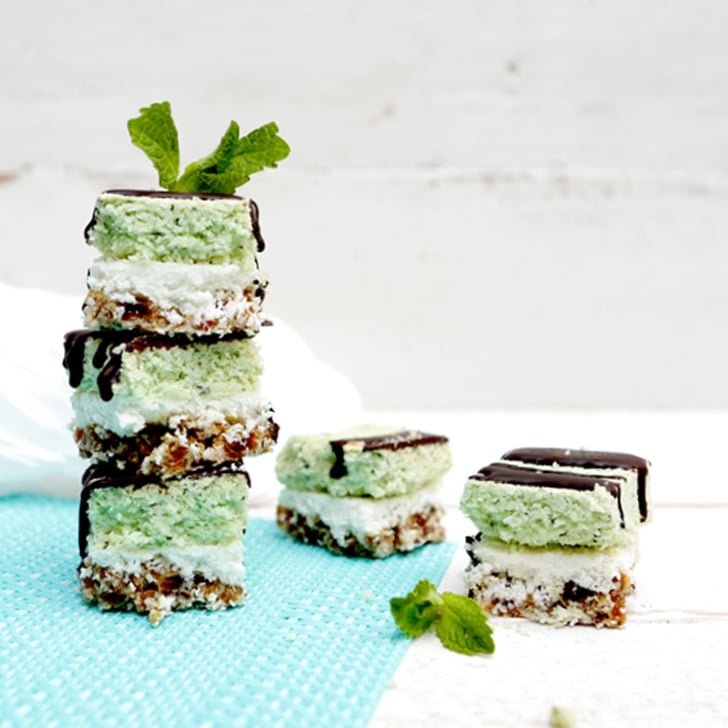 When all you're craving is a deliciously sweet treat, avoiding the naughty temptations can be really hard — it's so easy to reach for a block of chocolate or a biscuit, or two, or three (who can ever stop at one?). Now your struggle to find something that fills the sweet spot is over thanks to this Lorna Jane Clarkson creation. Introducing . . . the raw choc mint slice.
Can't get enough of POPSUGAR Australia? You should follow us on Facebook, Twitter, Instagram and Pinterest!
Raw Choc Mint Slice
Lorna Jane Clarkson
Ingredients
Base
100g almonds
350g dates
1 tbs coconut oil
1 cup desiccated coconut
2 tbs cacao
Mint and White Layer
100g cashews (soaked overnight)
300g desiccated coconut
½ cup water
2tbs coconut oil
½ bunch mint
¼ cup kale or spinach juice (this gives the slice its nice green colour)
1 tbs agar-agar
Garnish
2tbs cacao
1tbs coconut oil, melted
Directions
Base
Line cake tin with baking paper.

Blend all base ingredients in food processor until desired texture is reached. Or until you can press mixture together, and it stays.

Press into base of cake tin ensuring layer is even and flat then place in freezer.
Mint and White Layer
Blend all mint layer ingredients (except mint, water and agar-agar) in a food processor until smooth. Add small amounts of water at a time if the mixture is still too dry.

Take out half of the mixture and set aside in a bowl.

In the food processor, add the mint (and water, if still dry) until smooth.

In a saucepan, heat water and agar-agar until dissolved.

Slowly pour half the agar-agar into the food processor while it's running. Set mixture aside.

Roughly clean out your food processor. Add the other half of the white ingredients that were set aside earlier and process the remaining agar-agar.

Spread the white layer onto the base first, allow to set slightly in the freezer for two minutes, then add the green layer.

Place in the freezer for roughly two hours or until set. Cut into portion sizes. Garnish.

Mix cacao and coconut oil together until a smooth and shiny consistency is reached. Drizzle over the slice portions, then place in freezer to set.
Information
Category

Desserts

Yield

12