Lululemon Campaign Let's Get Full On, Full On Luon Fabric
How Do You Lead a Life That's Full-On?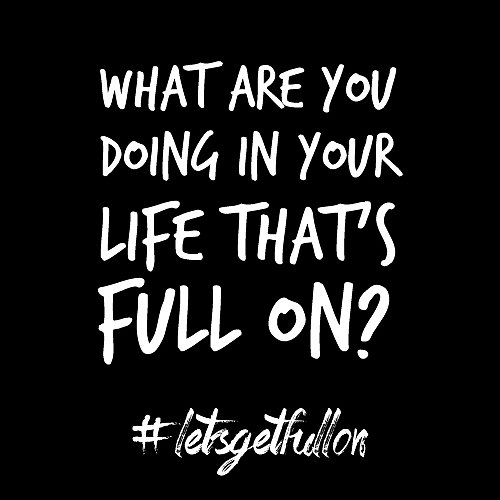 Are you living a life that's full-on? That's what the team at lululemon want to ask you. With the onset of the New Year and in celebration of their new Full-On Luon fabric — super moisture-wicking, stretchy, supportive with a cotton hand feel — they want to know how you're getting full-on. Join in the conversation by using the hashtag #letsgetfullon to share your stories with @lululemonausnz.
"It's a celebration of people in the community sharing their stories on how they're living a life that's 'full-on'," says Nicole Gullaci, Brand Experience Manager at lululemon. The conversation will be seen across its social medial channels, including the blog, Instagram, Twitter and Facebook. Readers can use the hashtag #letsgetfullon to share their most full-on moments.
"#letsgetfullon is a way for us to showcase the amazing people out in the community, as well as celebrate this new technology of fabric that we are so excited to share with our guests," Nicole explains.
Their first community member to share how they're living a life that's full-on is surf boat rower, Pip Butt. lululemon spoke to the Surf Live Saving member and all-round cool chick to find out how she lives life full-on and to get the scoop on her life as a surf boat rower.

lululemon: How do you define full-on?
Pip Butt: I heard once that we are either "guided by soul or driven by ego". My definition of full-on involves living life to the fullest and actively following my soul. This has led me to join the Surf Life Saving (SLS) movement, and as part of that I've taken up surf boat rowing.
lululemon: What have you done that's full-on?
PB: A typical week for me entails three to four rowing sessions, two to three strength trainings, one or two attempts at yoga/pilates/stretching, involvement with SLS, keeping in contact with friends and family, possibly competing or patrolling the beach and planning the logistics of our upcoming race. I also work full-time and somewhere in amongst all of that, I sleep!
During the Christmas and New Year period I will be participating in the George Bass Surf Boat Marathon — the world's longest and toughest surf boat endurance race. The biennial event covers 200 kilometres of the New South Wales coastline and the logistics of coordinating a crew of 20 rowers and supporters along coast communities during their busiest time of the year is not for the fainthearted.
This will be my third attempt for a podium finish and I believe we have the crew to do it!
lululemon: Why do you love it?
PB: I am pushed well beyond my comfort zone. Every day represents a new challenge (mentally, physically and emotionally) and it creates an opportunity to re-write the history of yesterday, grow as a person and increase the bonds of our crew.
Another reason? I get to sweat, a lot! The training in the lead up to this race is a combo of strength, endurance and cardio. To balance that we do yoga and Pilates to ensure our backs and core are right for the week ahead.

I also love the sense of community. The emotion that arises from completing a six-month journey with a fantastic group of rowers and supporters bonds you all together for life.
What do you do that's full-on? Share your story with lululemon on Twitter, Facebook or Instagram with the hashtag #letsgetfullon.