Melissa Ambrosini Healthy Mince Pie Recipe
Melissa Ambrosini's Christmas Mince Pies
Mince pies remain a popular treat to enjoy after a big Christmas lunch or dinner, but a small bite-sized pie can set you back approximately 200 calories per serve. So if you're looking for a way to still enjoy all the good things that Christmas has to offer while staying true to your New Year resolutions, you'll want to get your hands on wellness blogger Melissa Ambrosini's healthy mince pies.
Notes
Pop these with some yoghurt and a dust of cinnamon. Total winner!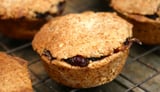 Ingredients
100g of raisins
100g of cranberries
100g of sultanas
1 apple
1 1/2 tsp of ground cinnamon
1/2 tsp of ground nutmeg
1/2 tsp ground ginger
2 oranges
tsp of vanilla bean paste/extract
250g of ground almonds/almond meal/almond flour (all the same thing)
200 g of walnuts
2 tbsp of coconut sugar or honey
2 tbsp of coconut oil
1 egg
Directions
Zest and juice the oranges, place in a pot and put on a medium heat.
Cut up the apple into small slithers (discard stem) place into pot with raisins, sultanas, cranberries, vanilla, 1/2 tsp of ginger, cinnamon and nutmeg.
Let this simmer for 25 minutes (make sure you don't boil it).
Turn off the heat, transfer to another bowl and let cool.
Turn on the oven to 150ºC.
Place the almonds and walnuts and pulse in food processor until a flour is formed, add honey or coconut sugar, 1 tbsp of cinnamon, coconut oil and egg and combine until a dough forms (if it is a little dry add a little water, if it is too moist add a little more almonds).
Grease some muffin or cupcake holders with coconut oil.
Grab a large tbsp of dough and push into the moulds covering the bottom of the shell, leaving enough room to put the mince inside. Make sure the entire sides are covered. This mixture should make around 15 mince pies however this maybe more or less dependant on your mould size.
Add in a little over 1 tbsp of mince meat into each shell.
With the left over pastry, roll out in between baking paper until it is 1/2 cm thick, then cut out with a knife, a circle big enough to cover the top of the shell and place the pastry on top.
Place in the oven and bake for 25 minutes.
Information
Category

Desserts