Mixed Berry & Chocolate Smoothie For Paleo Eaters
Your Cross Fit Treat: Mixed Berry & Chocolate Paleo Smoothie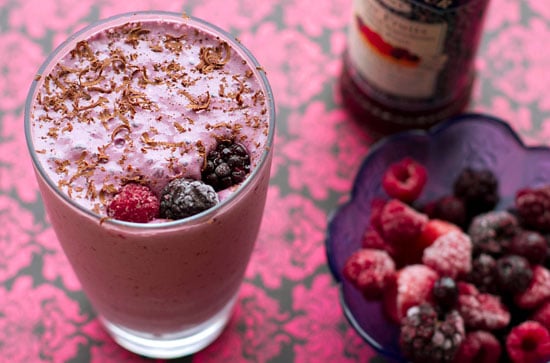 Whether you've just finished a grueling Cross Fit session, or just looking for a quick, paleo-friendly treat, look no further than Irena Macri's Mixed Berry and Chocolate Smoothie from Eat Drink Paleo. It's packed with antioxidants and protein — essential to accelerate muscle growth and recovery — and will curb any lingering sweet cravings. Keep reading for the recipe you can whip up right now.
Mixed Berry & Chocolate Smoothie
Notes
This is a dessert in a glass — think black forest cake, Cherry Ripe chocolate bar or a mixed-berry chocolate pudding. It's rich in protein from whey powder and antioxidants from berries and cacao powder.
Ingredients
1 cup of frozen mixed berries
1 cup coconut milk
2 tbsp whey protein powder
1 tsp raw cacao or cocoa powder
1 tsp sugar-free mixed berry jam
Dark chocolate shavings
Directions
Process in a blender until smooth and thick. Add a little water if using chilled coconut milk, which tends to thicken in the fridge.
Serves 2
Information
Category

Drinks, Smoothies