Recipe for Sonoma's Winter Panzanella
Wrap Your Taste Buds Around This Winter Panzanella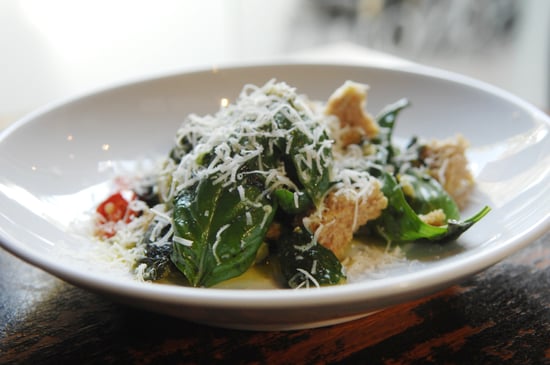 Panzanella is a glorious Spring-time celebration — big juicy ripe tomato, excellent bread and delicious oil — however, it is not Spring, and this is not Panzanella as you know it! Rather, it's a catchy name to call a delicious zucchini and bread salad that is big on flavour and really satisfying in the cooler months. The real secret to this dish is the excellent quality of the bread — and that's thanks to Sonoma's unique and wholesome baking ethos. To cook it at home, click through.
Sonoma's Winter Panzanella
Sonoma
Notes
This is fun dish to make because you get to smash things and get a little messy and unruly!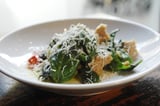 Ingredients
750g small green zucchini
1 large red chilli
3 cloves of crushed garlic
175ml extra virgin olive oil
80ml white balsamic
1 bunch calvelo nero
70g parmesan cheese
1 loaf Sonoma spelt, crust removed and inside torn into chunks. Allow to dry either in the sun for a few days or in a moderate oven
Salt
Pepper
Directions
Using a mallet or heavy saucepan, smash the zucchini into bite size chunks. You want them to be irregular with the smaller pieces cooking to a soft pulp, and the larger pieces maintaining texture. Then smash the garlic and while you're at it, smash the chilli, too.
Place it all into a casserole dish with extra virgin olive oil, salt and pepper, and cook over a gentle heat until the larger pieces just start to become soft. Add the finely shredded calvelo nero, stir through and remove from the heat and allow to cool.
When completely cool, add the white balsamic and taste for seasoning, then fold through the bread, place on a platter or individual plates and finish with freshly grated parmesan cheese.
Information
Category

Salads, Vegetables

Yield

Serves 6-8