Review of Dietlicious 5 Day Cleanse
Meal Delivery Review: Dietlicious 5 Day Cleanse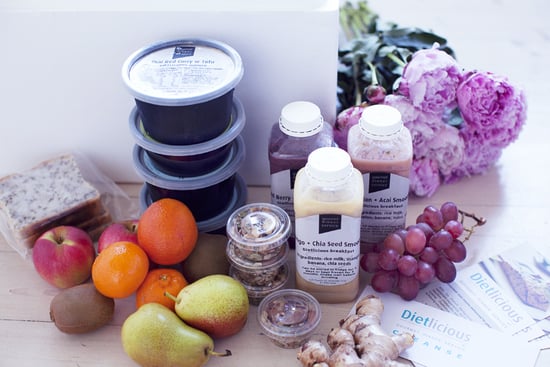 We all have good intentions when it comes to eating healthy. Monday is always reserved for "starting fresh", but what if you could have fresh delivered to your door? I was recently sent the Dietlicious 5 Day Cleanse for review and I have to say, I was so impressed. Curious to find out how I went? Let's do it.
There is a range of different meal plans to pick from (you can also choose an on-going menu), but I felt like I needed a bit of an overhaul. Too many unorganised food days meant I'd been snacking on lollies and chocolate at my desk. I was left feeling bloating and rundown — not ideal at all! The 5 Day Cleanse seemed most manageable for me because I attend a lot of breakfasts and lunches for work, I decided to clear my calendar for a week to eat right and focus on number one.
On Sunday afternoon, a lovely lady delivered a big box to my front door. Inside I found five, clearly labelled packages of food. Each contained the day's intake — from breakfast to snacks, lunch and dinner. Something else to note, all food is free from preservatives, additives, wheat, gluten, dairy and red meat; but high in protein to avoid depletions in amino acids from muscle tissue.
Meals included:
Chicken tagine with quinoa
Seasonal white fish with lemon and garlic
Ocean trout, vegetable ratatouille and green vegetables
Spinach chana dhal with basmati rice
I froze all the packages except Monday's, which I left in the fridge to defrost. It was as easy as removing the dinner meal, and then taking the rest to work with me. No fuss, just neatly prepared meals with labels to tell me what I was eating, and the complete nutritional value. I soon realised the portions I usually ate were way out of control. I was eating nearly three times the amount of each Dietlicious meal!
My daily calorie intake during the 5 Day Cleanse was 1000, and while that is less than I am used to eating, it was enough food. I was also given lemon and ginger tea, nuts and seeds to keep me firing on all cylinders. I didn't drink alcohol during the five days, but I only usually have few glasses of red wine during the week anyway. I missed them a bit, but it wasn't hard at all.
On day five I felt like a million dollars. The Cleanse came with a large lemon, so I was dutifully having warm lemon water upon rising, and that's a habit I've since maintained. Overall I felt smaller, not at all bloated (huge change), and very energetic. My fiancé noticed a difference in my figure, so I think I'll do this cleanse again a week before my wedding later this year.
If you're time poor, looking for a jump-start or just curious about healthy meal deliveries, I highly recommend you give it a go. The Dietlicious 5 Day Cleanse is $185 and considering how great I felt at the end, I think that's superb value.
For more information, visit Dietlicious.com.au