Sam Wood Spring Roll Bowl Recipe
This 20 Minute Deconstructed Rice Paper Roll Is All We're Eating This Spring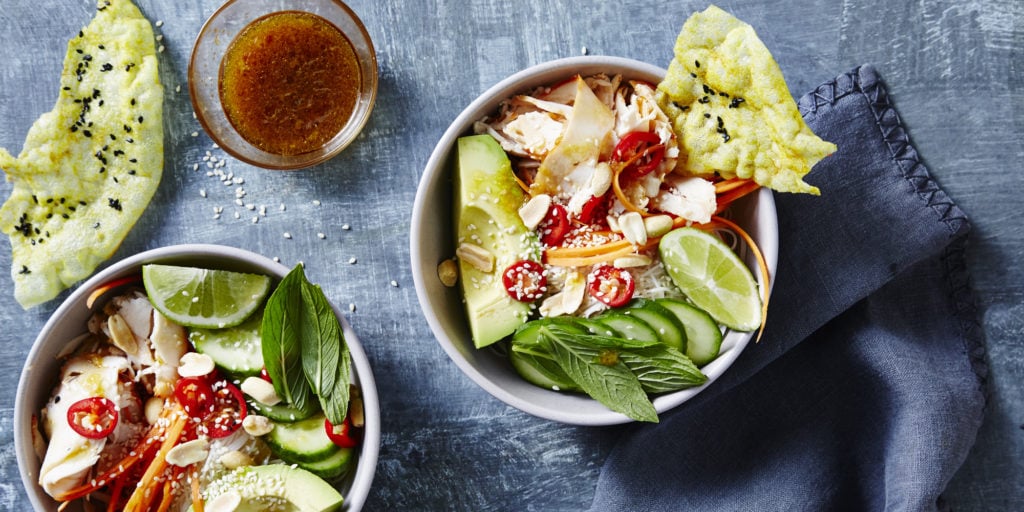 When it comes to Spring eating, we want meals that are quick, easy, fresh and most importantly aren't going to be responsible for making us fall off the healthy-eating wagon. So, naturally this deconstructed spring roll recipe courtesy of 28 by Sam Wood is pretty much all we want to eat for the remainder of Spring.

With the option to play around with the specific ingredients depending on your preference (and what's in your fridge), this is one weeknight recipe you won't get bored of any time soon.
Spring Roll Bowl
28 By Sam Wood
Notes
Everything tastes better deconstructed, no? We've opted to lay everything out in an Instagrammable bowl and crisp up the rice paper rolls for something a little different. Feel free to play around with the ingredients in this bowl, any raw salad veggies will work a treat!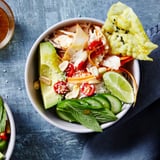 Ingredients
100 g vermicelli noodles.
400 g roast chicken, shredded.
1 large carrot, julienned or grated.
1 large cucumber, sliced.
1 cup mint leaves.
1/2 cup roasted peanuts, roughly chopped.
2 tablespoons sesame seeds.
1 long red chilli, finely sliced.
1 avocado, sliced into quarters.
Rice Paper Roll Crisps:
4 rice paper rolls.
1 tablespoon extra virgin olive oil, for brushing.
1 teaspoon black sesame seeds.
1/2 teaspoon turmeric, ground.
Sauce:
1 clove garlic, minced.
2 tablespoons apple cider vinegar.
2 teaspoons rice malt syrup.
2 teaspoons fish sauce.
1 lime, juice and zest.
2 tablespoons extra virgin olive oil.
Directions
1. Place rice paper on a microwave-safe plate. Brush lightly with olive oil and sprinkle with sesame seeds and turmeric. Microwave on high for 45 seconds. Remove from the microwave and allow to cool before snapping into small chip sizes. Continue with all the rice paper roll sheets.

2. To make the sauce, whisk together all ingredients. Set aside.

3. Place vermicelli noodles into a large bowl and pour over boiling water. Allow to sit for 5 minutes until softened. Separate between four bowls. Arrange shredded chicken, carrot, cucumber and mint around each bowl. Drizzle over dressing and sprinkle over peanuts and sesame seeds to serve.
Information
Category

Salads

Yield

4
Image Source: 28 By Sam Wood