Sam Wood Spring Sweet Potato Fritter Recipe
These Sweet Potato Fritters Are Your Answer to Healthy Weekend Brunch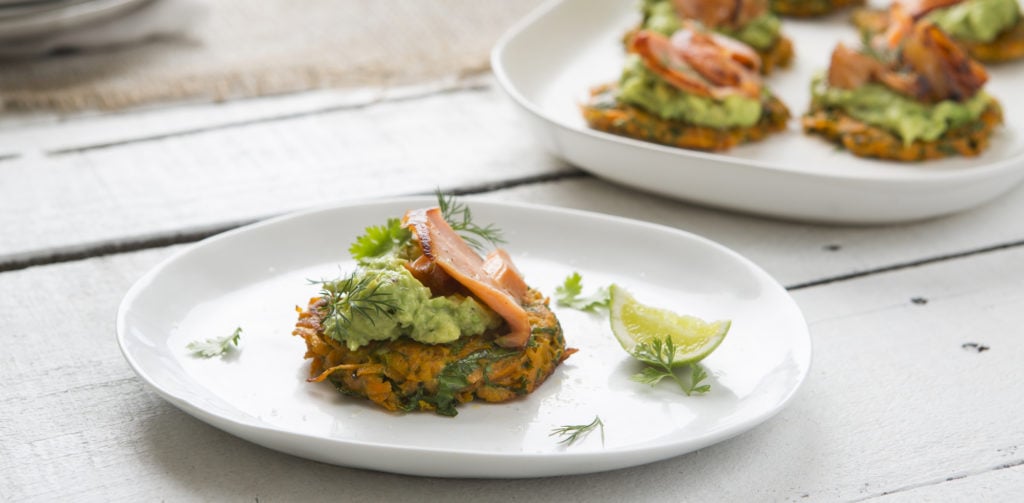 If you're looking for a healthy breakfast recipe to add to your weekend rotation that's something different to your standard avo toast, then look no further than these sweet potato fritters courtesy of 28 by Sam Wood!
Bonus, if you're short on time (or just lazy) these fritters lend themselves perfectly to be prepared in advance and reheated prior to eating.
Sweet Potato Fritters with Smashed Avo
Maggie's Recipes for Life
Notes
If using fresh salmon, drizzle a little olive oil in a frying pan over high heat. Add the fish, skin-side down and cook for 3 minutes or to the point where it will almost burn. Remove the salmon, then quickly wipe out the pan with paper towel, being careful not to burn yourself. Add a drizzle of oil or a bit of butter to the pan, reduce the heat to low–medium and return the salmon to the pan, skin-side up. Cook for 2 minutes, then rest for 10 minutes. Remove and discard the skin, then flake the fish.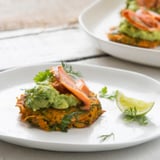 Ingredients
Ingredients
1 avocado.
1 lime, juiced.
2 tablespoons extra virgin olive oil, plus extra to serve.
200 g salmon fillet, cooked and flaked or smoked or tinned salmon.
Dill, fresh, to serve.
Lime wedges, to serve.
Fritters
400 g sweet potato, peeled.
Sea salt flaked and freshly ground black pepper.
2 large leaves silverbeet, finely chopped.
1 spring onion, finely chopped.
2 free-range eggs.
1 teaspoon coriander, fresh, chopped.
2 tablespoons extra virgin olive oil.
Directions
1. Preheat the oven to 150°C

2. To make the fritters, coarsely grate the sweet potato, then place in a bowl and mix in 1 teaspoon sea salt. Stand for 10 minutes, then drain the sweet potato and squeeze out any excess liquid.

3. In a separate bowl, place the chopped silverbeet, spring onion, eggs and coriander. Add the sweet potato, season to taste and mix well.

4. Heat the olive oil in a large frying pan over medium heat. Working in 2 batches, place 3 tablespoons of mixture for each fritter into the pan and press down with a spatula. Cook on both sides for 2–3 minutes or until golden, then drain on paper towel. Place on a baking tray, cover with foil and keep warm in the oven while you cook the remaining fritters.

5. Smash the avocado flesh and lime juice in a bowl until smooth. Stir in the olive oil and season to taste.

6. To serve, place 2 fritters on each plate. Top with the smashed avocado, salmon and sprigs of dill or chervil. Drizzle with olive oil and serve with lime wedges.
Information
Category

Breakfast/Brunch

Yield

4
Image Source: 28 by Sam Wood