Spaghetti Squash With Lentils
Savoury-Sweet Maple Cumin Lentils Over Spaghetti Squash
Spaghetti with meat sauce is practically the definition of a home-cooked family dinner (especially if you're Italian), but it's not exactly a dish you want to devour every night if you're watching your weight. Since this healthier version swaps out traditional pasta with spaghetti squash, and lentils for ground beef, it offers more fibre than protein, if you can believe it. Topped with a savoury-sweet lentil and veggie ragu, each delicious 323-calorie serving offers 17.1 grams of fibre and 15.5 grams of protein. The chewy texture of the lentils is comparable to ground beef, and since the maple cumin tomato flavour is so outstanding, your meat-loving family will love it just as much, maybe even more. Maple Cumin Lentils Over Spaghetti Squash
From Jenny Sugar, POPSUGAR

Ingredients
For the squash:
1 spaghetti squash
1 tablespoon olive oil
3/4 teaspoon sea salt
For the lentils:
1 cup dry lentils
1 cup diced tomatoes
1 1/2 cups water
1 red capsicum, diced
1 cup mushrooms, chopped
1/4 onion, diced
1 clove garlic, minced
1 tablespoon olive oil
1/2 teaspoon sea salt
1 teaspoon cumin
1 teaspoon maple syrup
1 cup fresh or frozen corn
Directions
Wash a spaghetti squash and prick it a few times with a sharp knife. Either bake it at 205°C for about an hour, or microwave it for about 10 minutes. Or you could cook it in a slow cooker.
While the spaghetti squash is cooking, add the dry lentils, diced tomatoes, water, red capsicum, mushrooms, onion, minced garlic, olive oil, and salt to a pot. Bring to a boil, then cover and simmer for 25-30 minutes, stirring occasionally.
Once the lentils are soft, turn off the heat and stir in the cumin, maple syrup, and corn. Keep covered and allow to sit for 5 minutes while you prepare the squash.
Once the squash is cool enough to handle, slice it in half lengthwise and remove the seeds. Use a fork to remove the spaghetti strands and place them in a bowl. Stir in 1 tablespoon olive oil and 3/4 teaspoon salt.
Spoon out about 1 cup of the spaghetti squash and 1/4 cup of the maple cumin lentils, and enjoy!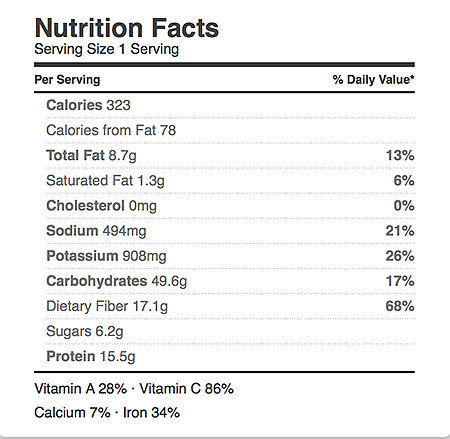 Source: Calorie Count
Information
Category

Main Dishes

Cuisine

Italian

Yield

4 servings

Total Time

1 hour
Nutrition
Calories per serving

323