Spicy Asian Chicken Soup Recipe
Winter Warmer: Spicy Asian Chicken Soup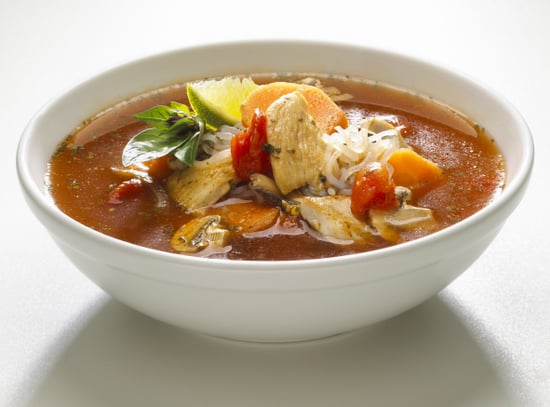 There's a definite chill in the air today, so what better time to stock up on hearty vegetables and foods for a soup that will keep you warm all Winter long. This recipe for Spicy Asian Chicken Soup from Mai Haven is exactly that — packed to the brim with healthy and delicious ingredients, and just enough spice! Want to whip-up a steamy bowl right now? You're only one click away!
Spicy Asian Chicken Soup
Mai Haven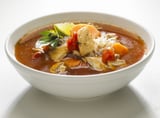 Ingredients
1 x 250 gram packet of shirataki noodles like SlendierSlim
200 grams cooked lean chicken breast (skin removed)
1 cup chicken stock
2 cups of water
1/4 cup tomato paste
2 teaspoons reduced salt soy sauce
2 cloves of garlic crushed
5 cm piece ginger finely grated
2 red bulls eye chilli deseeded and sliced thinly
1/2 cup coriander leaves
1/2 cup sliced carrot
1/4 cup sliced button mushrooms
1/4 cup thinly sliced red capsicum
5 cm piece lemon grass
lime to garnish
Directions
Prepare shirataki noodles as per instructions on pack and set aside.
In a blender or Mortar and Pestle add lemon grass, chilli, garlic, coriander, ginger and soy sauce. Blend to form a paste.
 Place chicken stock, water and tomato paste into pot and gently bring to boil. Reduce heat and add sliced carrot.
Add spice mixture, sliced mushroom and capsicum to pot. Simmer gently until vegetables are tender.
Slice chicken breast and add to the soup and simmer for three to five minutes.
Add prepared pasta to pot and remove from heat.
Garnish with lime wedges and Thai basil.
Information
Category

Soups/Stews

Cuisine

Other Asian