Sugar Free Recipes: Sarah Wilson Salted Caramel Haloumi
Sarah Wilson's Salted Caramel Haloumi & Apple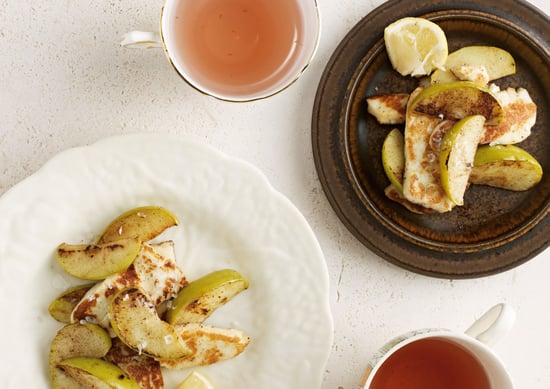 If you're trying to cut back on sugar this Christmas (because let's face it, it's tough) this recipe from one of our favourite sugar-free cook's, Sarah Wilson, is one to try. It's hard to steer clear of heavy puddings and the over-flowing Santa stockings, but this easy snack that can be served as a side or as a dessert promises to cure that sweet craving guilt-free. Christmas can still be healthy and delicious, so add this one to your party menu for December 25.
Salted Caramel Haloumi & Apple
Sarah Wilson
Notes
This is a great afternoon snack, or you can serve it with lightly toasted walnuts as a dessert.
Ingredients
6 x 5mm thick slices haloumi cheese
1 green apple, cored, and cut into 5mm wedges
sprinkle of cinnamon (optional)
Pinch of salt to season
Directions
Place the haloumi and apple slices in a hot non-stick frying pan.
Jiggle the pan a little so the fat from the haloumi coats the apple.
Cook on both sides until both the apple and haloumi are a lovely caramel colour.
Toss salt and cinnamon (if using) over the lot and serve.
Information
Category

Soups/Stews