Tabouleh Rice Salad With Barbecue Lamb
The Perfect Summer Side: Tabouleh Rice Salad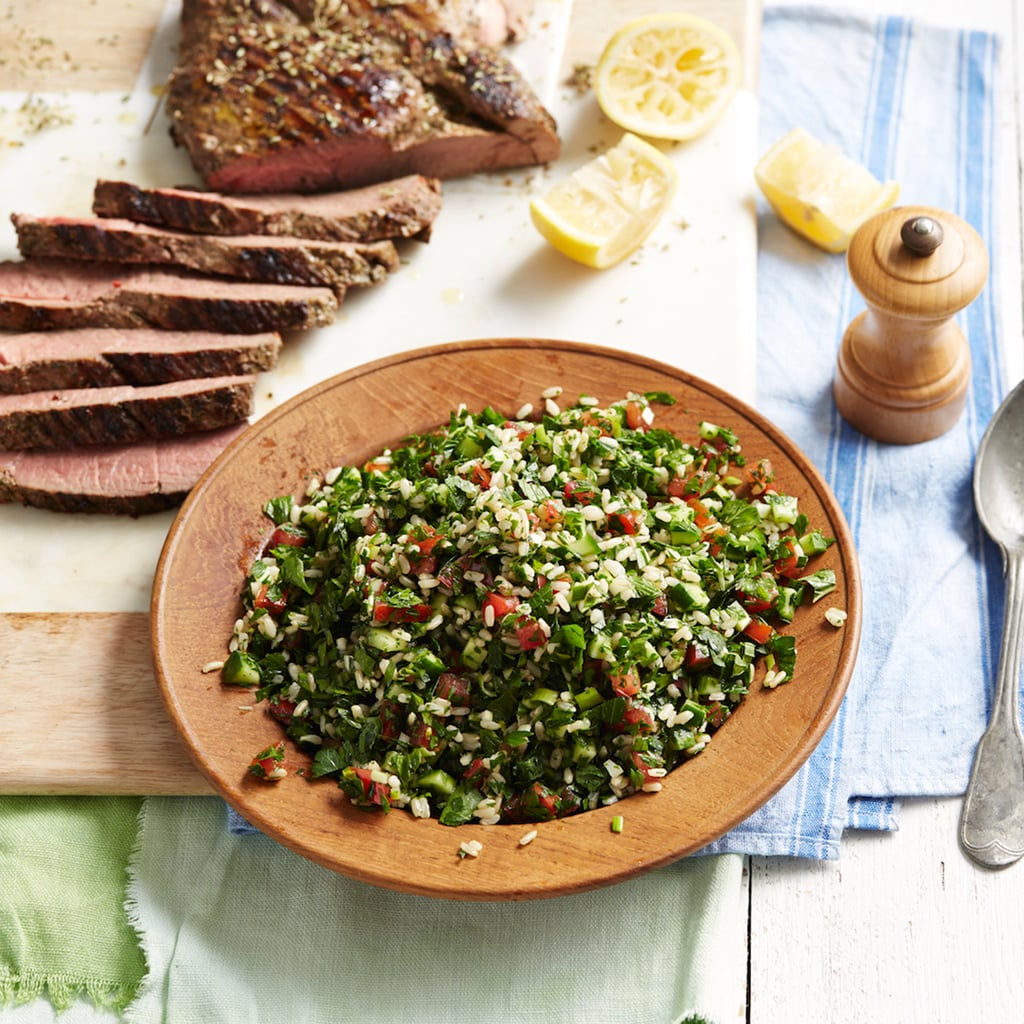 Tabouleh is the perfect dish to make when you're not sure what to take to a BBQ. And with Summer fast approaching you're gonna want to add this recipe to your collection. Don't be surprised if you find you're invited to more Summer parties because of this salad — it has that effect on people. For those who want an entire meal we've also included the steps to cooking up tabouleh's best friend, BBQ lamb — because you can't have one without the other.
Tabouleh Rice Salad With Barbecue Lamb
Janelle Bloom for SunRice
Notes
Prep Time: 15 minutes
Cooking Time: 45 minutes
Serves 4-6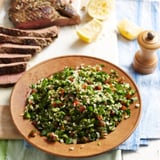 Ingredients
Barbecue Lamb
3 tsp dried oregano
2 garlic cloves, crushed
2 tsp brown sugar
1 tsp chilli flakes
1

tbs

olive oil
1kg butterfly leg of lamb
Tabouleh Rice Salad
3/4 cup organic brown rice (we used SunRice organic brown rice), rinsed
11/2 cups water
2 tbs extra virgin olive oil
1 lemon, juiced
Caster sugar, pinch
3 medium tomatoes, quartered
1 Lebanese cucumber, halved
3 green onions, finely chopped
3 cups fresh flat leaf parsley leaves, chopped
1 cup fresh mint leaves, chopped
Directions
For the tabouleh rice salad; Put the rice and water in a medium saucepan. Bring to the boil. Reduce heat to low, cover and simmer for 25 minutes. Remove from the heat. Cover and set aside 10 minutes. Rinse under cold water then drain well. Spread onto a tray, refrigerate uncovered 30 minutes.

Combine the oregano, garlic, sugar, chilli and oil. Rub over both sides of the lamb. Put onto a plate, cover and refrigerate 30 minutes.

Preheat a barbecue or char-grill on high. Barbecue lamb for 5 minutes each side. Reduce heat to medium-low, cover the barbecue with a hood or large upturned roasting pan and cook, 10 minutes for medium, or until cooked to your liking. Transfer to a tray, set aside 15 minutes to rest.

Whisk the olive oil, lemon juice and sugar together in a large bowl. Season. Remove and discard the seeds from the tomatoes and cucumber, then dice and put into the bowl. Add the green onions, herbs and rice and mix until well combined.

Spoon the Tabouleh rice salad onto a large serving plate, thinly slice the lamb and serve with Tabouleh rice salad.
Information
Category

Main Dishes