Top Excuses Men Use to Avoid Exercise
First Look: Men's Health on the Top Excuses Used When Avoiding Exercise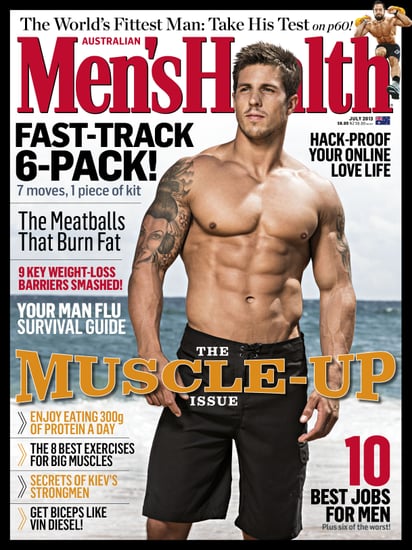 It's Men's Health Week in Australia so this week, we'll be featuring (men!) everything from common men's health problems to expert tips to getting washboard abs and the workout gear we'd love to see on the opposite sex. But today, we're helping to dispel the most common exercise excuses used by men when it comes to skipping the gym. A feature in Men's Health Australia and on stands now, there's even a handy "Crockometer". Some favourites we can relate to, include:
Excuse No. 1: I've got a sluggish metabolism
You and a mate seem to eat roughly the same amount of food. But you're soft around the edges while he looks like a miler.
The cold, hard, truth: Your basal metabolic rate is the amount of kilojoules your body burns every day to function: breathe, pump blood, stay warm — the basics for survival. And, yes, there are a couple of disorders that interfere with its capacity to harness energy, with unused fuel getting stored as fat.
Excuse No. 5: I've got an incurable sweet tooth
A craving for sugar.
The cold, hard truth: You probably do crave it. Why? "Because it's highly addictive. It's as hard to give up sugar as it is to give up smoking," argues David Gillespie, author of Sweet Poison: Why Sugar Makes Us Fat.
Excuse No. 8: I'm a sociable guy
The desire to eat, drink and be merry when out with friends.
The cold, hard truth: Frequent boozy nights and torching fat go together like mustard and ice-cream. Why? For starters, your body oxidises alcohol ahead of other fuels, effectively putting fat metabolism on hold. It also reduces testosterone levels while upping cortisol — a double blow to your six-pack ambitions.