Vegan Avocado Chocolate Torte Recipe
I Did Not Know Avocado Could Make a Cake Taste THIS Good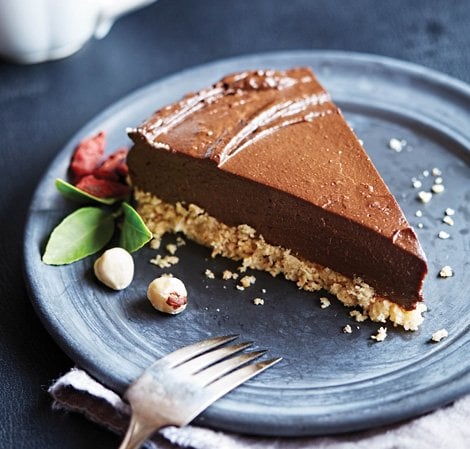 Seriously, shout-out to avocado. There's nothing more impressive and deep than the adaptable avocado — it can be baked, frozen, added to smoothies, used as a dressing and subbed into desserts as butter — people should be more like 'em.
When I like a food I'll go all-in to bat for them (kale, remember?) and I'm really digging avos right now, particularly in cake form. So when this vegan avocado chocolate torte recipe landed in my inbox, and then very quickly into my stomach, I had to share. It looks and tastes like chocolate but it isn't, it's avocado (silly!) acting like chocolate and butter and dairy. It's the Leo DiCaprio of food and this recipe is its Oscar-winning performance.
Don't waste a single second, make it today!
Vegan Avocado Chocolate Torte Recipe
Vitamix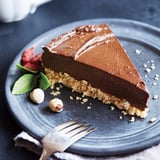 Ingredients
3½ cup (350 g) hazelnuts
½ cup (120 mL) and 1 tablespoon coconut oil, divided use
1 pinch salt
1 cup dried dates, pitted, halved
1 vanilla bean, split
½ cup agave nectar
5 avocados, peeled, pitted
1 cup cocoa powder
3 tablespoons goji berries, ground
Directions
Place half of the hazelnuts into the blender and pulse. Continue to pulse 8-12 times, then repeat with the rest of the nuts. Once done transfer to a bowl.
Mix in 1 tablespoon of coconut oil and salt to the ground nuts, then press mixture into a springform pan.
Place ½ cup coconut oil, dates, vanilla bean and agave in that order into the blender.
Starting on a low speed, blend for 25 seconds, slowly increasing the speed while using the tamper to press the ingredients into the blades. Remove and place in a second bowl.
Blend 2½ avocados for 30 seconds. Add to the bowl with the date mixture. Repeat the process with the rest of the avocados.
Mix cocoa powder and goji berries into the avocado and date mixture.
Spoon mixture on top of the hazelnut crust, wrap in plastic, and place in refrigerator overnight to set.
To serve, slice torte and enjoy!
Information
Category

Cake
Image Source: Vitamix