Vegan Berry Unicorn Cheesecake

Vegan Berry Unicorn Cheesecake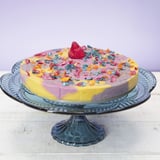 Ingredients
For the crust:

4 dates, pitted
1/4 teaspoon salt
1/4 cup coconut oil, melted
1/2 cup almond milk
2 cups almond flour
For the filling:

3 cups cashews, soaked overnight, drained
3 tablespoons lemon juice
4 tablespoons maple syrup
1/2 teaspoon salt
1/2 cup unsweetened coconut milk
1/2 cup blueberries
1/2 cup blackberries
1/2 cup strawberries
1 cup raspberries
1/4 beet
1 medium mango
1 tablespoon turmeric powder
Directions
Add dates, salt, coconut oil, and almond milk to a high-speed blender and blend until well combined (about 30 seconds), then transfer to a large bowl.
Add in almond flour until well incorporated, pat crust mixture into a wax-paper-lined 9" springform pan, and place into the freezer for 10 minutes.
While crust is setting, add cashews, lemon juice, maple syrup, salt, and coconut milk into a high-speed blender and blend until smooth (about 1 minute).
Section cashew mixture evenly into 3 medium bowls. Add blueberries and blackberries into the first bowl; strawberries, raspberries, and beet into the second bowl; and mango and turmeric into the third bowl. Individually blend the contents of each bowl until smooth (about a minute), cleaning blender in between colours of cashew cheese. Return blended cashew cheeses to original individual bowls.
Remove pie crust from the freezer, and spoon in dollops of each colour in a checkerboard fashion until each bowl is empty. Tap springform pan on the counter to fill any gaps in the filling. Insert a knife into the filling and slowly drag the knife up and down across the surface of the entire cake to create a marbled effect.
Chill in the refrigerator overnight and move to the freezer for 2 hours before cutting and serving.
Information
Category

Desserts

Yield

12

Total Time

29 minutes, 59 seconds