We Talk To Yoga Instructor Kate Kendall About Flow Athletic
Get your Flow On: 5 Minutes With Yoga Instructor Kate Kendall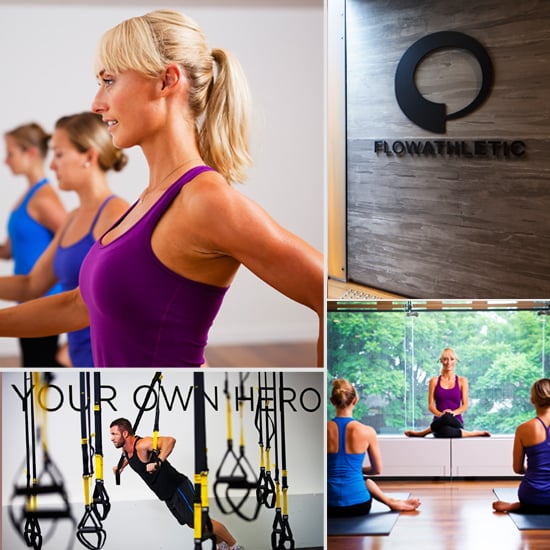 What happens when you mix the calm energy of a yoga instructor with the strength and stamina of a former NRL player and personal trainer? A revolutionary new health and fitness space in Sydney's Paddington set to change the face of working out as we know it. Director of Yoga Kate Kendall and Director of Fitness Ben Lucas have combined their years of training to open Flow Athletic, a space where a balanced approach to fitness is encouraged by providing a range of yoga, TRX and Spin classes in a natural, innovative and luxurious environment. Think chill-out music rather than Hi-NRG and the scent of candles rather than gym socks filling the air.  Read on to hear Kate talk all things Flow Yoga.
What inspired you to open Flow Athletic and what would you say are the main differences between Flow and a regular gym?
Ben training me in PT and me giving him private yoga lessons inspired Flow Athletic. His sessions were making my yoga practice stronger and my yoga sessions were keeping him mobile and injury free whilst training for an ultra marathon. We realised no one was offering a balanced workout and we also saw an opportunity to encourage people to take the philosophies of yoga into their daily workouts including being present and honouring your body. We've created classes that address flexibility, strength and cardio training. Different to a regular gym, we focus on group fitness. We want our community to come in and be inspired by others in an electric group atmosphere.
You offer a bike-asana class which mixes Spin with yoga. What are the benefits of combining this high-low form of exercise?
Well you're getting two forms of training in the one session which is part of our Flow philosophy of a balanced and well rounded workout; you're training your body to move in a different way which is beneficial for weight loss and it's the perfect combo for the time poor. When you move into the yoga part of the workout, we gradually ease you into it so that you're not asked to go from 'yang' to 'yin' in a heart beat. However, adapting to change is a good skill to have.  The decent hip openers and hamstring and shoulder stretches are perfect to counteract being on the bike. I love it.
What are some types of yoga moves you can do at home in the comfort of your lounge room if you're feeling stressed out?
One key move you can do at home to chill out and open up the whole front side of your body is Reclined Bound Angle. Lie down, bring the soles of the feet together and let your knees drop down towards the floor. Take your arms above your head and lightly grip elbows — resting them gently to the ground. Begin to take full, generous breaths, filling the abdomen, then side waist, then collar bones. Total bliss and one of my favourites. If it gets too much for your groin, place pillows under knees for suppor.
You obviously lead a healthy and balanced lifestyle. What type of food and drinks do you rely on for optimum energy and stamina?
I drink fresh coconut water to hydrate and always have a bottle full of filtered water nearby. I like to eat light meals regularly throughout the day to avoid feeling heavy and lethargic. My job requires me to move a lot so I eat fairly light foods and ayurvedic where I can which seems to complement my yoga practice. I have a crazy sweet tooth that I have to watch so replace Staburst lollies with grapes or dates if I really want them. General rule — listen to the body and give it what it needs. Simple.
Is it a misconception that yoga instructors never stray from being healthy at all times? Do you ever eat chocolate or drink wine? (please say yes!)
I LOVE a glass of wine. Loving shiraz at the moment. Wine, like a delicious yoga pose, should be enjoyed and savoured. And just like a good yoga pose if you over do it you end up with an injury or headache.
Photos by Luc Remond.