Yoga Headstand Ab Workout
Upside-Down Ab Work: Headstand Crunches
Inversions already work your core, since the ab and back muscles are what help to hold the lower body steady and balanced. To work your core even more, here's a strength-training yoga move that will tone your entire torso as well as your upper body — you just might give up traditional crunches forever! You'll need to have a strong Headstand, so if you haven't quite mastered this inversion, then work on this Headstand Sequence before attempting these Headstand Crunches.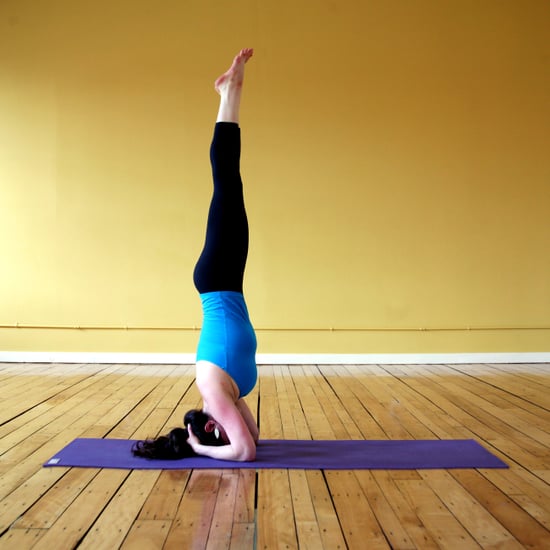 Begin on your hands and knees. Lower your elbows to the floor and interlace your fingers, bringing your lowest pinkie in front of the other pinkie, forming a semicircle with your hands.
Place the back of your head against your palms, and the top of your head on the mat, so your skull is vertical with the floor. Once your head and forearms feel stable, straighten both legs and walk you feet toward your face as far as you can.
Shift your hips over your shoulders, and keep your elbows planted firmly on the mat. Lift both legs into the air, coming into Bound Headstand.
Stay in Headstand for five breaths, relaxing the jaw as well as the shoulders away from the ears. Take a breath in, and as you exhale, slowly lower both feet toward the mat so they are parallel with the floor. Hold here for another five breaths.
Inhale and then exhale to raise the legs back up into Headstand. Repeat four more times.
Up for a bigger challenge? See an advanced variation after the break!
If you're up for more of a challenge, then on the exhale, slowly lower both feet all the way down, hovering an inch or so above the floor, and then inhale to slowly rise back up to Headstand.
Repeat for a total of 10 to 30 times or as many as you can do correctly. The slower you move, the less you'll rely on momentum, which means a more effective core workout.
After you're finished, slowly lower both feet to the floor, release your knees to the mat, and come into Child's Pose. Stay here, massaging your neck and shoulders. Sit up after five or so breaths, and gently lower your head back, taking this Seated Heart Opener as a counterpose.