Easy Vegan Mushroom Taco Recipe
Eat These Easy Vegan Tacos, With or Without a Margarita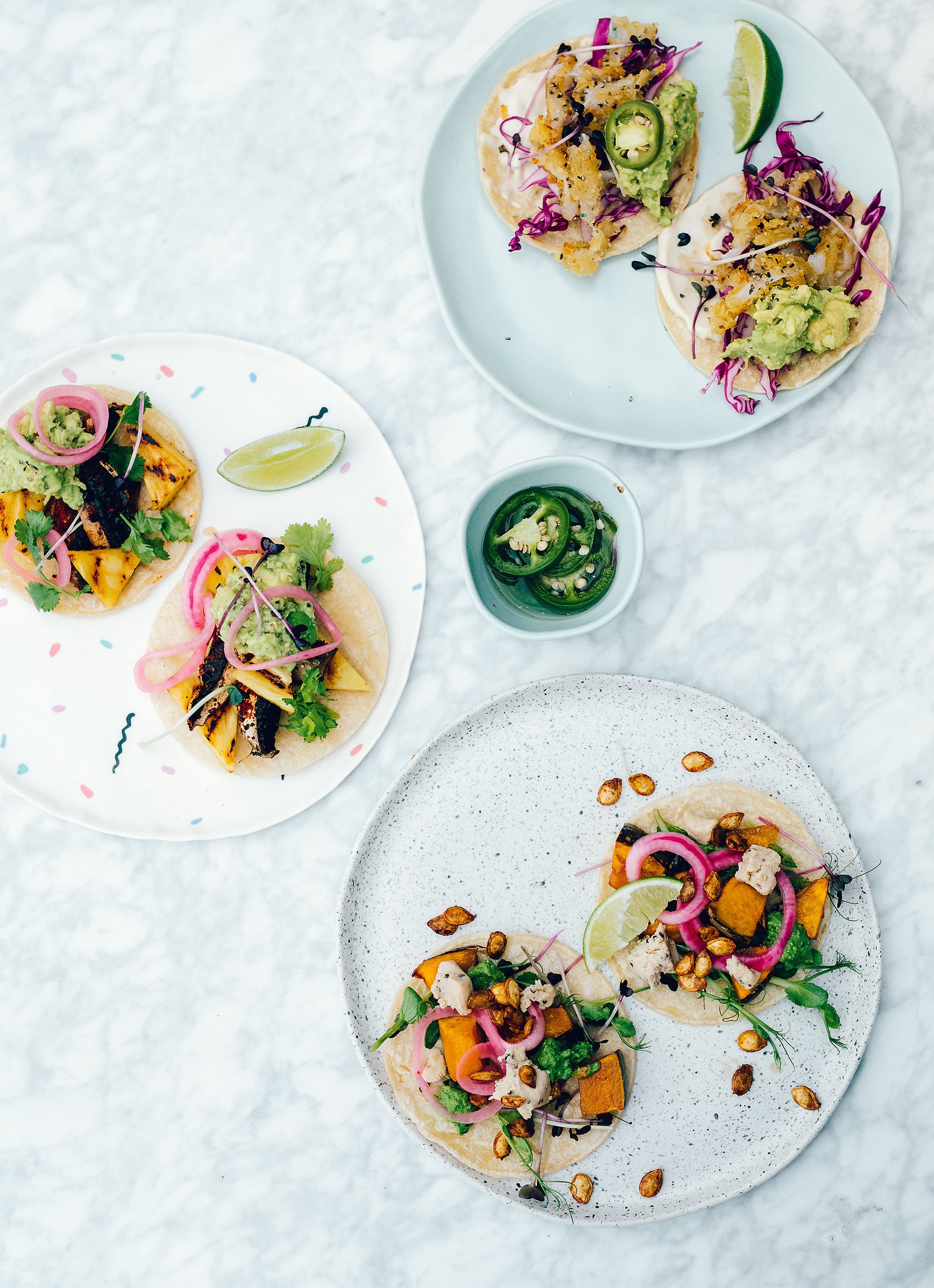 If Mexican is your go-to when cooking for friends and family, this is one recipe you'll want to add to your repertoire. Created by Ellie Bullen, for her latest cookbook, The Global Vegan.
Whether it's to satisfy a vegan in your life or you're simply looking to eat less meat, this is one of those recipes that won't have anybody asking if you forgot an ingredient (and trust us, we've tried it on everyone).
Mushroom Tacos
The Global Vegan
Notes
Authentic tacos are very different to the old-school variety you find in Australia that feature minced beef, shredded tasty cheese, sour cream and a packet of taco sauce all served in a hard corn shell. When we were in Mexico, we didn't see any cheese or sour cream on the menu and hard taco shells were non-existent. Instead, they were served on freshly made corn tortillas with lots of fresh, local ingredients. I tried various vegan tacos while we were there, and I wanted to share my favourites in this book.
These mushroom tacos were inspired by some that we enjoyed at a hotel called La Valise during our honeymoon in Tulum. We sat by a beautiful beach in the afternoon, eating these delicious tacos and sipping margaritas. I've tried my best to recreate them here to bring you a true taste of Mexican cuisine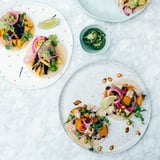 Ingredients
160 g peeled and cored pineapple, cut into small triangles
2 large flat mushrooms, cut into 1 cm thick slices sea salt
1 teaspoon chilli powder, or to taste
1 teaspoon coconut oil (optional)
1⁄2 avocado
1 tablespoon freshly squeezed lime juice,
plus lime wedges to serve
pinch of freshly ground black pepper
4 soft corn tortillas (store-bought is fine)
2 tablespoons pickled red onion
1 tablespoon coconut aminos
coriander leaves, to serve
micro herbs, to serve (optional)
Directions
Heat a frying pan over medium–high heat and add
the pineapple. Fry for 1–2 minutes on each side or
until golden, then transfer to a plate and set aside.
Add the mushroom to the pan with 2 tablespoons
of water, a pinch of salt and the chilli powder,
and simmer until the liquid has evaporated. If you
would like your mushroom to be golden and a
little crispy, add the coconut oil to the pan and fry
the mushroom slices for a further 2 minutes or
until golden brown. Set aside.
Mash the avocado with the lime juice and a pinch
of salt and pepper in a small bowl.
Fry the tortillas in a dry frying pan over high heat
for 15 seconds on each side, then transfer to
serving plates.
To assemble your tacos, spoon the mushroom
mixture onto the tortillas and top with the
grilled pineapple, mashed avocado and pickled
red onion. Drizzle the coconut aminos over the
tacos and scatter with a few coriander leaves
and micro herbs (if using). Serve with lime
wedges on the side.
Information
Category

Main Dishes

Cuisine

Mexican

Yield

Serves 2