Egg Buddha Bowl Recipe
This Egg Buddha Bowl Is About to Become Your Healthy Go-To For When You Just CBF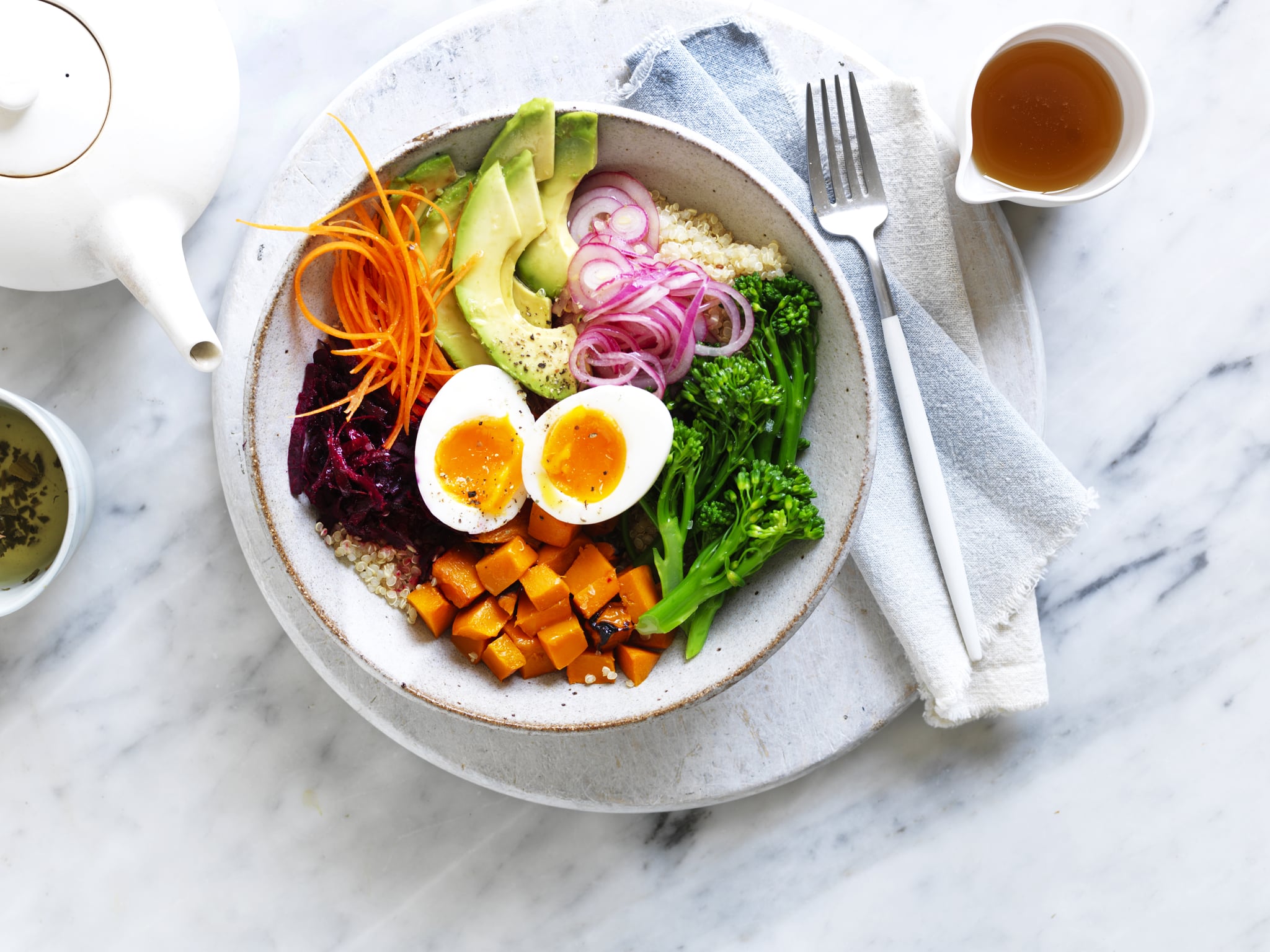 Who doesn't love a Buddha bowl? They're quick, easy and combine all the perfect ingredients for a healthy meal – protein, carbs, good fats and stacks of colour!
According to nutritionist and Australian Eggs spokesperson, Chloe McLeod, this recipe is the perfect mood booster, "The Buddha Bowl dish is rich in a variety of ingredients that are great for your mood. Eggs contain vitamin D and Choline, both of which are linked to better mood and lower rates of anxiety! Their rich protein content also aids satiety and helps stabilise blood sugar levels, which can also contribute to a better mood."
"The dish is also rich in fibre from the variety of vegetables and grains in contains — 7 in total! We should aim for 30 different plants across the week for best health, so this variety has some great steps towards achieving this," says Chloe.
Chloe's top tip for utilising this recipe in the colder months:
"Serve this dish with a poached egg and warm veggies and quinoa — it'll make it a more comforting style meal, whilst in summer pre-cooking and serving the ingredients cold with the eggs boiled will be more refreshing. Plus, cooking and cooling pumpkins and quinoa increases their resistant starch which is excellent for feeding those healthy gut bugs!"
Egg Buddha Bowl
Australian Eggs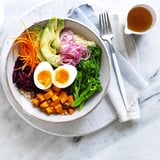 Ingredients
600g piece pumpkin, deseeded, peeled, cut into 2cm cubes
Olive oil cooking spray
1 small red onion, thinly sliced
1⁄4 cup white wine vinegar
3 cups water
1 cup quinoa
1 bunch broccolini, trimmed
4 eggs
1 large carrot, finely shredded
1 large red beetroot, peeled, grated
1 large avocado, sliced
Dressing:
1/3 cup vegetable oil
2 tbsp rice wine vinegar
2 tsp sesame oil
2 tsp honey
1⁄2-1 tsp wasabi
Directions
Preheat oven to 200C. Line a baking trays with baking paper. Spread pumpkin onto tray and spray with olive oil. Season with salt and pepper. Roast pumpkin for 20 minutes or until tender. Cool.

Place onion and vinegar into a bowl and stand for 20 minutes. Drain well.

Put 3 cups water into a saucepan and bring to the boil. Add quinoa, cover and reduce heat to medium low. Simmer for 10-15 minutes or until quinoa is tender. Drain and rinse under cold water. Drain well.

Bring a medium saucepan of water to the boil. Add broccolini and cook for 1 minute or until just tender. Remove with tongs. Return water to the boil. Add eggs and cook for 7 minutes. Drain.

To make dressing, whisk oil, vinegar, sesame oil, honey and wasabi in a jug. Season with salt and white pepper.

Spoon quinoa into shallow bowls. Add pumpkin, red onion, broccolini, carrot, beetroot and avocado. Drizzle dressing over bowl. Peel eggs cut in half and place on top of bowls. Serve.
Information
Category

Salads

Total Time

24 minutes, 59 seconds