Healthy Lentil and Feta Frittata Recipe
This Healthy Lentil and Feta Frittata Recipe Has Mood-Boosting Benefits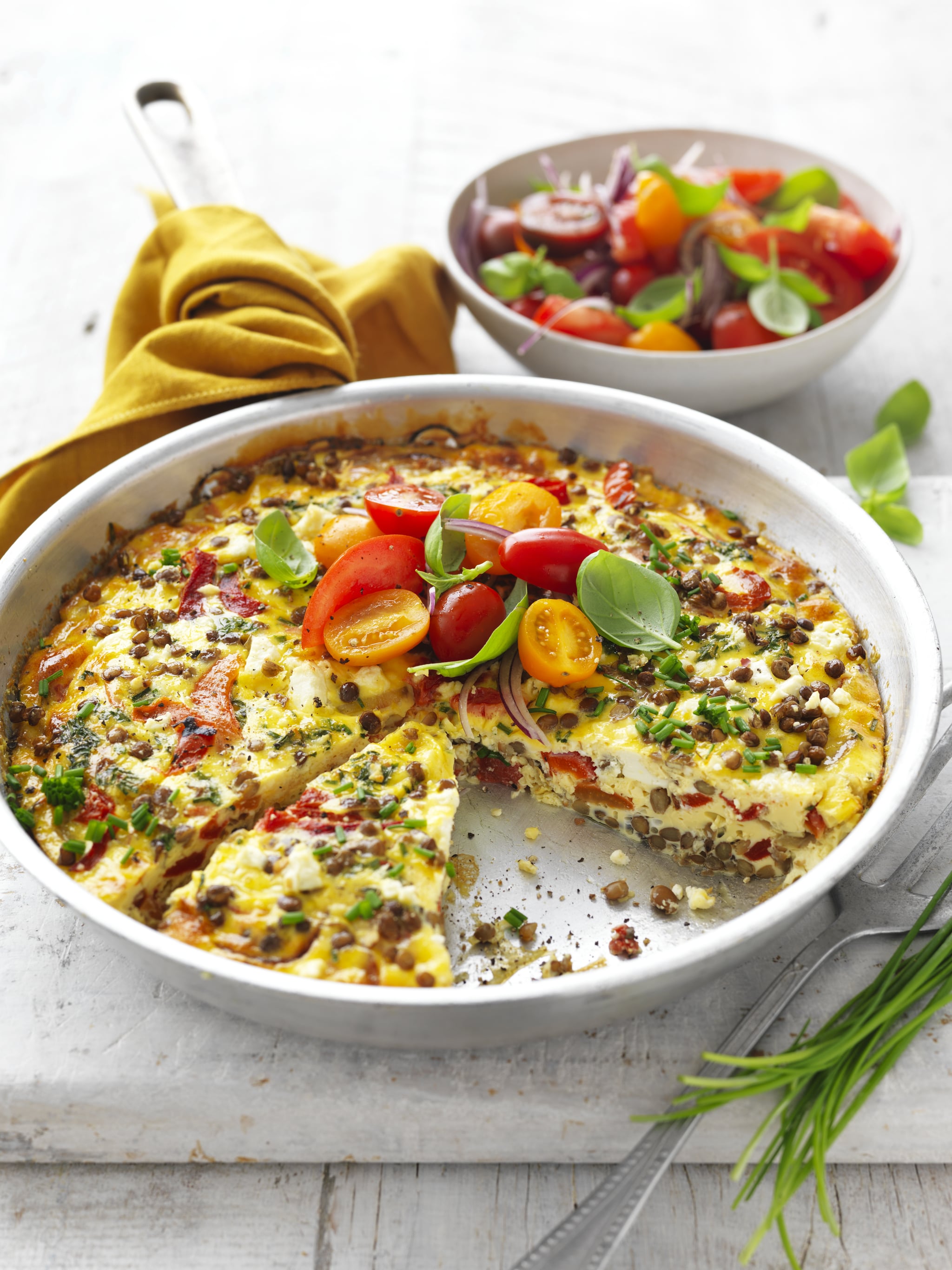 If you're craving a light, easy meal, Frittatas are the perfect option. Not only are they easy to make, they are loaded with all the key components of a healthy meal: rich protein from the eggs, fibre and carbohydrates from lentils and healthy fats via extra virgin olive oil, plus you can always top it with a little avocado to up the good fats.
According to nutritionist and Australian Eggs spokesperson, Chloe McLeod, this recipe is also a great mood booster, "The lentil and fetta frittata is also rich in a variety of ingredients that are great for you mood. Eggs contain vitamin D and Choline, both of which are linked to better mood and lower rates of anxiety," says Chloe. "Their rich protein content also aids satiety and helps stabilise blood sugar levels, which can also contribute to a better mood."
"The inclusion of onion and lentils provides plenty of prebiotic fibre. This feeds our healthy gut bacteria, which can have a profound impact on mood. The extra virgin olive oil is a fantastic anti-inflammatory due to its oleocanthal, along with plenty of healthy fats. Finally, the capsicum and tomatoes are good sources of b vitamins which are important in managing stress levels."
Healthy Lentil and Feta Frittata
Australian Eggs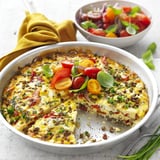 Ingredients
INGREDIENTS
8 eggs
1/2 cup low fat milk
1 tablespoon olive oil
1 brown onion, thinly sliced
400g can lentils, rinsed, drained
310g jar roasted capsicum strips, drained (about 2/3 cup)
100g feta, crumbled
2 tablespoons chives, chopped, plus extra to serve
Tomato Salad
4 tomatoes, cut into wedges (use different colours and shapes if available)
1/2 red onion, thinly sliced
3 tsp extra virgin olive oil
1 tsp balsamic vinegar
1/4 cup small fresh basil leaves
Directions
Preheat oven to 200°C conventional/180°C fan forced. Crack the eggs into a bowl, add milk and whisk. Season with salt and pepper.

Heat oil in a 20cm ovenproof frying pan over medium-high heat. Add the onion and cook for 5 minutes or until light golden. Add lentils and capsicum, stir to combine.

Pour in the egg mixture and scatter with feta and chives. Bake in the oven for around 15-20 minutes or until cooked.

Meanwhile, to make the tomato salad, combine tomato and onion in a bowl. Drizzle with oil and vinegar, season with pepper and scatter with basil leaves.

Remove frittata from oven, leave to cool for 5 minutes before removing from pan. Scatter with extra chives and serve with the tomato salad.
Information
Total Time

9 minutes, 59 seconds
Image Source: Australian Eggs