How to Feel More in Control During COVID19
Thoughts I'm Having: Why Do We Look For Things To Control When Things Feel So Uncontrollable?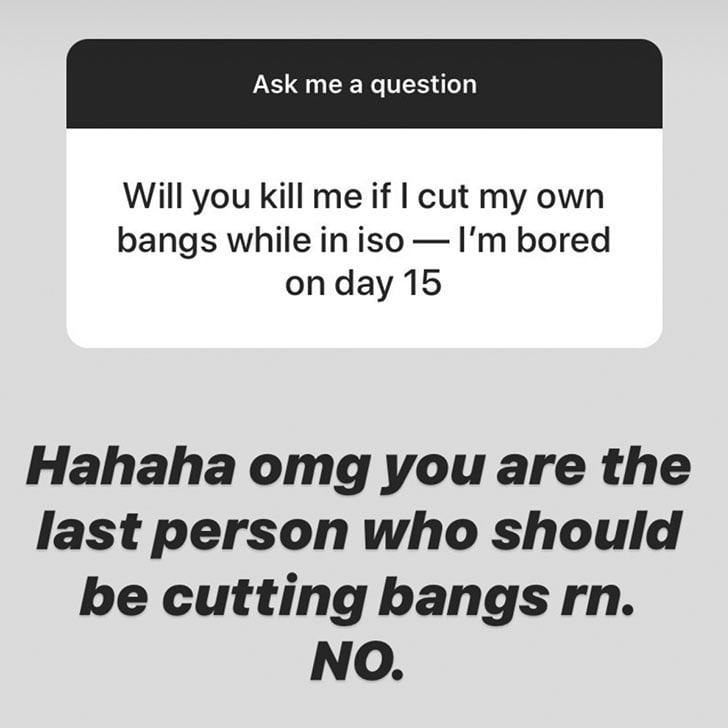 Earlier this week, I entered week three of self-isolation. Which when written in front of me now, doesn't sound like a long time, but it certainly feels like a long time. Especially if, like me, you suffer from anxiety. A lot of my anxiety comes from the things I cannot control. My therapist says it has a lot to do with my incessant need for things to be done my way, my horoscope says it's because I was born a Cancer. Either way you spin it, a global pandemic, which is completely out of everyones control, was always going to take a toll my mental health.
After a week or so in iso, I noticed that my need to control the little things in my life, things I'd usually be pretty relaxed about, had started to escalate. The weird relationship I had with food in high school started to rear its ugly head. The idea of cutting my own bangs suddenly became reasonable (editors note: I have curly hair, cutting bangs for curls should strictly be reserved for professionals). I started to obsess a little more than usual about my appearance, mainly my skin — I don't know if it was because I was constantly aware of how much I was touching my face when I wasn't supposed to be, or if it was the fact I was suddenly surrounded by more mirrors in my day-to-day travels around my apartment. Speaking of my apartment, it had also started to feel dirty, like it needed to be disinfected religiously, which it probably should be at a time like this, but it became more of an uneasy feeling rather than a necessity.
Worried about how all of these little things were causing a mental fog, and that that unless seen to, would become a huge source of anxiety, I reached out to Lysn psychologist, Nancy Sokarno. She assured me that this was a completely normal reaction to our current abnormal situation, "We tend to look for stability and direction in these behaviours when it doesn't otherwise feel like we are in control of larger variables in our lives."
Was a global pandemic a large enough variable to make me feel out of control? Absolutely. "I have seen this manifest in ways of eating habits, fitness regimes, compulsive behaviours, over-protective relationships, you name it," says Nancy.
It's simple enough that it makes sense, especially when right now we're losing so much of what usually makes us feel secure like our jobs and homes, we're separated from friends and family, there's more external strain on relationships, and single people suddenly feel very single. It's understandable that we're honing in on what we can control to give us some sense of normality.
Nancy recommends looking towards things that are beneficial for you to invest your energy into that will not become an excessive in an already uncontrollable situation. If snacking has been something you're leaning into while WFH, try creating healthy snacks to have on hand that you can enjoy without a side of guilt. If you're known for making drastic changes to your appearance during times of crisis (hello, breakup bleach), try reaching for a hair mask instead, trust me your hair will thank you once this is all over. And if you've suddenly kicked your exercise regime up a notch as a stress reliever, remember that at a time like this you need to exercise your mind, too. Try swapping one day of exercise for a day of meditation or yoga.
If you aren't feeling great and you need to talk to someone, remember: you are not alone. There are people just on the other side of the phone waiting to speak to you — just call Lifeline on 13 11 14 or BeyondBlue on 1300 22 4636.