Keep It Cleaner App Relaunch Details and Interview
Just When You Thought Keep It Cleaner Couldn't Get Any Better, Steph & Laura Launch KIC 2.0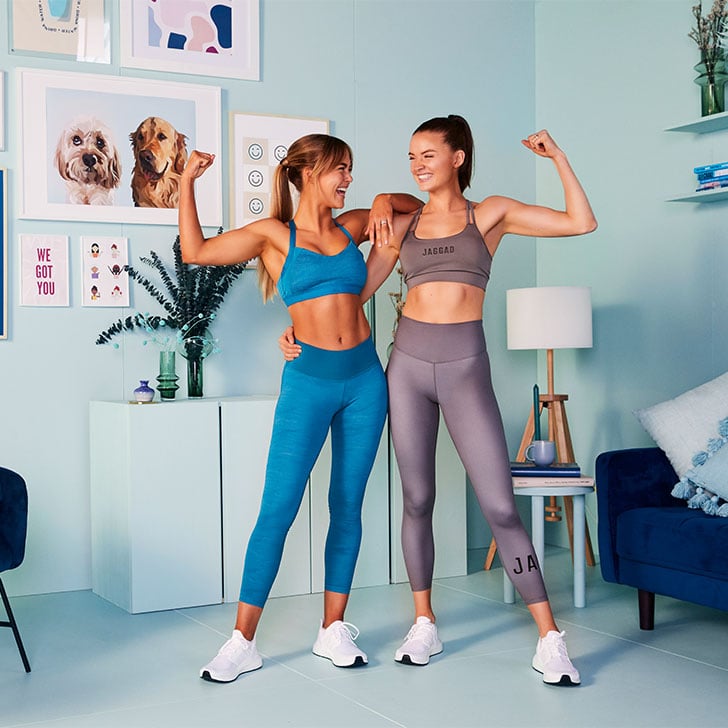 When long time best friends Steph Claire Smith and Laura Henshaw launched their fitness app Keep It Cleaner back in 2018, they could never have imagined the impact and reach that their fuss-free approach to wellness would have.
Women all over the world subscribe to the lifestyle Steph and Lara embody and encourage via KIC. Focusing mainly on healthy lifestyle changes and eliminating the need for women to constantly compare and critique their bodies, the girls have worked tirelessly to flip traditional fitness industry on its head and shift women's perspectives on health and wellness.
Today, the girls launch KIC 2.0 an update of the original platform you've come to know and love, with new features and additions that are said to improve the experience entirely. Ahead of today's launch, POPSUGAR Australia sat down with Steph and Laura to talk about the re-launch, meeting their new trainers and quiz them about their favourite recipes and workouts from KIC 2.0.
Scroll to read the full interview.
POPSUGAR Australia: Congratulations on the re-launch of Keep It Cleaner, what made you guys want to relaunch the brand when it's already such a huge success?
Laura: Since its launch in late 2018, Keep It Cleaner (KIC) has always been focused on lifestyle changes that are accessible, fuss-free and easy to adapt no matter where you are in your wellness journey: Steph and I have been totally dedicated to flipping the fitness industry on its head, eliminating the need for comparisons and continual assessment of your physical self. KIC and our community is a platform we would have loved to have had when we were younger — it aims to set a realistic approach to wellness and is rooted in kind and respectful behaviours.
We know our message has really resonated with our community, I think because we are committed to transforming your mind with the support of a strong community, with a physical transformation a bi-product of the KIC journey.
KIC has been a phenomenal journey that has impacted so many people in a positive way and we are so grateful for this, but we continually strive to improve our offering to our community and make it better for them.
Last year Steph and I identified that we really wanted to grow the brand and begin to scale. We knew we needed to build out the team to do this and worked really hard to recruit Michelle Battersby as our Chief Marketing Officer. Michelle has absolutely been the driving force behind KIC's evolution and the new KIC app, which we'll all get to enjoy from Monday, August 17.
Michelle worked closely with Steph and I to understand what the previous success and failures had been to identify rooms for growth. As a result of this, the team began to dedicate an incredible amount of time working closely with our community to understand what they loved about the app and what they'd love to see more of from the platform. This approach has meant we've been able to integrate every opportunity to improve, and the result is totally amazing — we have new workouts, more variety when it comes to the types of workouts, new recipes and a group of new trainers who are so aligned with our values and are fantastic if you're just starting out or well and truly on your fitness journey.
PS:Can you walk us through what we can expect? And Introduce us to each of the new trainers?
Steph: You can expect a new and improved KIC and we are so excited about this. We have kept the best bits of the original KIC platform, including our founding trainer Danny Kennedy, and incredible wellness trainers. However, we are introducing many new features and additions that we think will improve the experience entirely.
The new trainers are one new feature that we're really excited about. Ellice Whichello will head up KIC boxing programs and is entirely fierce yet incredibly kind, her workouts are absolutely challenging but so much fun.
Brooke Jowett, who heads up our KIC HIIT masterclasses, and is a former Survivor, knows a thing or two about resilience but is also one of the loveliest human beings we have ever worked with. Brooke's HIIT classes are high energy and seriously fun, you seem to fly through them and finish feeling so great.
Brittney Cutts leads the KIC strength program and has been a friend of mine for many years now. She has this incredible way of inspiring you to lift and hold for longer, so you finish each workout feeling empowered and revitalised. She's got such a big heart and I just know the community are going to love her.
In addition to the new fitness programs, we also have some really exciting new recipes, as well as a vegan meal plan that Ellice Whichello our boxing trainer and nutritionist, has created for KIC.
Another incredible addition to the new KIC app is the personalised options we will now offer. We know that you feel different each day, so how you want to work out is likely to change too. The new KIC app will enable you to workout with an interval timer, link your music to your favourite Spotify playlist or the option to join the trainer in the workout or just follow the steps. This is all new to KIC and we know something our community is really thirsty for.
PS: How do you think your KIC community will react to the relaunch? Were all these changes inspired by feedback from your KIC community?
Laura: We are entirely confident our community will welcome the new and improved KIC platform because it has so many more options and experiences for the community to enjoy as they go on their wellness journey.
We've actually already had some incredible feedback from the community with the teasers shared on our socials over the last couple of weeks. It has been so hard keeping the secret from them, but we think they'll be well rewarded on Monday, August 17 when the KIC app goes live.
PS: Over the last few months everyone's approach to fitness and wellness has changed, how has that impacted the KIC community?
Steph: We are all living in unprecedented and uncertain times. In March when the world went into lockdown the KIC team were desperate to do something to give back to our community and beyond. KIC launched the virtual gym, which saw Laura and I do an IG and Facebook Live workout three times a week. This was a truly incredible concept, we had thousands and thousands of people from all over the world jumping on each morning, helping to keep us all motivated in challenging times.
The KIC community has always been a positive one but Laura and I have been so proud to see how supportive the community are of each other during this time.
We believe a strong focus on moving our body regularly, being inspired by new recipes, being mindful when we can, and coming together as a supportive community will get us all through this.
PS: Do you guys each have a favourite new workout within the app?
Steph: Honestly, they're all so good it really is almost impossible to choose! However, I really love Christina's new Pilates sessions and one of my favourites would be 'Find Your Rhythm'.
Laura: It is so hard to choose. One of my faves is Ellice's Full Body Burner which is a killer and so much fun.
PS: And a new favourite recipe we should look out for?
Steph: The Creamy Pumpkin Fettuccine recipe from our new vegan meal plan is DELICIOUS! So filling and something the whole fam can enjoy.
Laura: I love the Cobb Salad with Coconut Bacon which is one of our new recipes as a part of the new vegan meal plan and is so damn delicious.
PS: And finally, where do you girls see the future of fitness/KIC heading?
Steph: If 2020 has taught us anything (besides patience), flexibility, virtual experiences and community are critical to the future of fitness.
Laura: Personalisation is the future of the fitness industry. Steph and I created KIC to be the PT in your pocket as well as your ultimate work out buddy — the new KIC app has so many options when it comes to getting moving, so you can craft a workout that suits your needs for that very moment.
You can sign up to the KIC 2.0 here.