Recipe for Snickery Caramel Bars By Sam Woods
Try Not to Drool All Over Your Screen While You Eye Off These Delicious Snickery Caramel Bars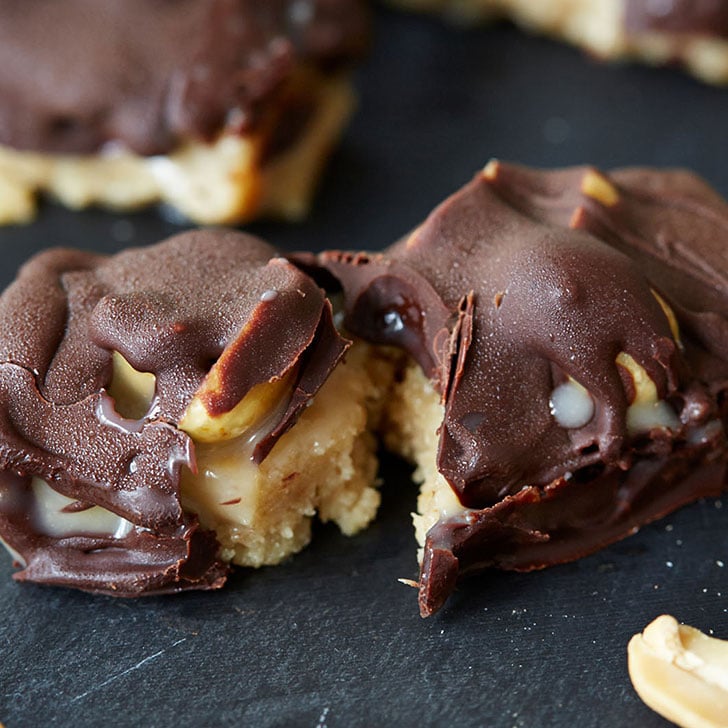 If you're looking for the perfect stress bake recipe (don't worry, self-iso has brought it out in us all), look no further than Sam Wood's Snickery Caramel Bars.
While they sound super naughty, they're actually made from healthier baking alternatives like rice malt syrup and dark chocolate, so you don't have to feel as guilty if these bad boys become a regular in your repertoire.
Snicker-y Caramel Bars
28 By Sam Woods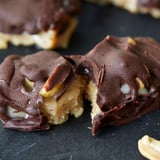 Ingredients
1/4 cup peanuts roasted, roughly chopped
100 g 85% dark chocolate
1/4 cup rice malt syrup
100 grams butter
1 pinch sea salt
85 millilitres coconut cream
175 millilitres coconut cream
1 tablespoon rice malt syrup
1 pinch sea salt
1 teaspoon vanilla extract
1/3 cup coconut flour
1/2 cup peanut butter (smooth)
Directions
To begin, prepare the gooey caramel sauce.
Heat the rice malt syrup in a saucepan until bubbling vigorously. If you have a candy thermometer it should reach 140°C/275°F. If you don't have a thermometer, cook the syrup for 13 minutes until syrup has reduced down. The mixture should be thick, drippy and coat the back of a spoon lightly.
Add 100g of butter and a pinch of salt and stir until combined over medium heat.
Remove from heat and slowly add the coconut cream, stirring until combined.
Pour caramel into a bowl and sit in the freezer until thick for 2 hours.
Whilst the caramel is in the freezer, line a loaf tin with baking paper.
Combine all ingredients for the base in a bowl until mixture comes together and forms a very soft dough. You may need to add more coconut flour to achieve the right consistency.
Spoon mixture into lined loaf tin and freeze for 1-2 hours or until firm to the touch. Remove nougat from the freezer and cover with Gooey Caramel Sauce. Sprinkle with chopped peanuts and slice nougat base into 20 even pieces. Place back in the freezer for a further hour to set again.
In the meantime line a baking tray with baking paper. Melt the store-bought chocolate over a double boiler. Remove Snickery Bars from the freezer and dip each bar in the chocolate. Place onto the lined trays and put bars back in the freezer until ready to serve.
Information
Category

Chocolate

Yield

20

Prep Time

20 minutes

Cook Time

4 hours

Total Time

4 hours, 19 minutes, 59 seconds
Nutrition
Calories per serving

173.2
Image Source: 28 By Sam Woods