Salmon and Sweet Potato Patties Recipe
These Dairy and Gluten-Free Salmon Patties Are Made for Weeknight Cooking
If you're trying to be better in the kitchen this Spring, then you're going to need a few go-to weeknight recipes on hand for when the urge to press 'order' on UberEats strikes.
Created by Jessica Sepel, for her latest book, The 12 Step Mind-Body-Food Reset, not only is this salmon and sweet potato patties recipe easy to master, but it's gluten and dairy-free.
Keep reading to try the recipe out for yourself.

Salmon and Sweet Potato Patties
12 Step Mind Body Food Reset by Jessica Sepel
Notes
You will need 300g of peeled sweet potato to make one cup of mash. Roughly chop the peeled sweet potato, then steam over a saucepan of boiling water for 15-18 minutes, or until a knife passes easily through the largest chunk. Allow it to cool completely before mashing with a fork and using for this recipe.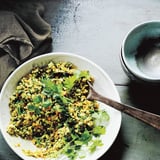 Ingredients
250g (1 cup) mashed sweet potato (see note)
1 salmon fillet (200g), skin and bones removed, finely chopped
1 large egg, whisked
2 tablespoons psyllium husk
2 tablespoons finely chopped chives
Sea salt and freshly ground black pepper
100g (1 cup) almond meal, to coat
Coconut oil, to cook
Lemon wedges, to serve
Directions
Place the mashed sweet potato, salmon, egg, psyllium husk and chives in a bowl and season well with salt and pepper, then mix with clean hands until well combined. Cover the bowl and refrigerate for 20 minutes, or until the mixture firms up slightly.
Shape the mixture into four even patties about 7cm round, then put the almond meal on a large plate and coat each patty lightly and evenly on all sides in the almond meal.
Heat the coconut oil in a large, non-stick frying pan over medium-low heat. Cook the patties for 12-15 minutes, carefully turning them over halfway through, until cooked through and golden. Keep in an airtight container in the fridge for up to 3 days and serve with lemon wedges.
Information
Yield

Serves 4

Prep Time

20 minutes

Cook Time

15 minutes

Total Time

34 minutes, 59 seconds
Image Source: 12 Step Mind Body Food Reset