Sam Woods Healthy Choc Chip Hot Cross Bun Recipe
Fire Up Your Ovens, These Choc Chip Hot Cross Buns Are the Perfect Comfort Food For This Weekend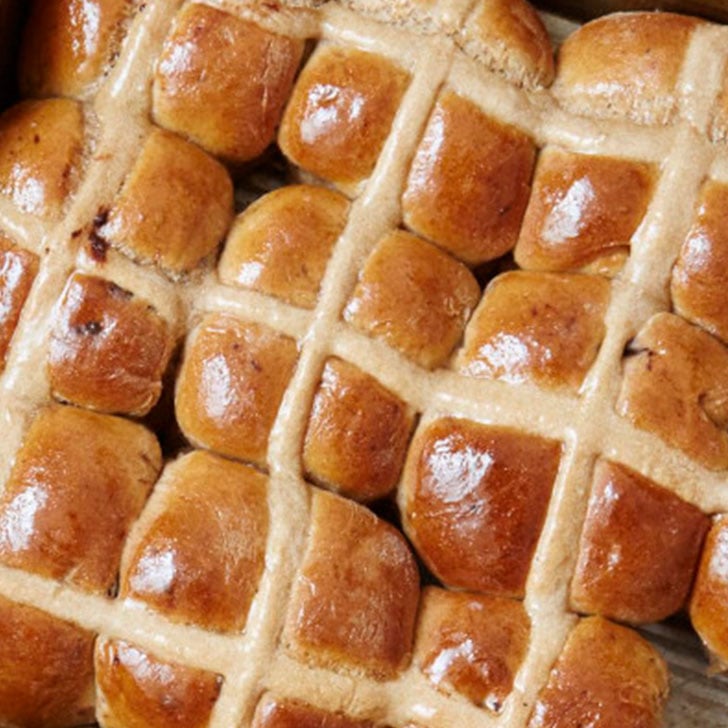 It's quite possibly one of my favourite times of the year, and not just because hot cross buns line supermarket shelves, but because it's the time of year when you can eat all kinds of naughty, delicious treats at whichever hour you please and blame it on Easter. Just me?! Sure.
Personal Trainer and Fitness Expert, Sam Wood's tells me that traditionally, hot cross bun recipes contain over five teaspoons of sugar per bun, which feels like a lot. So they've come up with a healthier recipe that reduces this to 1/2 teaspoon of fructose-free sweetener per serve, so you can enjoy these babies guilt free.
Sam also highly recommends serving these toasted with a generous slather of butter and we whole heartedly agree.
Chocolate Chip Hot Cross Buns
28 By Sam Woods (Recipe Created by Meg Yonson)
Notes
Because these Choc Chip Hot Cross Buns don't contain any preservatives or sugar, they won't last as long as supermarket-purchased ones. We suggest eating these fresh out of the oven or within the next few days. After that, we recommend freezing them, then eating them toasted with a good slather of butter.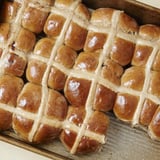 Ingredients
1 tablespoon dried instant yeast.
1 teaspoon rice malt syrup.
4 3/4 cups white spelt flour.
1 1/4 cup full-fat milk, lukewarm (not hot, otherwise it will kill the yeast).
1 teaspoon sea salt.
1 tablespoon stevia granules.
60 g butter, at room temperature.
1 1/2 teaspoon cinnamon, ground.
1 teaspoon allspice.
1 egg, lightly beaten.
50 g 85-90% dark chocolate, chopped finely.
To Make the Glaze You'll Also Need:
2 teaspoons rice malt syrup.
1 tablespoon boiling water.
Directions
Add yeast, 1 tablespoon spelt flour, warm milk and 1 teaspoon of rice malt syrup into a mixing bowl. Mix well. Cover your bowl and allow to stand in a warm place for 15 minutes until mixture is frothy.

Meanwhile, sift 4 cups of spelt flour, salt, stevia and spices into a large bowl and toss to combine. Add in the butter and rub into flour mixture with your fingers until combined.

Once the yeast mixture is frothy, add into the flour mix with the whisked egg. Stir to combine. Add in the chocolate pieces then fold through. Cover the bowl again and allow to stand in a warm place for 40 minutes or until dough has almost doubled in size.

Preheat oven to 200°C and lightly grease a 18cm x 30cm lamington tin.

Punch dough down, turn onto a floured surface, and knead well until dough is smooth and elastic. Cut into 3 equal pieces then cut each piece into 5. Knead each into round shape.

Place buns into the prepared tin in rows. Don't worry if they don't touch, they will expand in the oven. Cover and again allow to stand for 10-15 minutes in a warm place or until the buns have expanded.

Meanwhile, to make the crosses, sift ½ cup of spelt flour into a bowl and add 1/4 cup of water, mix to form a paste. You may need to add a touch more water to make the mixture a thick, but still fluid consistency. Fill into a small ziplock bag and then cut a hole across the corner. Use this to pipe crosses onto the top of each bun.

Place buns into the oven and bake for 20 minutes.

Meanwhile, combine the rice malt syrup with boiling water. Once hot cross buns have cooked, remove from the oven and immediately brush with glaze. Serve buns warm with a generous slather of butter.
Information
Yield

15

Prep Time

1 hour 35 minutes

Cook Time

20 minutes

Total Time

1 hour, 54 minutes, 59 seconds
Image Source: 28 by Sam Woods