Simone Biles Breaks Records Without Realising It
Simone Biles Says She "Doesn't Realise" She's Breaking Records Until Someone Tells Her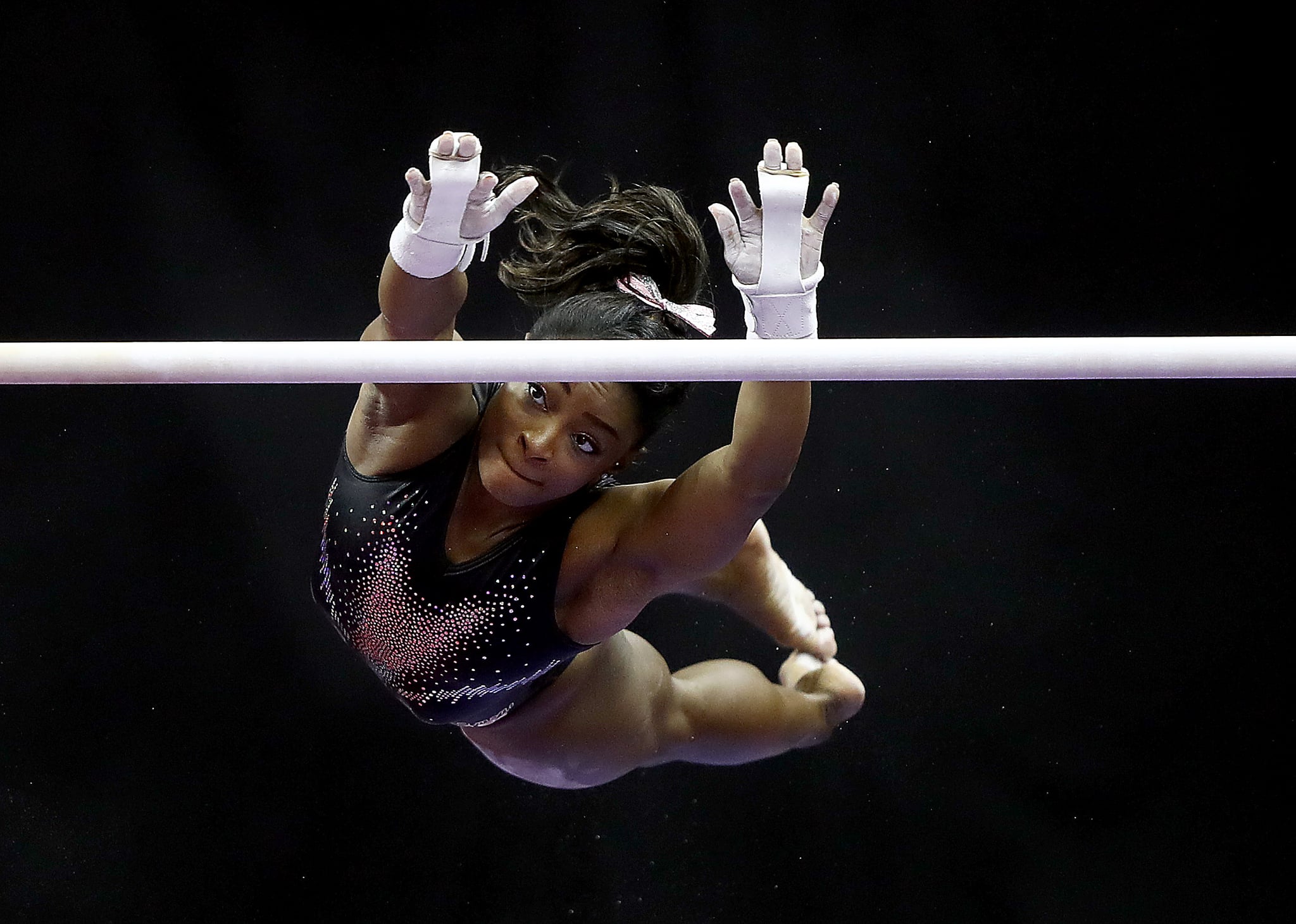 With all the articles I've written about Simone Biles's greatness, you should know that she is a record-setter by now. In the sport of leotards and moves that only daredevils do, she's arguably the greatest of all time — and her medal count proves it. She has 20 World Championship medals so far, and with 2019 Worlds right around the corner, that number will surely rise. We've even spoken to an international judge who's admitted that, in competition, no one can touch Simone and her scores; they're just that good.
Simone, the first woman in the US to win four gold medals at a single Olympic Games, has two gymnastics skills and counting named after her. They're listed in the the FIG Women's Artistic Gymnastics Code of Points and include "The Biles," one on floor and one on vault. If she lands her now-famous triple-twisting double on floor at the upcoming World Championships this October, it'll be dubbed "The Biles II." It's a J-level skill, which in simple terms means it's the most difficult and highest-point-earning skill in gymnastics right now. We break down the requirements for getting a skill named after you here, but basically, you have to be the first to land the move at Worlds or the Olympics.
Aside from The Biles II, Simone, a six-time national all-around winner who has never lost an all-around competition since 2013, is also en route to getting a move on beam named after her: a double-twisting double dismount. But other than that, she probably won't be adding any new skills into her already-difficult performances before the Tokyo Olympics come around. She told POPSUGAR ahead of her partnership with dental alignment company Candid, "Anything that I have in my routines we're trying to solidify to move forward within 2020." Her focus will be keeping her routines consistent on all four events.
"I don't try to get skills named after me," Simone admitted. "It kind of just happens." Despite her long list of accomplishments thus far, the 22-year-old says that she doesn't try to break records, or she isn't aware that she's doing it at the time. "I feel like I don't realise it's record-breaking until someone tells me afterwards, but it'll kind of be cool to have my name in the record books forever." Simone continues to challenge the limits in her sport even if she doesn't actively try to do so — it comes naturally. And by the looks of it, her talent truly knows no bounds.