Under Armour's HOVR Mechina Running Shoe Review
If You're A Runner, Under Armour's New Hovr Machina Sneaker Should Be Your Next Purchase
As POPSUGAR editors, we independently select and write about stuff we love and think you'll like too. POPSUGAR has affiliate and advertising partnerships so we get revenue from sharing this content and from your purchase.
I'm a runner in the sense that I can run, and try to a few times a week. I usually aim for around 5km to make it worth while, but I wouldn't say that I'm like a hectic marathon-level runner (though I'd like to be).
So when the opportunity came up to trial Under Armour's new HOVA Machina sneakers, I was intrigued. Mainly because they essentially come with an in-build running coach. Yep, you read that right, it's the perfect blend of real-time form coaching and long-distance running comfort.
How It Works
You download UA's Map My Run app and sync your phone to your shoes. It's pretty straight forward, once you're all connected you begin your mapped run. As you go along it tracks a range of things like your distance, cadence, pace, average foot strike angle and stride length, while also coaching you through your run.
Every kilometre I hit, it would update me through my headphones as to how I was tracking, whether I needed to up my pace to reach my goal, or if my cadence had fallen below average and what my strike rate was. It was basically coaching me through my run and helping to keep my mind on track. I'm someone who loves to run because I feel like it's a distraction and my body goes into this whole fight or flight mode and I forget all my worries, which means I'm absolutely not focused on my form.
So having the little coach in my ear helped to realign my focus and keep me accountable to run further and improve my form. Plus, at the end of each run it gives you a break down and some tips to improve your stride for next time.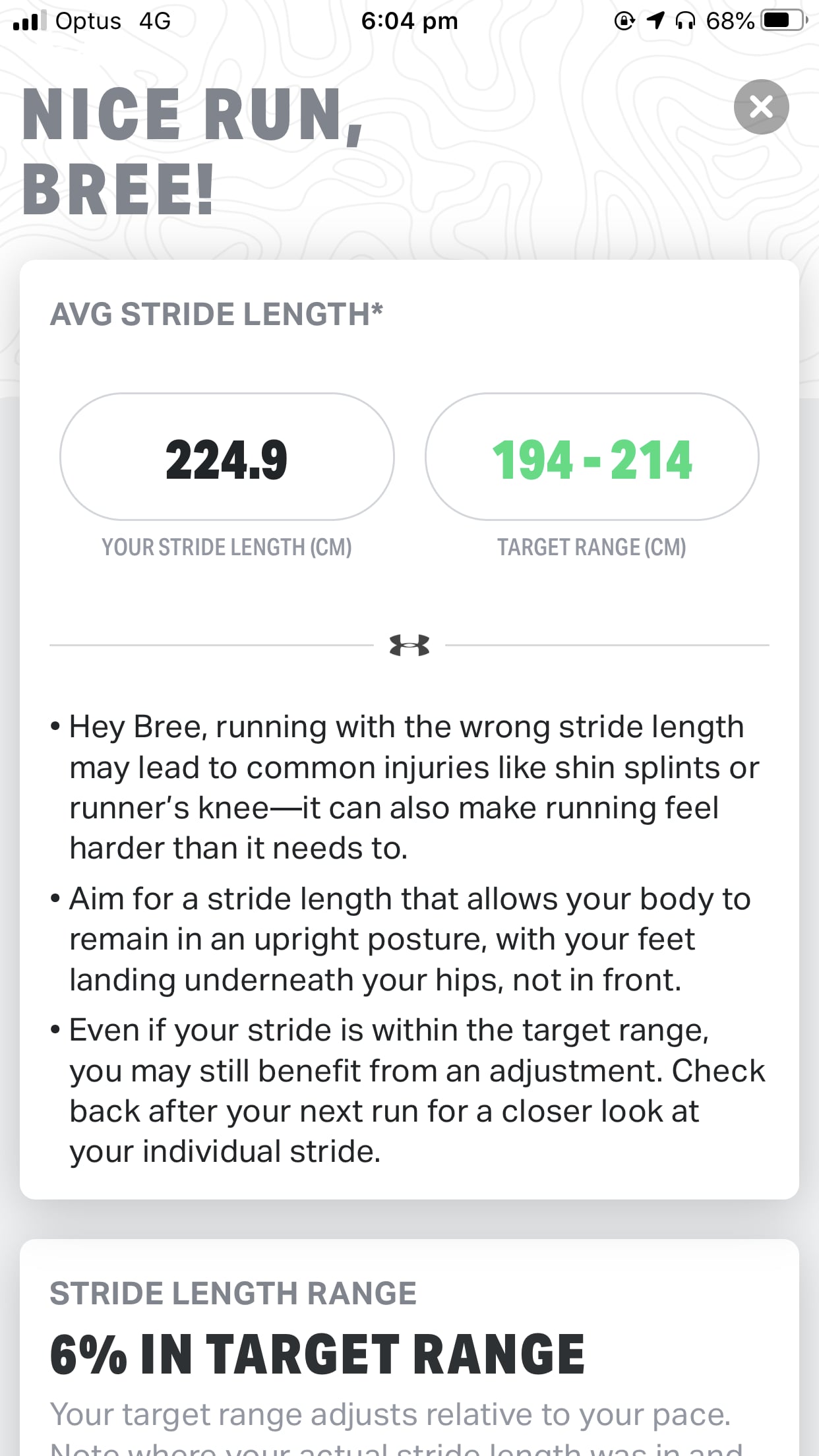 The Fit
Initially I found the trainer to be a little heavier than my normal runner, but I figure that's just because it's loaded with support. Once laced up my feet were comfortable and supported in all the right places. It also comes in a few cool colour ways so thats a huge plus.
The Cost
A pair of these bad boys will set you back around $220, which is pretty standard for a good pair of sneakers, plus you get the in-built running coach so it feels more than worth it.
Shop UA's HOVR Machina below.