Under Armour UA Infinity Bra Review
I Tried Under Armour's New Infinity Bra And Now I Need One in Every Colour
As POPSUGAR editors, we independently select and write about stuff we love and think you'll like too. POPSUGAR has affiliate and advertising partnerships so we get revenue from sharing this content and from your purchase.
Finding the right sports bra can be a total mission. If you've ever made the mistake of wearing an ill-fitting one to a workout, you know what a disaster it can be.
As a C cup lady myself, I've tried a lot of sports bras in the hopes of finding the one. Recently, Under Armour sent me their new UA infinity sports bra ($80) to put to the test, and guys . . . I now need one in every colour way.
First up, let's talk about the tech
The UA Infinity Sports Bra is designed for all levels of impact and is built to work with the natural movement of your body. The unique design of the cups is what makes this bra one of the most supportive for womens breasts. Unlike more traditional sports bras, which are designed as two cups offering support for each breast, the Infinity Bra 'cup' is designed in the shape of an infinity symbol. This allows the bra to move with you and support your breasts which ever way they move while you workout. It's also made from advanced fabric innovations to make it the lightest and fastest-drying UA sports bra available.
The fit
It was a little confusing to put on at first, mainly because the straps cross over and then you have a back strap with a hook-and-eye like your usual bra, but once I was in, I was in. There was no way I was going to come out of it!
I like that you have the three tiered hook-and-eye option so that you can tighten or loosen it as desired. It's also got adjustable straps so you can customise your fit by either having it go straight over your shoulders or cross over at the back.
I got a size small and I'm a 8C. I found the small fit me perfectly — it didn't feel like I was going to fall out of it or have major back pain post-workout. So far it was ticking boxes.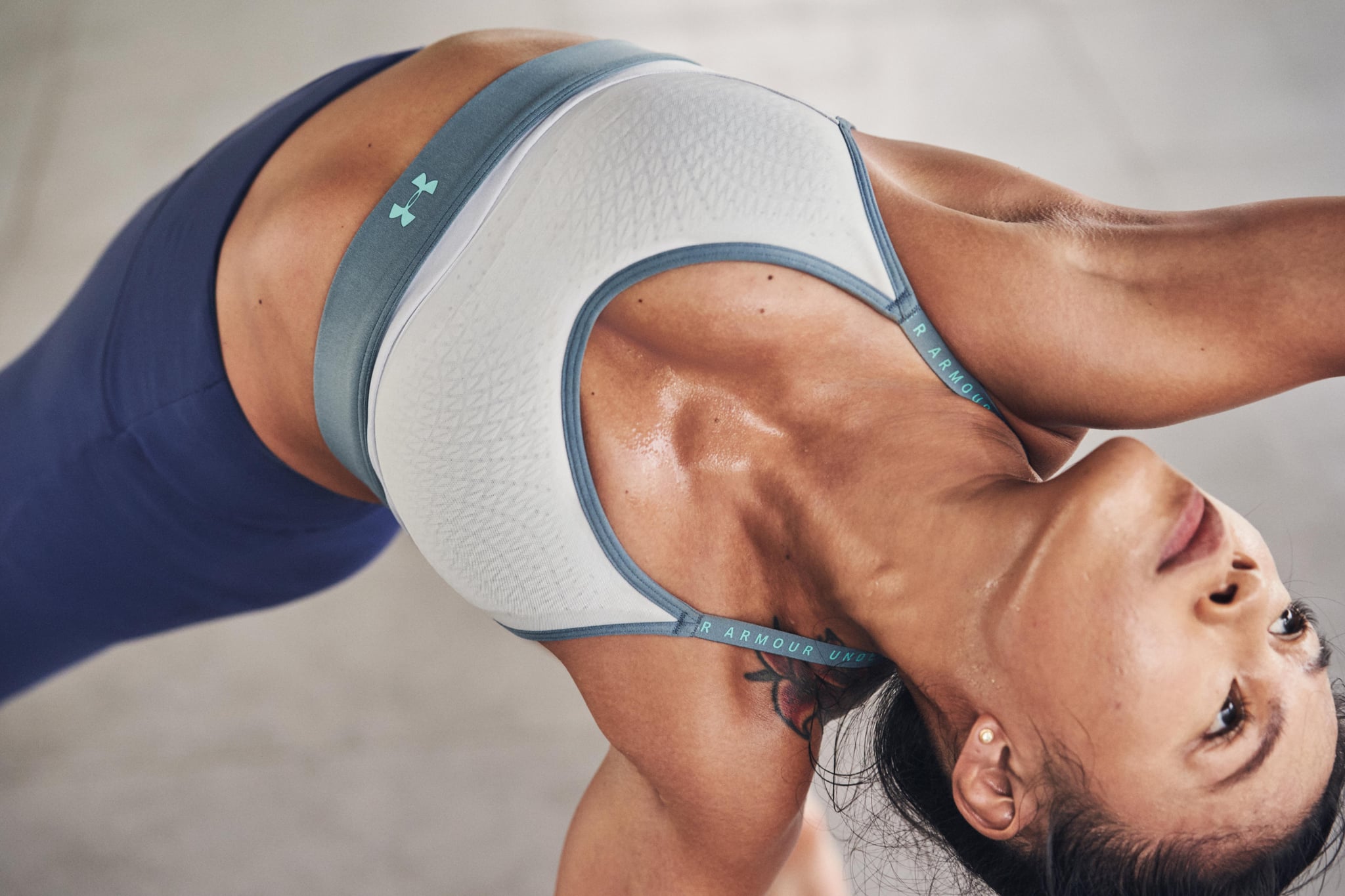 So did it hold (them) up?
To really test it out I decided (read: my trainer forced me) to do a sprint session on a free-running skillmill. For context, a set on a free runner usually leaves me completely breathless and sweating like an animal so I really gave this bra a workout. Not once did I have to adjust my crop or feel like I was going to fall out. I felt like which ever way I moved my boobs were supported, and while I've felt supported in other sports bras, it was nothing like this. This was total security, I'm talking locked down the man of your dreams, job of a life-time, zero-debt kinda security.
Final verdict
I was super impressed with how supportive the bra was, it really was unlike any other sports bra I've worn. The fact that it comes in two colour-ways and low, mid and high impact styles makes it an appealing choice for your workout wardrobe. It's definitely made its way into my crop rotation. Reasonably priced at $50-$80, it's available online now.
Scroll to shop the UA Infinity Bra.