Vegan Panang Curry Recipe
Bookmark This Vegan Panang Curry For Your Next Dinner Party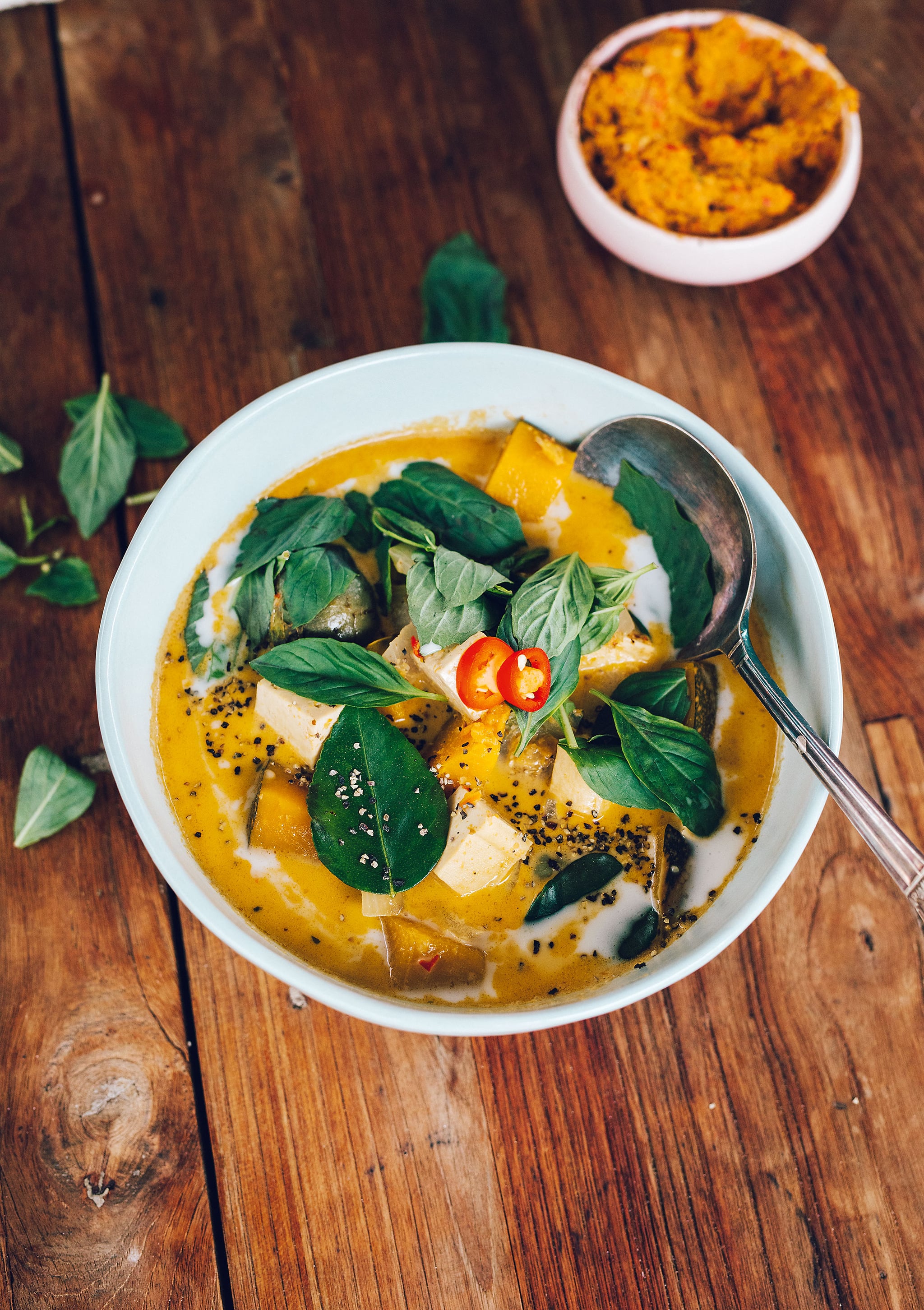 Every good cook knows in order to impress your dinner guests, it's important to have a few go-to recipes on hand that you can master, ready to pull out when the right occasion strikes.
To be on the safe side, we'd recommend having a dish (or two) on that list that will satisfy even the most complicated mix of dietary requirements. Enter: This Panang curry recipe from Ellie Bullen's latest book, The Global Vegan. Not only is this curry truly delicious, but it's mild in spice and vegan too!
Keep reading for the recipe you'll want to bookmark for your next dinner party.
Notes
It is similar to a red curry, but milder and creamier. For this dish I've added pumpkin, tofu and Thai eggplant, as I love the way these ingredients soak up the delicious curry flavours.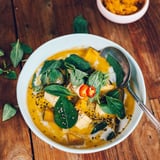 Ingredients
200g peeled and deseeded pumpkin, cut into 3cm chunks
4 Thai eggplants
1 tablespoon avocado oil
100g medium tofu, cut into 2cm cubes
1/2 onion, but into 1cm chunks
2 kaffir lime leaves
250ml (1 cup) coconut cream
1 tablespoon Vegan Fish Sauce (optional)
1-2 tablespoons tamari or soy sauce
1 teaspoon coconut sugar
1 tablespoon peanut butter (optional)
1/2 cup Thai basil leaves, plus extra to serve
Steamed jasmine rice or cooked rice noodles to serve
Panang Curry Paste:
1 lemongrass stalk, white part only
2 garlic cloves
1 shallot, quartered
1/2 teaspoon cumin seeds
1 teaspoon coriander seeds
5 long red chillies, roughly chopped, plus extra, sliced to serve
3cm piece of galangal, finely chopped
3 teaspoon coriander roots, scraped clean and chopped
1cm piece of fresh turmeric
2 kaffir lime leaves, shredded
1/2 teaspoon sea salt
2 tablespoon crushed peanuts
Directions
First, make the curry paste. Smash the lemongrass, garlic and shallot with the flat edge of a knife. Place the cumin and coriander seeds in a mortar and grind to a powder with a pestle. Add the lemongrass, garlic and shallot, along with the remaining paste ingredients except the peanuts, and pound for 10 minutes or until the mixtures forms a paste. Add the peanuts, and pound for 10 minutes or until the mixture forms a paste. add the peanuts and pound until well combined (Alternatively, you could use a blender, but you may need to add a dash of water or oil to help keep the ingredients moving).
Bring a large saucepan of water to the boil, add the pumpkin and eggplants and boil for 10 minutes or until cooked through. Drain and set aside.
Heat the oil in a frying pan or wok over high heat, add 1-2 tablespoons of curry paste and fry for 30 seconds or until aromatic. Add the tofu, onion, pumpkin, eggplants, kaffir lime leaves, coconut cream and 125ml (1/2 cup) of water. Reduce the heat to medium and simmer for 15 minutes.
Add the vegan fish sauce (if using), tamari or soy sauce and coconut sugar and simmer for a further 10 minutes or until reduced. If you'd like your curry to be really creamy, stir through the peanut butter. Remove from the heat and stir through the Thai basil leaves.
Serve with jasmine rice or rice noodles, and scatter over extra Thai basil leaves and sliced red chilli. Leftover curry paste will keep in an airtight container in the fridge for up to one week.
Information
Category

Curries

Yield

Serves 2
Image Source: Global Vegan