Zucchini Noodles with Cherry Tomatoes, Broccolini and Pesto
Prep All Your WFH Lunches with This Easy Pesto Zucchini Noodle Recipe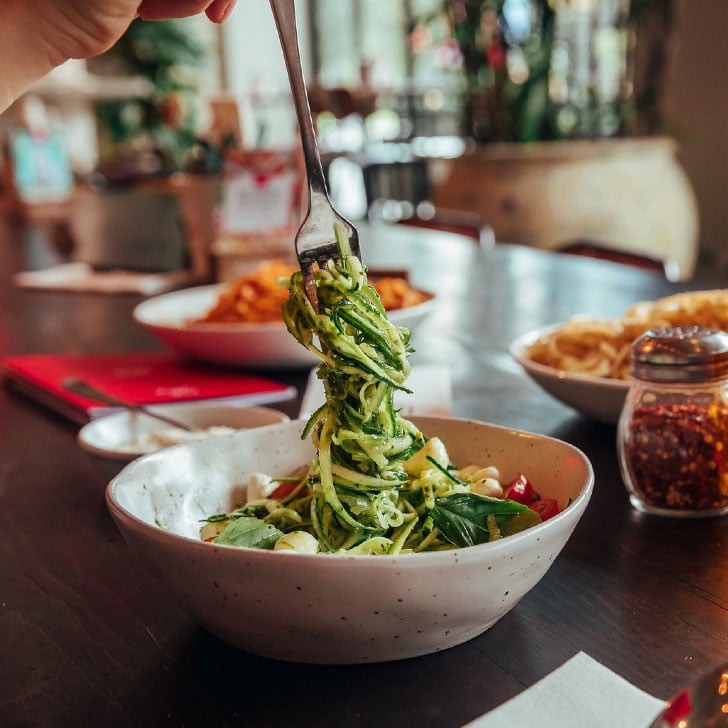 Zucchini noodles or zoodles are the perfect low carb substitute for your favourite pasta dishes. They're super easy to make and add some extra flavour and nutrients to your meal. The key to perfecting them according to Fratelli Fresh Culinary Director Casual Brands, Gabor Denes' is to make thick noodles.
"Bigger is best when spiralling, so look for large, fat zucchinis. Zucchini noodles can be eaten raw, cold or warm. I think they are best in a raw state when they are perfectly al dente and in peak condition. Boiling, steaming or even microwaving zoodles can result in a mushy mess."
These delicious veggie noodles are easy to make at home says Denes by simply using a spiraliser machine, handheld spiraliser, julienne peelers and mandolins. His top three tips when it comes to adding zoodles to any dish:
If you're adding raw zoodles to a hot dish, such as Bolognese sauce, allow them to come to room temperature before using them. The temperature of the sauce will heat the zoodles.
Save time by making zoodles in advance. They can be stored in the fridge in an airtight container on a layer of kitchen roll for several days.
Zoodles don't work very well in dishes where hot pasta is required to cook other ingredients, such as carbonara where the pasta cooks the egg to create a creamy sauce.
Gabor has also shared Fratelli Freshe's recipe for el dente Zucchini Noodles with cherry tomatoes, broccolini and pesto, scroll for recipe.
Zucchini Noodles with Cherry Tomatoes, Broccolini and Pesto
Fratelli Fresh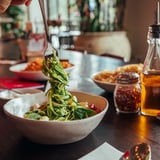 Ingredients
1 large zucchini, made into zoodles
5 cherry tomatoes, halved
30g bocconcini
1½ tablespoons pesto
1 small handful of basil leaves, reserve a few for garnish
1 tablespoon extra virgin olive oil
Salt and cracked black pepper, for seasoning

Directions
Gently mix zucchini, tomatoes, bocconcini, pesto and basil together in a bowl.

Present in a serving bowl, dress with olive oil, season with salt and pepper and a few basil leaves.

Information
Category

Pasta/Noodle

Yield

Serves 1

Total Time

14 minutes, 59 seconds
Image Source: Supplied