Anna Polyviou Hot Chocolate Lamingtons Recipe
How to Make Anna Polyviou's Hot Chocolate-Soaked Lamingtons This Weekend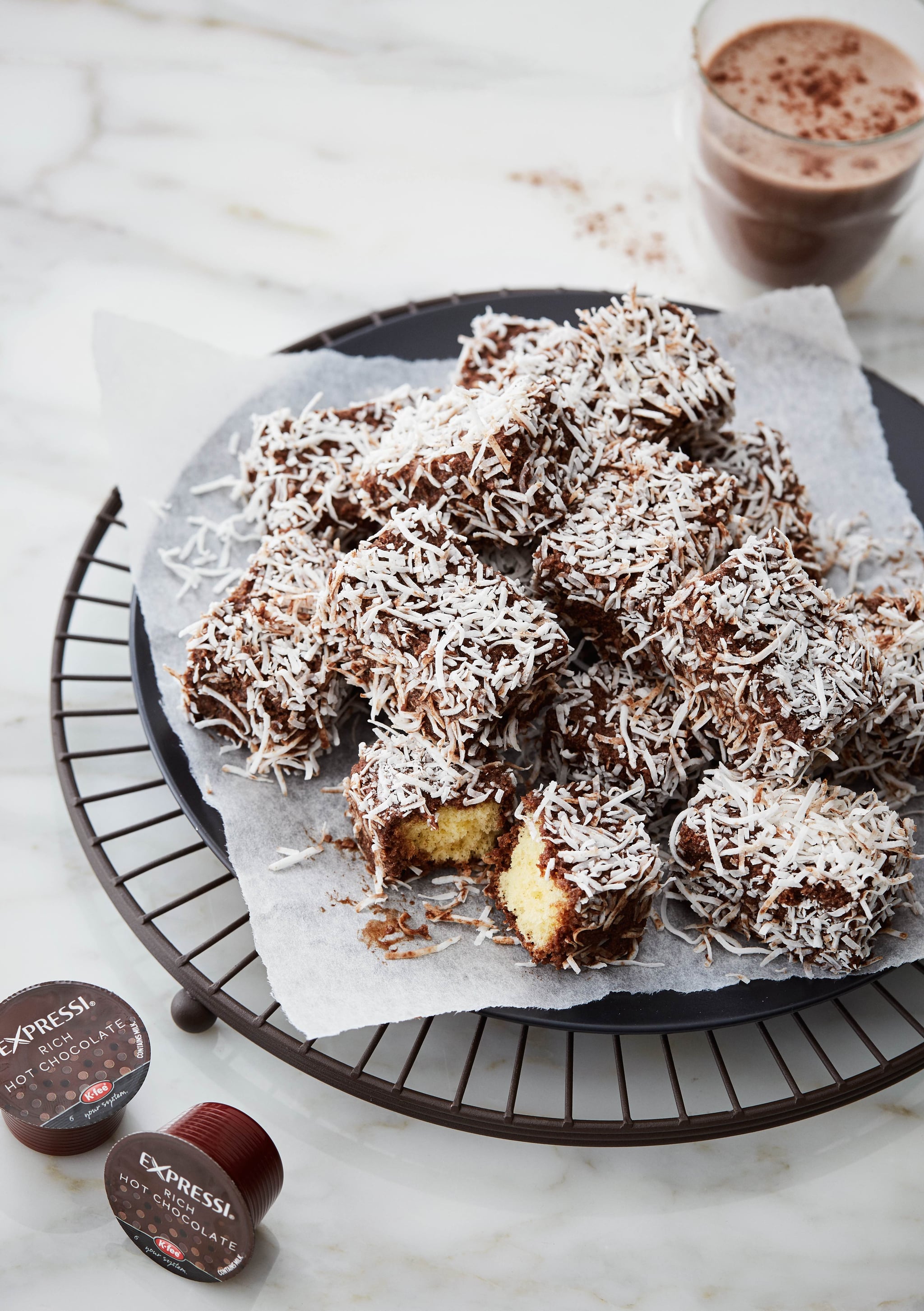 An enduring Aussie classic, it's already pretty tough to beat the humble lamington. But of course, if there was ever someone to do it, it'd be award-winning pastry chef Anna Polyviou — you may recognise her from regular MasterChef appearances or been lucky enough to taste one of her quirky dessert creations at the Shangri-La Hotel in Sydney.
This recipe, created as part of Anna's collaboration with Aldi, makes the most of Winter's comfort staple — hot chocolate — and combines it with the traditional lamington sponge we all know and love. Just a note though, you may never eat a normal lamington ever again. . .
Expressi Hot Chocolate–Soaked Lamington Sponge With Shredded Coconut
Anna Polyviou
Ingredients
For the lamington sponge:
200 g plain flour
6 free-range eggs
200 g caster sugar
50 g unsalted butter (at room temperature)
1 tsp. vanilla essence
For the hot chocolate glaze:
420 ml hot chocolate (Anna uses four of the Expressi rich hot chocolate capsules — available exclusively at Aldi stores)
160 g caster sugar
160 g dark chocolate
100 g shredded or desiccated coconut
Directions
To make the lamington sponge, preheat oven to 180°C and sift flour into a large bowl.
Whisk together sugar and eggs in an electric mixer on high until light and fluffy.
Remove the egg mixture and fold into sifted flour until everything is combined.
Melt butter and fold into mixture, along with the vanilla essence.
Pour mixture into a 20 x 25 x 5 cm baking tin.
Bake for 30 minutes or until cooked through and a skewer inserted in centre comes out clean.
Remove cake from baking tin and cool on a wire rack.
To make the chocolate glaze, prepare 420 ml of hot chocolate with your choice of powder. If you're using Expressi capsules, insert one capsule in the Expressi coffee machine and select the largest cup size. Repeat for four capsules.
Pour hot chocolate over sugar and chocolate, and whisk until everything is combined and melted.
Cut the lamington sponge into 3 x 5 cm rectangles.
Dip sponge pieces into hot chocolate glaze, drain off the excess and toss in shredded coconut.
Information
Category

Desserts

Cuisine

Other

Yield

20
Image Source: Aldi