How to Care For Potted Olive Trees
The 6 Essentials to Caring For a Potted Olive Tree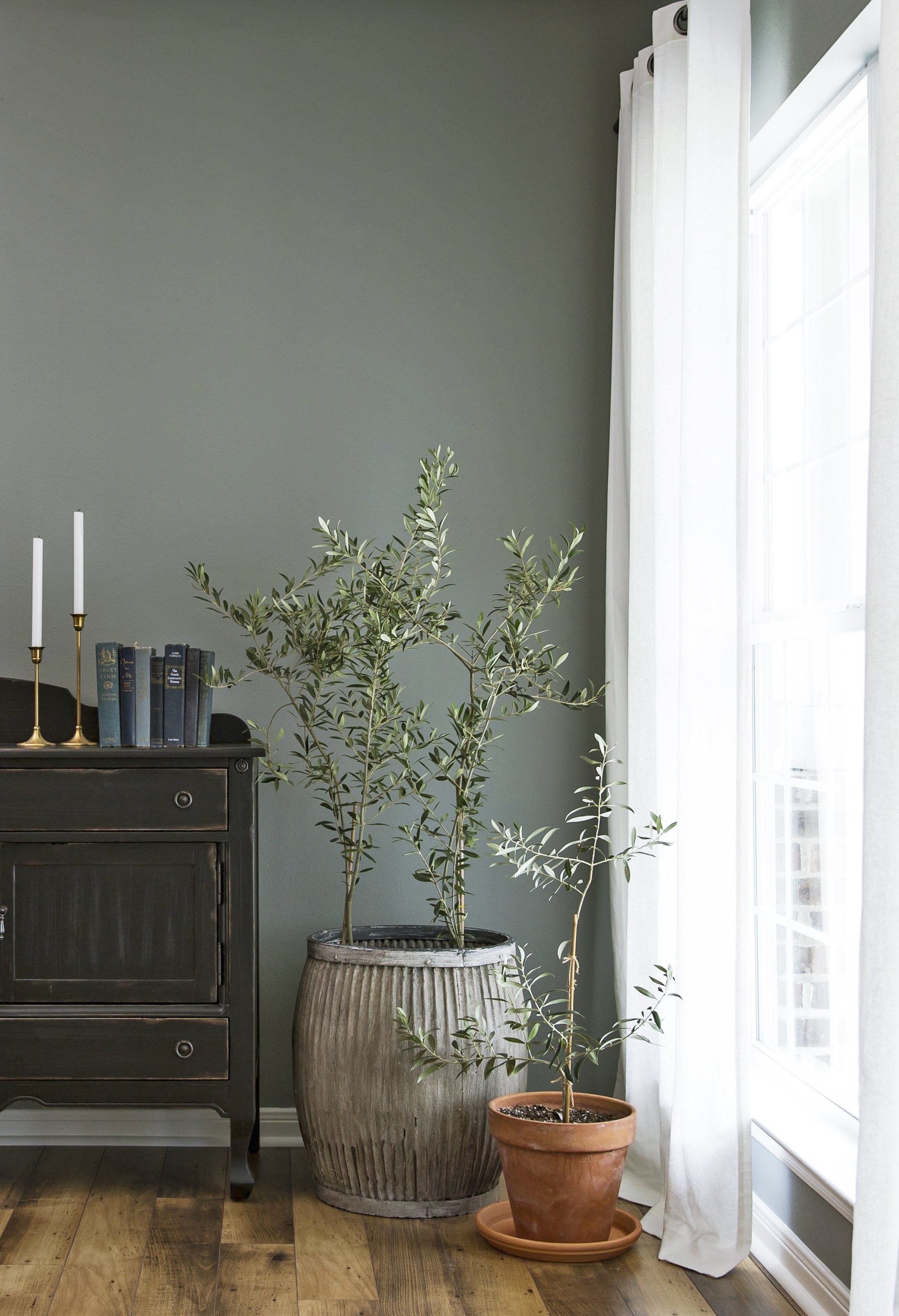 Olive trees are the houseplant of the moment, so if you're tired of the typical, run-of-the-mill greenery, then they're the choice for you. With beautiful pale leaves and a rustic feel, olive trees are at home in farmhouse settings and modern dwellings alike. While an indoor plant probably won't leave you with an abundant supply of fresh olives, it will add a ton of charm and a whole lot of style to your home. Despite their rustic appearance, olive trees do require a bit of regular maintenance and care to really thrive in an indoor environment. Here's everything you need to know:
Choose the Right Kind of Tree
A full-size olive tree is probably not going to feel at home inside. Instead, look for smaller varieties of olive trees like dwarf types that won't grow much taller than a few feet. And remember that olive trees can always be pruned to fit your space. They can be cut back and still look great. Pruning is also important for keeping your olive tree looking bushy as it grows taller and avoiding that spindly look.
Give It Enough Sun
Potted olive trees are most at home in direct sunlight. Because they're typically found in sunny locales like Italy and Greece, they're really not a low-light plant. If any part of your home gets southern exposure, this is the best place for your olive tree. It's best for it to have up to six hours of light per day. In the Summer, take advantage of the warm, sunny days by letting it live on the patio or other outdoor space.
Don't Over-Water It
Like many indoor trees, olive trees don't need lots of regular watering. They're used to typically dry climates, but they do like to be watered deeply. When you water, make sure you're really soaking the soil. Leave enough time between waterings so that the top inch or so of soil has completely dried out. Olive trees aren't fast growers, so be sure not to over-water, and cut back how much you water it in Autumn and Winter. Unlike other houseplants, it won't need much humidity as it's used to drier conditions.
Make Sure It Has Proper Soil and Adequate Drainage
While you may be adept at keeping your plants well-watered, something you may not have considered is whether your plants have adequate drainage. It's essential for olive trees to be kept in a large container with drainage holes, and a sandy potting soil is better for this kind of plant. For even better drainage, consider putting pebbles in the bottom of the pot, or keep the pot elevated to allow for the excess water to seep out.
Keep It Fertilised
A lot of low-maintenance houseplants don't require fertiliser — or at least, you can get away without fertilizing them. But olive trees should be fertilized about twice a year. You can use a simple houseplant fertiliser, which will give the plant some of the nutrients it needs but can't get from water on its own. While this probably won't produce fruit on your tree, it may help it produce flowers in the Spring.
Watch Out For Pests
Olive trees are prone to scale — small insects that suck sap from the plant's stems. Keep an eye on your olive tree for these pests, which are yellow-brown and often appear in groups. If you do find some, don't panic — they're easy to get rid of with an indoor insecticidal soap. Just make sure whatever you're using is meant for the indoors, as outdoor varieties can be toxic.
Image Source: Meredith Corporation