How to Hang Curtains
This Cheap Hack Makes Any Room Look Expensive
As POPSUGAR editors, we independently select and write about stuff we love and think you'll like too. POPSUGAR has affiliate and advertising partnerships so we get revenue from sharing this content and from your purchase.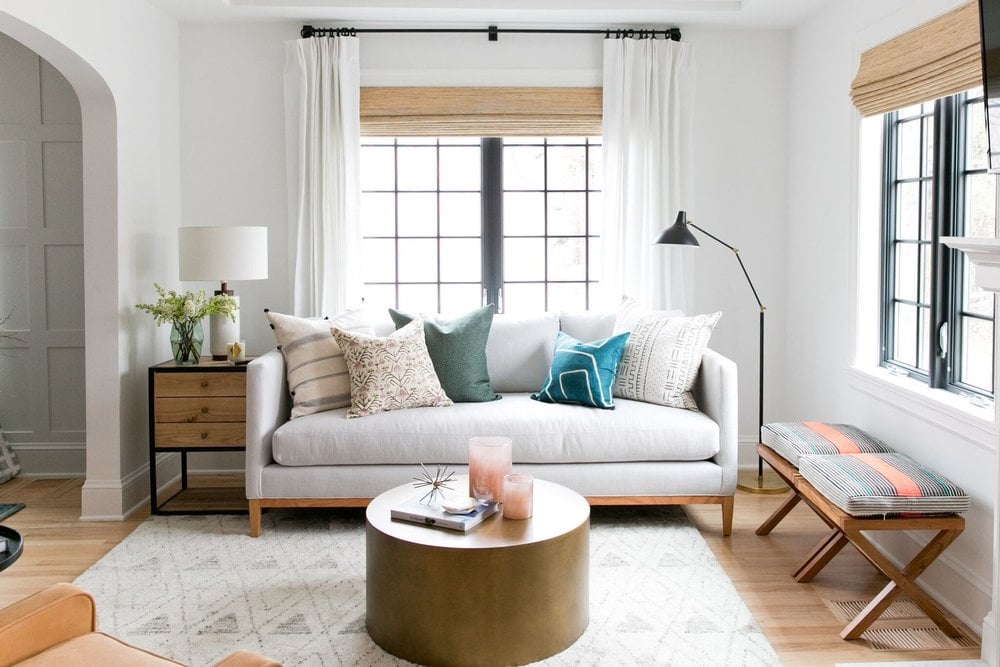 Ugly window treatments are the thorn in almost every renter's rear. Plastic mini blinds — or worse, vertical blinds — are automatic aesthetic killers, but they can be remedied for a shockingly small amount of money. The key to making dirt-cheap window treatments look like a million dollars is as easy as knowing where to shop and mastering the designer tricks for hanging them properly. This foolproof formula will instantly elevate the look of any room — we promise!
Start With the Classics: White Linen Curtains + Black Curtain Rods
You cannot go wrong with white linen curtains and black rods with simple finials. Think of it as the tuxedo for interiors, only a tux that plays well with any style, from formal traditional to California casual. This pared-down colour palette also grants you permission to go bananas with colours and prints in other places in the room and you won't get sick of your choice halfway through your lease.
Find Affordable Versions of the Classics
Absurdly cheap price point aside, these Ikea Lenda curtains ($29.99 for a pair) are actually beautiful in person and well-loved by design bloggers. You can add Ikea's black-out liner to create a thicker, heavier drape, which can make them look even more formal, or leave them as is if you want them to filter (not block) light while adding privacy. They also come with heading tape along the top back of the curtains, which makes it easy to create pleats with hooks and curtain rings.
Use Curtain Rings:
Using curtain rings makes opening and closing curtains a cinch, but designers also prefer their polished aesthetic. Adding rings creates neatly pinched pleats that keep curtains looking beautiful, open or closed.
Know How to Hang Your Curtains:
Create the optical illusion of sky-high ceilings by hanging your curtains as close to the ceiling as possible. You'll be amazed by how drastically this shifts the look and feel of a room.
Extend drapery rods out about four to six inches (not including the finial). This will make your window appear wider and allow you to enjoy the full spans of your window when the curtains are open.
Hang curtains so that the bottoms barely touch the the floor or have one or two inches of fabric on the floor. If your curtains are longer, you can have them hemmed by measuring and pinning them to the desired length once you've hung them. If they aren't long enough, you can add more fabric for a cool colourblock look, no sewing needed!