Rosalía Nominated for Best New Artist at the Grammys
Rosalía Is Nominated For a Best New Artist Grammy, But Why Did It Take So Long?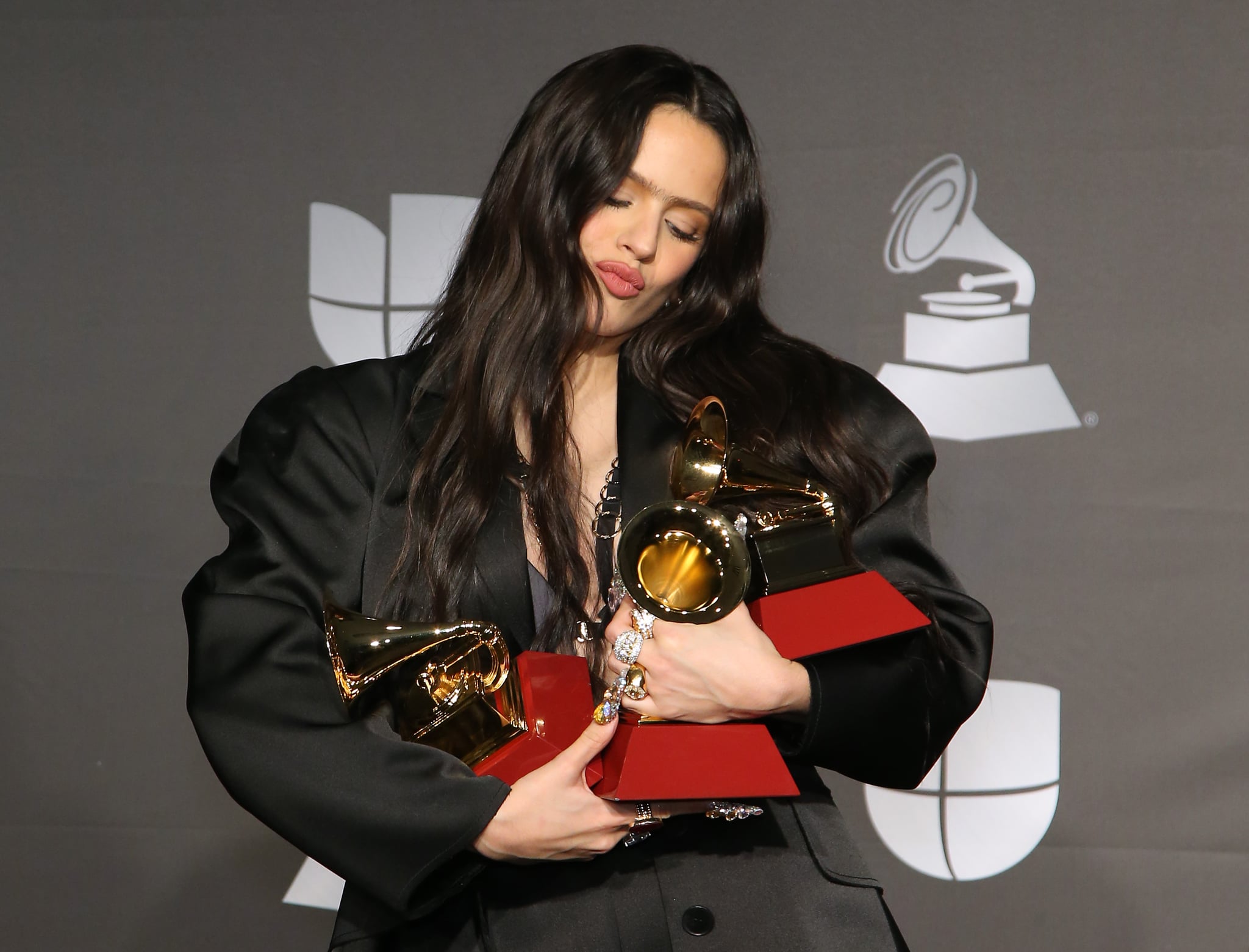 The wait is over: this morning, the Recording Academy finally announced its nominees for music's biggest award show, aka the Grammys. Among the artists nominated is fan-favourite Rosalía, who has been making waves for a few years now with her flamenco-pop and urban sound. Nominated for best new artist, the singer is the first-ever Spanish act to be recognised in the category — three years after being nominated in the same category at the Latin Grammys. She's also nominated for best Latin rock, urban, or alternative album. But why did it take the Recording Academy this long to acknowledge her, and for that matter, acknowledge Spanish-singing artists altogether?
To say Rosalía is a new artist is up for debate. The 26-year-old has released numerous singles, including "Catalina" and "De Plata" from her 2017 debut album, Los Ángeles. But her latest, like "Con Altura" with reggaetonero J Balvin and "Yo x Ti, Tu x Mi" with Puerto Rican hitmaker Ozuna, have led her to gain a massive following. Her second album, El Mal Querer, was highly praised, with its "Malamente" single taking home two Latin Grammys in 2018, and the album landing three more Latin Grammys just last week, making it five awards total. Now, finally, she is in the running at the Grammys.
This best new artist nomination is a particularly big deal for the Spain native. The Recording Academy has never nominated an artist in this category for their Spanish-language recordings. Other artists, like Shakira, have been nominated at the ceremony, but only in Latin categories specifically. It seems that now Latinx and Hispanic artists are beginning to be recognised for their efforts. When I think about Spanish-language artists who have had major success in Latin America, I sometimes forget that they might only be popular within the Latinx community, failing to realise that their success doesn't always translate within mainstream critics.
However, a change is slowly on the rise. Recently, Latinx and Hispanic artists have been receiving notable accolades, bringing them success and opportunities, but most of all visibility. Take for example J Balvin who this year made history as the first Latinx artist to headline music festival Lollapalooza, while Coachella invited popular Latinx talent including Bad Bunny, as well as Rosalía to perform. And I vividly remember how this past summer's MTV Video Music Awards introduced more Latinx artists in its nominations list, Rosalía again even winning two moonmen. And it seems that the Spanish language is crossing over into airplay throughout non-Spanish music radio stations.
But is this enough? It's almost shocking to see these wins or hear about Latinx artists being "the firsts," making me think how crazy it is that these achievements have never been accomplished before. Although it's hard to believe that these strides are just happening now, what matters is that they are actually happening within the Latinx community. This historic nomination for Rosalía may feel like too little too late, but nonetheless the fact that she is being celebrated for her music will hopefully pave the way for other Spanish-language artists to be praised as well. If music is really meant to be universal, then Latinx artists must be accepted and given the same chance as everyone else.