Best Wedding Dancefloor Playlist
Every Song Required For the Ultimate Wedding Dance Floor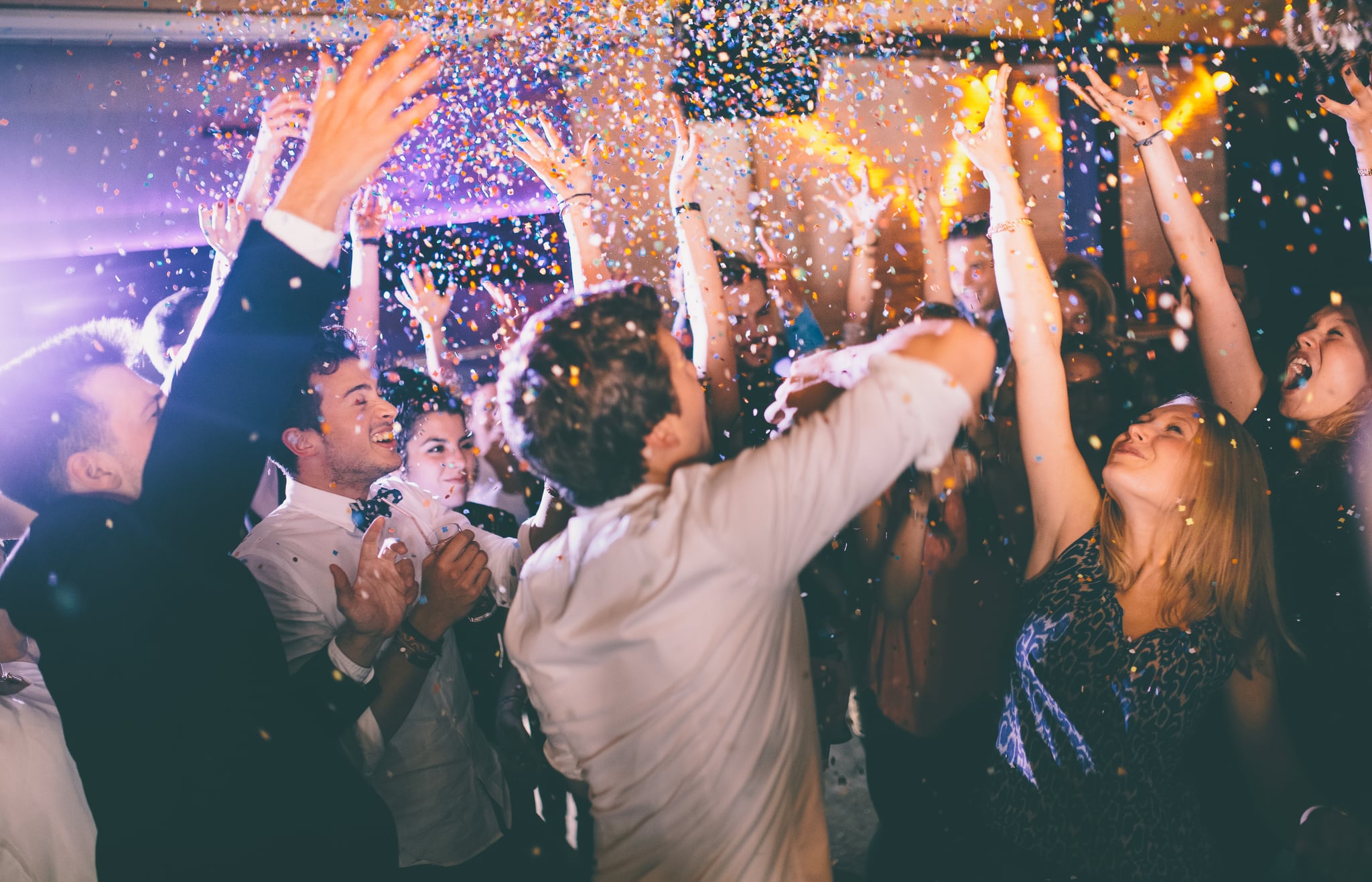 There's something extra magical about a wedding dance floor. Not only are guests high on love (and, erm, a few champagnes), but post the speeches at a wedding is when you get to see everybody's fun side come out (note: this is especially wonderful when it's the fun side of people who rarely show theirs).
Whether it's uncle Greg madly swinging your bridesmaid around the dance, or your parents busting out the "Nutbush", there's something special about watching generations of people get on down to "Uptown Funk."
That said, there are a few secrets to getting a wedding dance floor right . Here are a few of them:
Book a band or DJ who can read the room, and who will have as much fun as the guests. Our wedding photos toward the end of the night heavily feature our band, including one of them playing saxophone lying on the ground while my bridesmaid demonstrated how low she could limbo and another of my brother singing into a trumpet. Safe to say, the dance floor was heaving.
Make sure that your music is broad enough for all tastes, with music for the oldies as well as the teens who are pretty embarrassed about their parents dancing right about now.
Don't include too many "Oh my god, it's our song" moments. It can make people who aren't in on it feel left out, which is the opposite of fun for all.
Definitely include a song that is conducive to everybody scream-singing with their arms around each other's shoulders.
Have a dance-off. Indeed, have several of them!
Ask people to RSVP with their favourite song and add it to your playlist.
Don't force a conga line. But if it happens naturally, well, that's your wedding unicorn moment.
To help with your planning, below is the beginnings of an ultimate wedding dance floor list. We say beginnings, because the secret to a truly special dance floor is making it yours by adding in your own favourites. And also the real secret is to just forget about everything and dance, dance, dance.
"Signed, Sealed, Delivered, I'm Yours" by Stevie Wonder
"Uptown Funk" by Mark Ronson ft. Bruno Mars
"Sex Bomb" by Tom Jones
"L.O.V.E." by Natalie Cole/ Nat King Cole
"500 Miles" by The Proclaimers
"Shoop Shoop Song" by Cher
"Ain't Too Proud to Beg" by The Temptations
"No Scrubs" By TLC
"Blurred Lines" by Robin Thicke
"Happy" by Pharrell Williams
"Simply the Best" by Tina Turner
"Twist and Shout" by The Beatles
"Crazy in Love" Beyonce
"We Found Love" by Rihanna ft. Calvin Harris
"Great Balls of Fire" by Jerry Lee Lewis
"I'm a Believer" by Smashmouth
"Proud Mary" by Creedence Clearwater Revival
"Burning Love" by Elvis Presley
"I'm Yours" by Jason Mraz
"We Are Family" Sister Sledge
"Hey Ya" by Outkast
"Rock Your Body" by Justin Timberlake
"Shout" by The Isley Brothers
"Shake It Off" by Taylor Swift
"I've Had, The Time Of My Life" by Bill Medley
"I Feel Good" by James Brown
"At Last" Etta James
"Sweet Caroline" by Neil Diamond
"I Wanna Dance with Somebody" by Whitney Houston
Image Source: iStock