Funny Dry Humping Cake
Parents Catch Son and Girlfriend Dry Humping, Respond Hilariously
This teen's parents win this round. After these "slightly paranoid" parents — who have security cameras in their house — caught their son and his girlfriend dry-humping behind a couch, they came up with the most hilarious (and mortifying) way to address the elephant in the room. The Casanova who was caught red-handed, Reddit user One_Skinny_Mexican, writes: "After an unfortunate incident involving my girlfriend, my mum made this cake to apologise."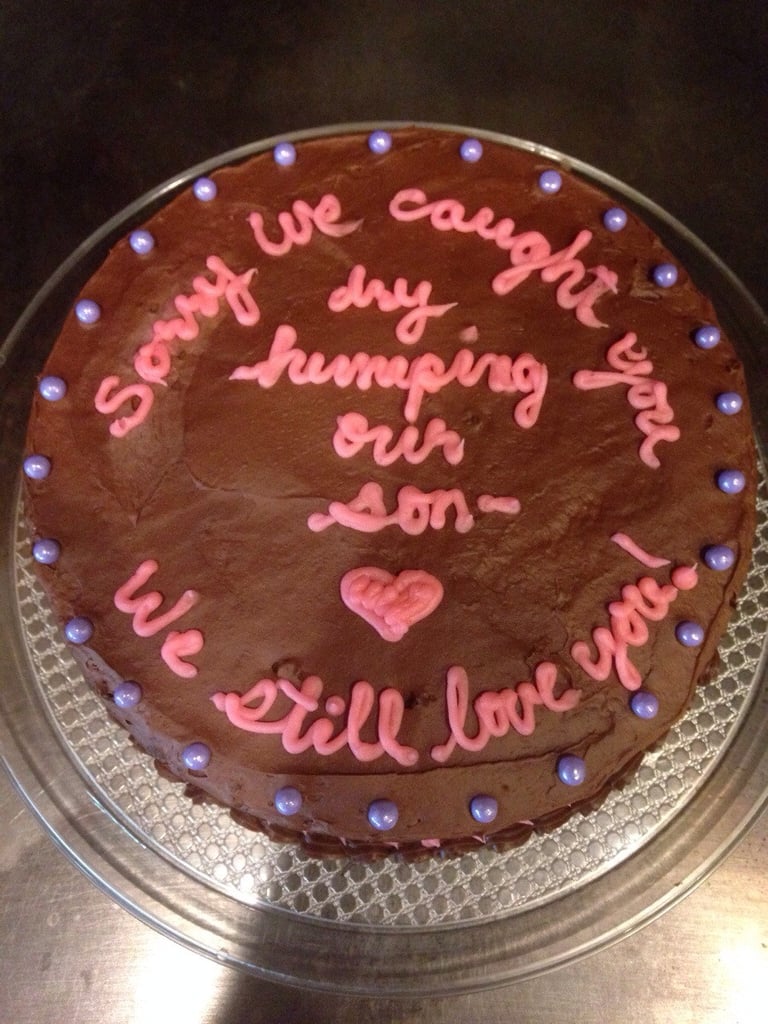 If my boyfriend's parents had done that when I was a teen, I'd have died of embarrassment, but as an adult I find this amazing. Especially since he adds that it was his mum's idea at "a comedic apology to attempt to make light of the situation." He adds in the Reddit thread:
"Here's the story of us getting caught. My father yells at me from downstairs, 'One_Skinny_Mexican, can you come down for a minute?' I get up from behind the couch where we were humping, and walk downstairs. Once I'm downstairs, I look at my father, a look of pride and 'I gotcha' on his face, as he silently points to his phone. I look down at it. All I see is the camera view from a security camera we have set up in the room that my girlfriend and I were in. Horrified, realizing the situation, I look back up at my dad. He tells me to be careful, there are cameras, this is a public-ish place, the works. After a short talk with daddy-o, I walk back upstairs. My girlfriend looks at me, curious, and asks 'so, what'd they want?' I don't say a word and silently point up at the camera. A mortified look of realization pans across her face as she yells 'OH MY GOD,' and grabs a pillow to silently scream into. She then jumps behind the couch again and stays there panicking for about 20 minutes as I hear my parents laughing their asses off downstairs."
What do you think? If your boyfriend's parents pulled a stunt like this would you find it funny or mortifying?
Source: Reddit user One_Skinny_Mexican via Imgur