Her/ are subscription tampons, delivered to your door every month. It's such a simple and genius idea, that you can't believe you didn't think of it. You're kicking yourself right now, aren't you? If you're not, you will when you find out it was two men who thought it up. *Sigh*
Those men are David Wommelsdorff and Dustin Leonard. They are also the team behind Hero Condoms – the one-for-one condom brand (for every condom bought in Australia one is donated in a developing country) that recently redesigned to more female-appealing packaging. The duo have a slightly different business model to most other socially responsible businesses in that they seek problems. "We actually look around the world for a global issue, an issue that's impacting people at a serious level, and then we create a brand and a product that directly resolves that issue," says David.
For Hero, that issue was HIV, but for Her/ it was a little less obvious. Hero gave them exposure to other issues in Botswana and other developing countries, and they started doing research. "When we looked into certain communities in Botswana, Uganda and Kenya, we noticed that communities that were prospering had a large proportion of women." Women in developing countries, who stay in the communities they were born in, reinvest up to 90 percent of their earnings back into that community, which helps to break the cycle of poverty.
The major factor that stood out in the prosperous communities was that they had better education for girls. "It was very clear that education was key. In the communities where education was lacking, there were more adolescent mothers, higher propensity for disease and less opportunities for women. So we thought, education's such a big issue, how do we actually help resolve this, how do we help empower girls and keep them in school?" says David.
This question spurred a secondary chain of research into why girls were missing days of school and dropping out completely. "We found that one of the major contributing factors, if not the most contributing factor to keeping women in school is providing them access to feminine hygiene products."
Each month 850,000 Kenyan girls miss 3.5 million days of school
Every woman, no matter where she is in the world, goes through monthly menstruation. But where in the western world that means popping a few Nurofen and stopping by the chemist, for these girls, it means missing seven to 10 days of school. Each month 850,000 Kenyan girls miss 3.5 million days of school. Research from UNICEF also found that the shame and embarrassment of menstruation can cause girls and women to miss six days of school or work a month, which means they fall behind. David said that in some more remote communities they uncovered radical situations where women were being sent away for the duration of their period.
By age 18, 65 percent of young women in Kenya have dropped out. It's a staggering statistic. "We thought, we can help," says David.
Using the same one-for-one Hero model, for every pack of Her/ tampons bought, the equivalent in sanitary pads is given to girls in developing countries to help keep them in school. To ensure the donations make their way to the girls who need them, Her/ teamed up with the Zana Africa Foundation which supports adolescent girls in Kenya. "They're phenomenal," says David. "You need to have active presence on the ground, relationships with NGOs and other partners to be able to help you facilitate donations. Zana Africa have been in Kenya for many years now and they've created positive social change in tens of thousands of adolescent girls' lives already."
Back home, pestering friends and family with questions about their periods inspired the idea of subscription tampons. "We asked everyone, if you could subscribe and have these products delivered to your house every month for the same cost it costs at retail, but know that you're also helping keep girls in school in developing countries, would you buy them? And we got a resounding '100 percent yes,' from everybody," says David.
A crowdfunding campaign was born with a $50,000 goal that would get the ball rolling. The goal was met in late May this year, and the shipping container of tampons was ordered.
In addition to the donation element and subscription service, David wanted Her/ to be an inspirational platform. "We wanted to incorporate ordinary women who were doing extraordinary things. We wanted to use our packaging as a vehicle to share that person's message of inspiration to other women in the hope that it would resonate and align with women and empower them to achieve more in their own lives," says David.
The first ordinary woman doing extraordinary things? Model and presenter Kate Peck. Her message? Compassion has the ability to change the world. Kate, who describes herself as very pro-female, "a big part of what I stand for is empowering ass-kicking women," reached out when she heard about the Her/ crowdfunding campaign. It was decided that she would become the first ambassador for the brand, and started working on the package design and product creation.
"So many people in the media are mortified that I'd even consider going near a tampon"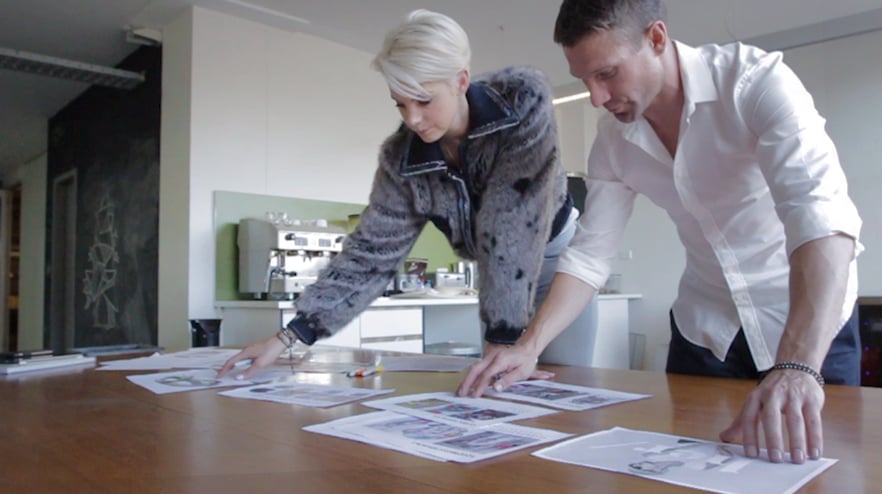 "When I found out about the concept and how more women would be educated in these developing countries, it really struck a chord with me and I connected with the project," says Kate.
Kate is also passionate about getting rid of the stigma and taboo surrounding periods, in both the first world and developing countries. "We've been getting out period since man began, it's not something new! Yet it's still so taboo!" She's definitely experienced some mixed reactions to her decision to put her face on a pack of tampons. "So many people I've talked to in the media, just in my industry, are just mortified that I'd even consider even going near a tampon. It is just amazing how put-off people are by menstruation."
While Kate gets a kick out of the shock factor, her real commitment to the cause is making life and education better for girls in developing countries, "Being able to use my profile to get behind something like this is very important to me. It is quite a vacuous industry that I work in, and it's nice to take on projects that can benefit others."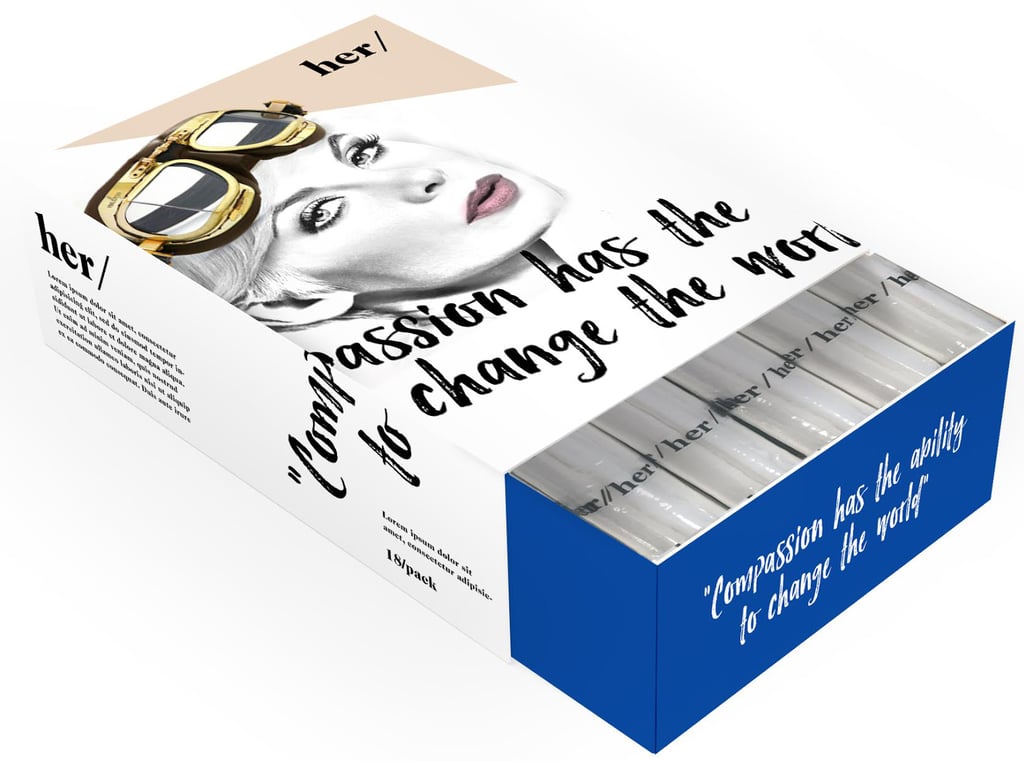 Her/ tampons are on their way, "We're currently at the mercy of the shipping gods!" says David. Once they hit Australia they'll be available through subscription order, and then David will be focusing on getting the attention of the big supermarkets. "[It's our hope that] Woolworths and Coles might stand up and see that this is a good brand, this is a good product, and will provide us the opportunity to retail the product through their outlets as well."