How to Help a Friend Going Through Hard Times
When Sh*t Hits the Fan: 7 Things You Can Do to Help a Friend Going Through Tough Times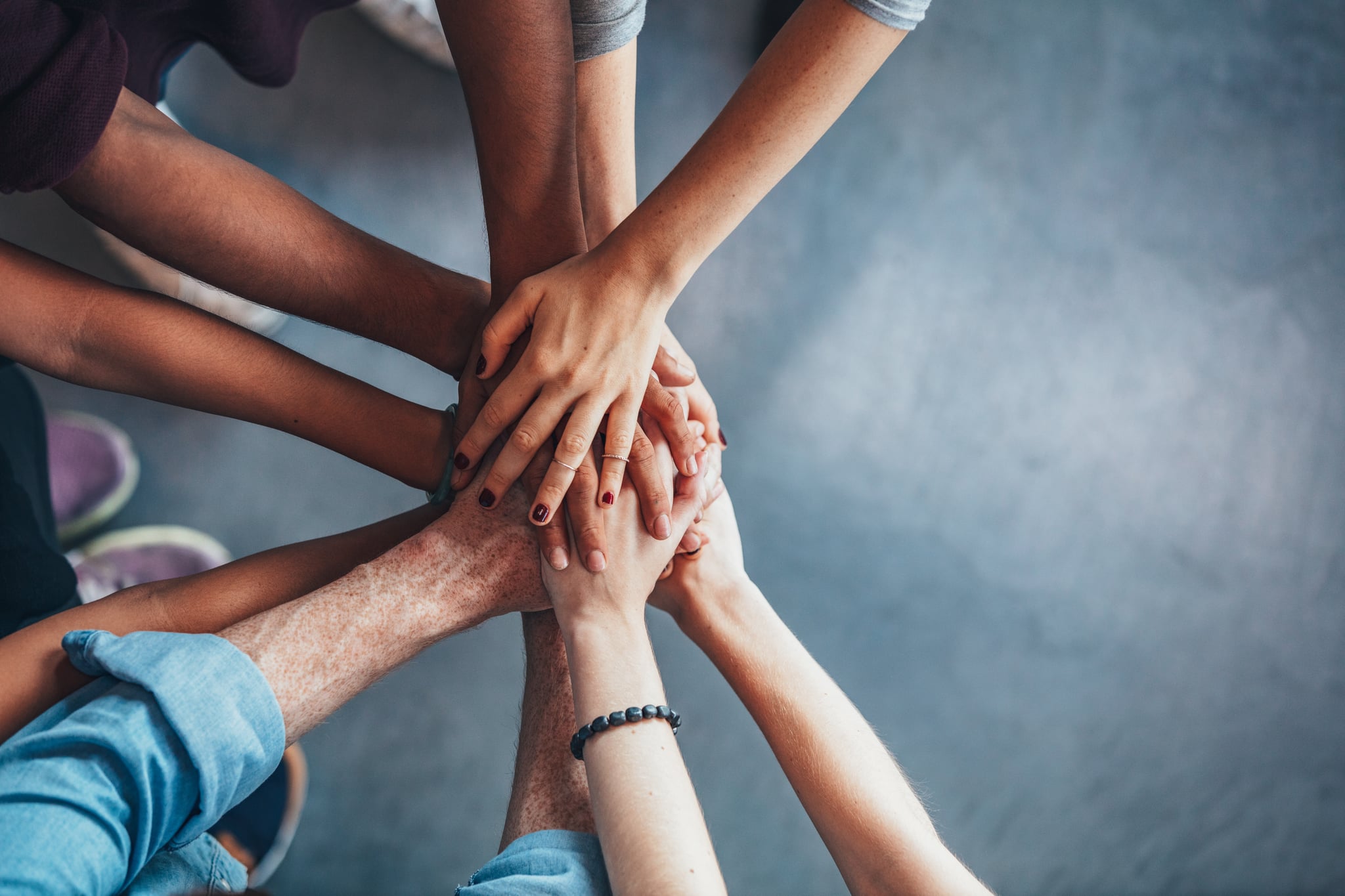 Being there for our girlfriends in our 20s was easy. Breakup with a boyfriend? Case of wine, a 90210 marathon, and gossiping in our pajamas until the wee hours. Lose a job? Let's do happy hour and relish the free afternoon, free from the chains of entry-level BS. Greater losses were (thankfully) few and far between, but if a friend lost a parent, we were all there at the funeral, dressed in the black dresses we already owned (and fit us perfectly), ready to fix her running mascara and carry her shoes.
But family life is different. Grown-up problems, grown-up losses. The loss of a child, a spouse. A cancer diagnosis. Divorce. Miscarriage. Losses of jobs that we've been in for 10, 15, 20 years. Facing workforce re-entry when we've been raising kids and our résumé is older than our underwear.
When the friends we've known since we were kids are suddenly reeling and we're across the country, there is an ache to drive over a bottle of wine and a box of Thin Mints and make it all go away. What can we do besides send sad-faced emoji, a bouquet of flowers, an offer to jump on a plane (even though we can't think through at the moment how we will make that work with all the meetings, classes, carpools scheduled this week)?
Hope is not lost — we just need to be real about the help we need in our lives at this point and make it more OK to ask for that help. Because by now we've all been there at one point or another and we know what happens when something in our life is falling apart — everything else goes by the wayside. Laundry piles up, dishes pile up, kids get to watch unlimited television. When we are in crisis, we let it go. This is where we can step in to help.
Clean House
The greatest gift I received from a friend when she heard my back went out was a gift card to a service like Cleanify. She knew I was lying flat on my back, wondering what tornado my toddler was setting off while my husband was juggling dinner, and the gift of a clean house brings peace. Find a national cleaning service — or if your friend lives in areas not typically serviced by national chains, google a local service — and make arrangements on her behalf.
Babysitting
Crises are never convenient. Whether it's for medical treatments, interviews, or helping an elderly parent, finding coverage for the kids is one more task to add to the pile. Find out what upcoming appointments she has and schedule a play date. If you are not local, see what services provide babysitters and collaborate with your friend to hire someone she likes. Send the kids a new activity to keep busy (mum-guilt-free), especially if they're dealing with funeral arrangements or divorce. These times can leave parents feeling (unfairly) neglectful, and you can ease the burden.
A Professional Spa Treatment
Mums always put themselves dead last. It's true. There is always something that needs to be paid first. Give them the gift of no choice by demanding that they hit the massage table. Or a Pilates or yoga class. But then be sure and offer to take the kids for a play date, lest the gift go sitting in a drawer for all eternity.
Tea (and Sympathy)
Send some delicious tea and a couple of the trashy mags that we used to splurge on when Sundays were for US Weekly. We all deserve to read something more up to date than the 6-month-old gossip that we get at the dentist's office, and when we need an escape from our current stressors, this is an affordable way to shut it all off for a few minutes. This will almost guarantee she actually finishes her mug while it's still hot.
A Meal Kit
Meal kits are awesome gifts for the right recipient. They take away the triple-whammy burden of budgeting, boredom, and buying at the store. It is the gift of one less errand at the end of an impossibly busy day. Mums get everything delivered (all chopped up, even impossible-to-find, expensive ingredients like lemongrass). They cook so their house smells nice. No mess. This is a tremendous gift for a friend who might be cooking alone for the first time in years — no more staring at recipes that bring back old memories.
Flower Bulbs
Nothing returns a person under stress to the fundamentals like a bag of daffodil bulbs. The effort of planting is positively disproportionate to the pleasure one derives from seeing the bulbs bloom. Gardening is good for the soul — out in the fresh air and one with nature (or, even just out on the patio for a spell). Consider this gift in lieu of the short-lasting bouquet you might otherwise send. Seeing flowers grow can be a wonderful reminder of a loved one's presence.
Home Spa Treatments
Do for others what they won't do for themselves. Beautiful and fragrant bubble bath together with a candle reminds a stressed friend that they are in your heart. And let's face it — no mum buys that stuff for herself. It's on you — her friend — to tell her to sink deep into a bubble bath in a bathroom lit by the flicker of candlelight.
We may not be able to wash our friend's worries away with a bottomless mimosa brunch any longer, but we can sure help get their kitchen floors washed, which at this point in my life is even better.
Laura Malcolm is the founder of Give InKind, a site whose mission is to change the way we give support during times of need.
Image Source: Istock