How to Write a Great Bride's Speech
8 Tips For Any Bride Wanting to Nail Her Wedding Speech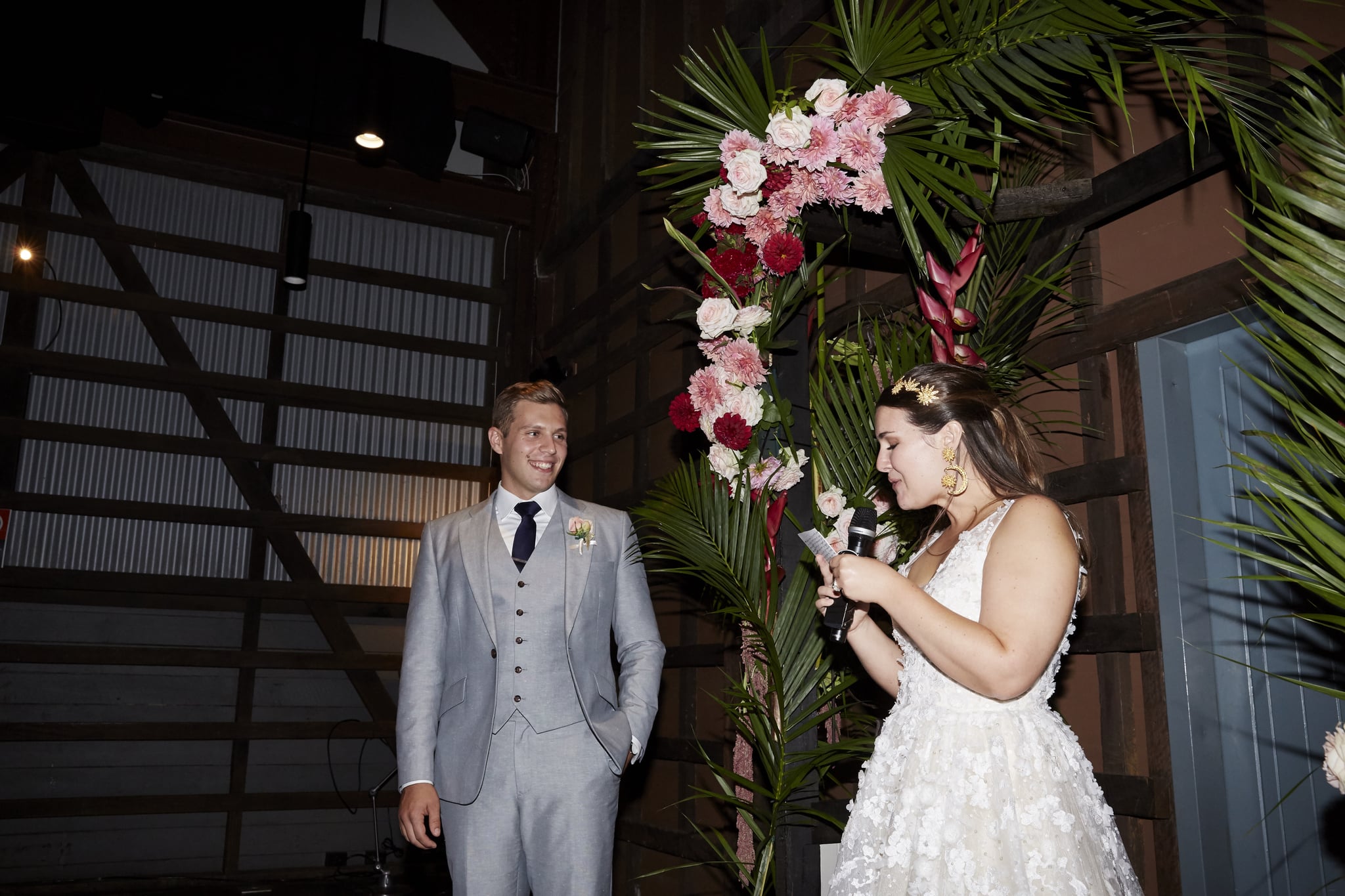 This is me, at my wedding, doing the one thing I was most worried about pulling off: my wedding speech. It's not traditional for the bride to speak, but I always love it when they do, and after all the thinking, planning, making, talking and prepping I'd done for that day, I'd be damned if I wasn't going to say my piece. I wanted to thank my family and friends, tell them how special they'd made me feel and most of all tell my partner how excited I was to be his wife (something I'd previously found slightly overwhelming).
The only people traditionally allocated mic time at a wedding is the father of the bride, the best man, and the groom. Sexist, much? At most modern-day weddings, you hear from both fathers, the best man, the maid of honour, the groom and less often, the bride. As such, it's hard to find advice for or a blueprint of the bride's speech. You know, just a little something to go off. So below, is just that: a polished version of the bits of advice I gathered from former brides, people in the wedding industry (I texted Alexis Teasdale, editor of Cosmo Bride a lot) and my own experience. 'Cause just quietly, I crushed it.
1. Make a Simple Outline
For me, it was: my new in-laws, my own family and the groom. This might change depending on what you want to do with your vows. If you are writing your own, and they are less vows and more personal/story-like, you might not want to spend as long talking about each other in your speech. You don't want to double up. My partner wanted to keep our ceremony very traditional, (he would have kept "till death do you part," if I didn't say it was creepy) so we used our speeches to talk about each other.
2. Start Taking Notes Early
You know your Notes app? Start using it to jot down any material that comes to you when you're out and about. Then, when you sit down to write it, you have something to go off.
3. Skip the Thank Yous
I kicked it off with a big thank you to all our guests, but if you start thanking individual friends, you won't know where to draw the line (it will be the guest list all over again), especially when you're looking into a sea of faces, all of whom you want to squeeze and smoother in kisses for being so great. Put your big thank yous in your wedding programme or do it in person afterwards.
4. Make Sure You Know the Mic Situation
A nerve-relieving trick for all public speaking is to know what you're walking into. Including where your standing, and what you'll be talking into. If there's no microphone at your venue, you'll have to practice projecting, or organise to get one. "I knew I wanted a lectern with a mic stand so that I could rest my notes on something and have both hands free," said Alexis. "So I bought one in."
5. Print it ALL out in BIG font
You know how in school they encouraged you to just put dot points on your note cards? Your wedding speech is not the time for that. You will be emotional and excited, which could either make you lose your words, or make you stray from what you really want to say. You want to keep it natural, but a slight detour can quickly become five minutes of unsolicited rambling. "Rambling is bad. Having it all written out will also prevent you from being thrown off by hecklers," said Alexis. Heaven forbid.
6. Practice
Half the battle is knowing your lines. You don't have to be looking in the mirror every time you practice, say it out loud whenever you can. "Practice in the car everytime you're alone," says Alexis. "You don't have to know it off by heart, but the more used to saying it out loud you are, the easier it will be."
7. Try It Out on an Audience
Two rules for who you choose as your audience: Firstly, that it's someone who wants to hear it and will give you positive feedback (even if it's while making some small suggestions), and secondly that it's not someone who features heavily in the speech. Definitely not your partner. Don't do it. Good candidates: Your work wife, someone in your girl gang and if it's more last minute, a bridesmaid.
8. Don't Leave It Until the Last Minute, But Keep Tinkering
Write early, but keep working on your speech right up until the last minute. You want it to be fresh and relevant to you on the day, and you'll go through a multitude of emotions in the 48 hours leading up to "I do", so leave it as long as you can to lock it in. I all but rewrote half of my speech the morning of the wedding, but it meant it captured all my wedding feelings. That said, if I didn't have time to tinker, I still had a speech ready to roll. Write early, but tinker until the last minute.