Is It OK to Join an Outdoor Wedding?
What Is the Etiquette For an Outdoor Wedding?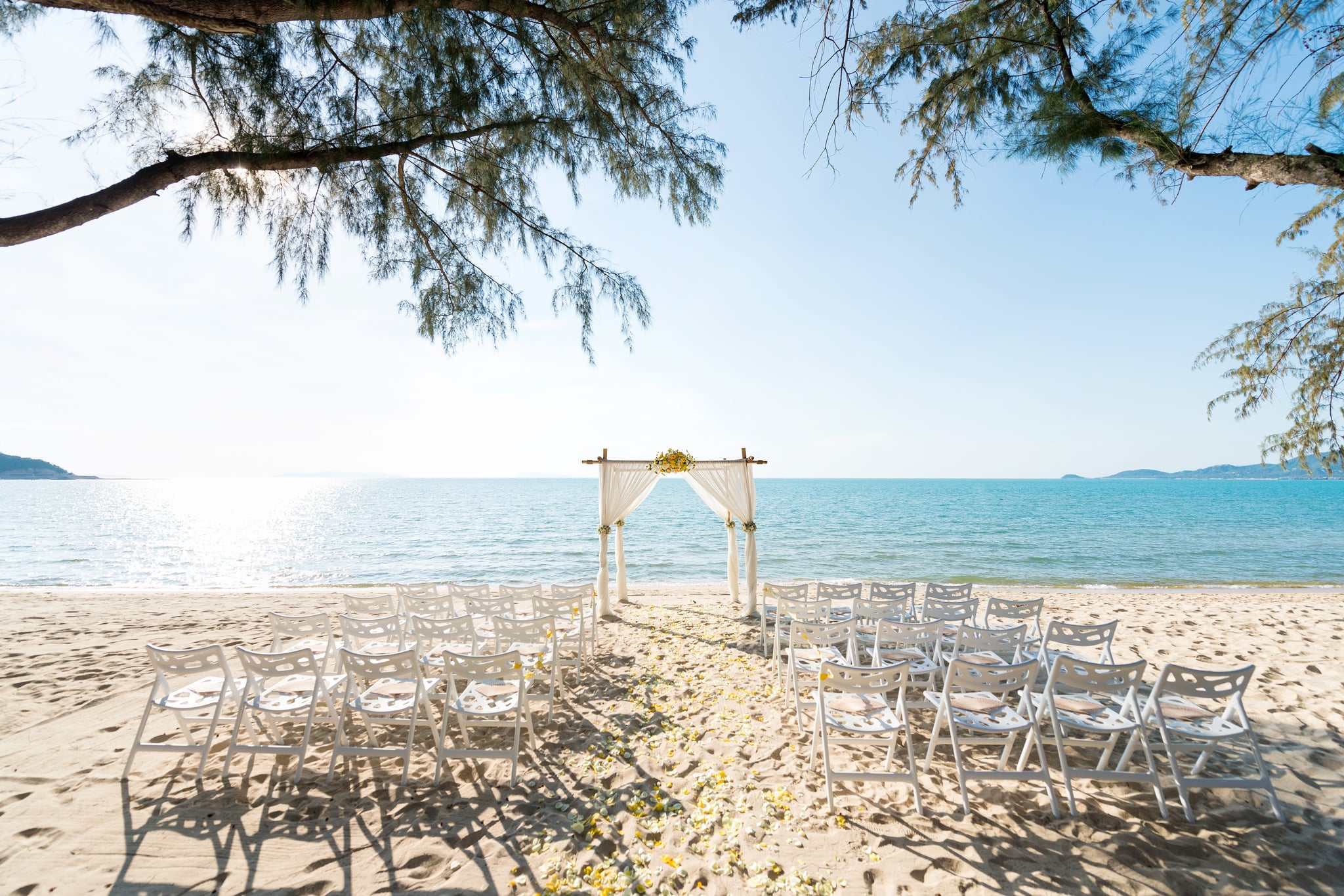 I went to lunch with a couple of girlfriends at the weekend and our coversation turned to weddings (I'm at that age where suddenly all the people around me are getting married and pregnant, so it's a common chat right now!). One of my friends had been to an outdoor wedding on the Saturday, it was at a beach in Sydney, and it happened to be 30 degrees that day.
The wedding was set up with a beautiful archway with the sea providing a stunning backdrop, chairs had been set up on the sand for guests to sit at — it was all incredibly picturesque. You want good weather for an outdoor ceremony, and this couple were blessed. Maybe too much so. The sunshine meant the beach was really busy. You need council permission to hold an outdoor wedding in a public place, and there is an option to make the area private but it's usually very expensive. This couple chose to share the space with the general public and hope for the best.
As the ceremony started, wedding guests dressed in their best attire began to congregate. The dress code was cocktail, which suited the chic, designer hotel reception which was to be held around the corner. But, of course, there were also lots of other people at the beach enjoying the hot weather. There were concrete steps behind the chairs, which were providing extra seating for the guest-overflow, but there was a couple sunbathing right in the centre of them and they seemed quite happy to sit there in their swimmers, oiled-up and watching the ceremony . . . surrounded by the guests in their cocktail frocks.
Another couple of gentlemen paddled up in their kayaks (right behind the ceremonial arch) and proceeded to get selfies of themselves in front of the bride and groom saying their vows. Other beachgoers simply wandered up in their bikinis and budgies to take a few snaps for themselves and watch the wedding unfold. Some of the guests were distracted from the incredibly romantic vows and beautiful ceremony by the beach-clad ring-ins . . . who seemed awkwardly close. But, this was an outdoor wedding, and you have to expect that, right?
Our lunch discussion left us divided. One friend thought it was fun, and random beach-guests should be embraced. Another was outraged, and thought that people ought to respect a couple's privacy to enjoy their ceremony with their chosen guests only. I thought it was fine, as long as the public were watching at a respectful distance — not right on top of them. It got me wondering, what do you think the observation ettiquette should be for an outdoor wedding?