How to Maintain Your Relationship in Self-Isolation
How to Maintain a Healthy Relationship With Your Partner During COVID-19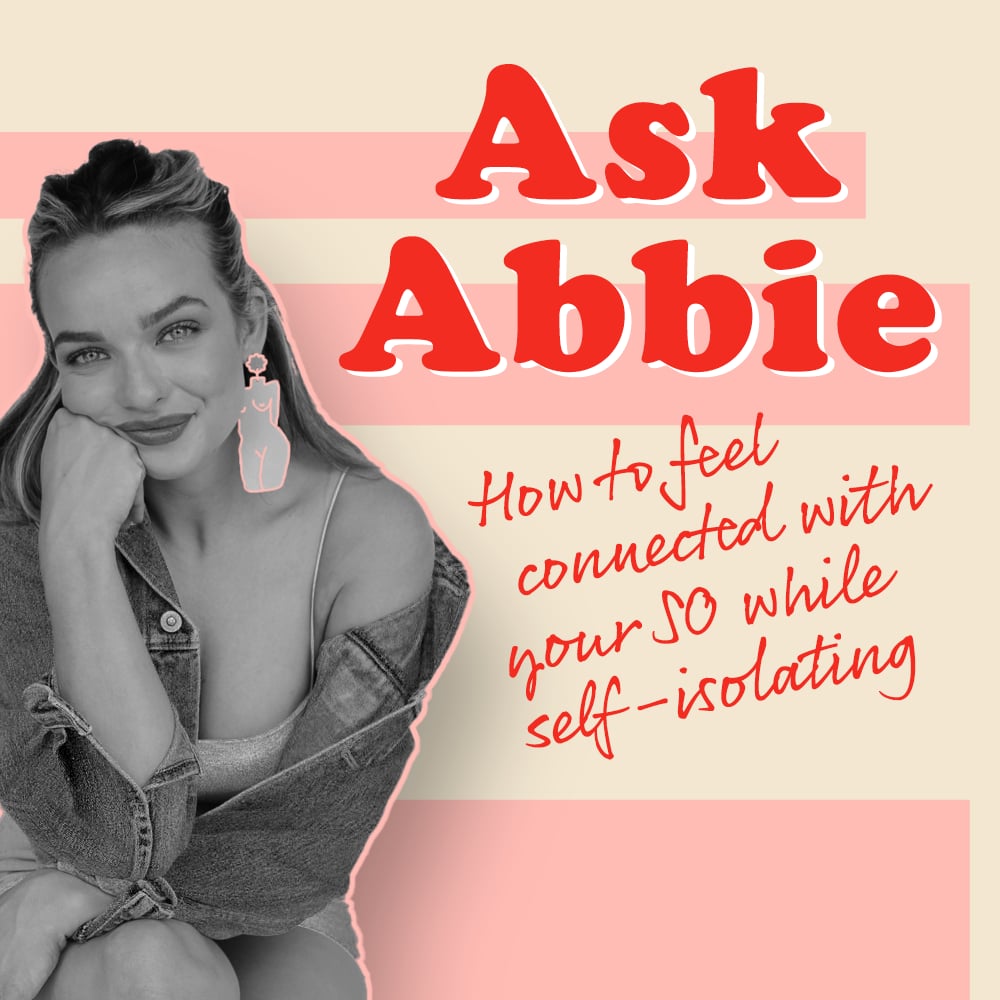 Reader question: My boyfriend and I are unable to see each other due to self-isolation. How do we keep our connection strong during COVID-19?
This is something I think a lot of people can relate to right now, not only in regards to romantic relationships but also friendships. Connections of all kinds are being threatened right now, previous routines and expectations have been thrown out the window and we are dealing with a collective societal anxiety which isn't particularly conducive to fostering romantic relationships. This time apart is going to be hard —I'm not going to act like with a certain number of FaceTime calls a week, you can get the same satisfaction as from a night in with your partner. But there are ways to minimise the feeling of loneliness and to perhaps find new ways to enjoy the company of your partner (or friend!).
Text less, video call more!
OK, so using video call seems incredibly basic and perhaps redundant to even mention right now. We are all using Houseparty to play games with our loved ones, and hopping on FaceTime more than ever before, but I want to encourage you to use these apps in a way that you may have not previously. As someone who has been in a handful of long-distance relationships, and also has a long-distance best friend, prior to this pandemic, I would video call almost daily.
I've found (through much trial and error) that scheduling a video call is important, verging on vital. It's essential to schedule a time that you know works for both parties, and to fully commit to the video call when it is in progress.
In addition to this, though, I would recommend texting one another less throughout the day. Video call daily if you want, but save all of your moments from the day for that specific chat. Why? Having a scheduled time to tell your partner all of your highs and lows of the day can be great for your mental health, as you know there will be a time for you to let everything out, but also is great for preventing conversation dwindling. When you're on FaceTime usually all there is to do is talk. You aren't watching a film or at the grocery store, you're there to connect emotionally, completely reliant on conversation to feel like you're bonding.
In my long-distance relationships, I found myself overthinking and self-sabotaging, spending all day texting my partner, and then finding I had not much of interest left to say on the phone. Keep yourself busy during the day, and schedule time just for you and your partner. It will stop you having half-arsed conversations via text, and gives you more structure to your days in isolation.
Use a video call as a door into your partner's world
Simple tasks that may have been taken for granted previously like grocery shopping or cooking dinner together are now on hold. In all my long-distance relationships, I have complained, "I just want to do normal things with you." This rings true now for more couples than ever. Use one of your scheduled calls to go grocery shopping at the same time, or while doing a mundane task like cleaning your bathroom. You don't have to talk the entire time, but it's a comforting feeling knowing that your partner is right there and it can almost feel like you're in the same room.
Sexting, so much sexting
Use this amazing guide by an amazing, genius author for some tips on how to sext and to keep things exciting (thank me later).
App-controlled couple's toys
There are so many types of sex toys that can be controlled by a partner remotely that will be useful not only during self-isolation, but also when things are back to 'normal'. (Does anyone remember how that feels? Nope, can't recall.) During this time apart, you can use a toy during phone sex and have your partner control the intensity or rhythm from their phone. You could also fall asleep with the toy inside you and let your partner wake you up at any given time by remotely turning the toy, and you, on.

Once this is all over though, nothing will go to waste! Don't worry. The toys can be used during foreplay, during intercourse for mutual pleasure, and also for discreet use or even just on nights when you are away from one another.
A final note: I know these tips and tricks won't magically make it feel like you're physically with your partner. It's going to be hard, it is OK to feel like everything is a little overwhelming and difficult, and your mental health may change the 'norm' in your relationship. But being able to adjust and accept that everything may not be 100 percent for a little while will help you tremendously. Now, go wash your hands.