How to Sext Someone
Abbie Chatfield on How to Sext While You're Social Distancing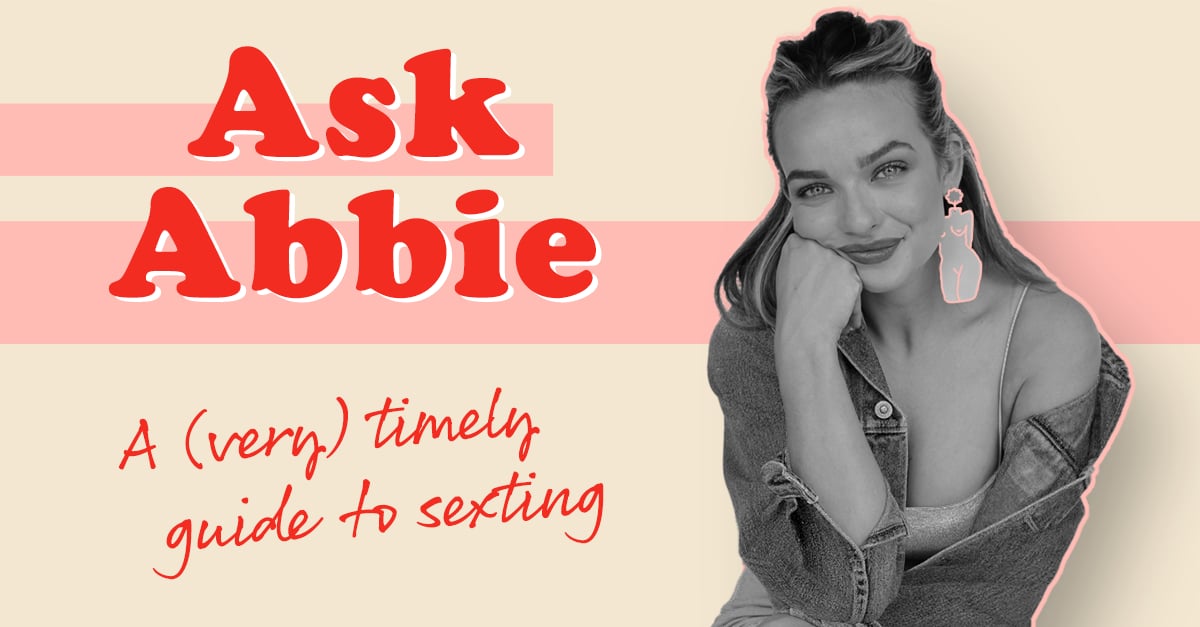 Reader question: I'm in a long distance relationship and find it hard to feel sexually connected to my partner. I'm really shy and don't know how to initiate sexting. Help!
Considering the current self-isolation situation due to COVID-19, I can tell you a lot of people are currently in your shoes. I would bet my bottom dollar the number of people entertaining the idea of venturing into the wide world of sexting is increasing as physical interactions decrease. Welcome to my world!
Some of you may or may not know this, but I am an avid sexter. Photos, videos, phone calls, FaceTime, written messages, voice notes, telegrams, Morse code, nudes via messenger pigeon . . . I'm keen on any form of virtual sex.
Not only is virtual sex important to everyone in long distance relationships (LDR) right now, but most people who don't live with their partner are probably not getting the sexual fulfilment needed to maintain a strong connection, and also to ease stress in this tense time. So, I'm going to use this question to not only speak to those who are in LDRs but also those who are in self-isolation relationships (SIRs . . . cute, right?) and also those who are casual sexters, because you don't have to be in a relationship to sext.
The fact that you have asked this question leads me to assume that you're comfortable to a certain degree with the concept of sexting, and you trust your partner, which is requirement number one when it comes to sexting (duh). So let's get down to it . . .
When to send the goodies
I'm not necessarily saying to schedule phone sex, because that sort of takes the romance and excitement out of the whole thing, but it's important that you're both in the right frame of mind to have a sexual encounter. It's a little harder to start the fire when you're not physically together. If you know your partner's schedule, try to figure out a time when they might be relaxed and more open to a sexual encounter. You can't force these things, particularly if it's your first time in the sexting game. With COVID-19 causing so many of us to work from home, this may be easier than you think right now!
As time goes on, you'll get more confident in your virtual sex alter-ego and you will send messages/nudes/voice notes at any given time of the day because you'll know what they like receiving and when.
What if I don't feel comfortable in my body?
OK, this is a big thing for many people, women in particular. We are shamed about every inch of our bodies. Whether it's an insecurity about your tummy, legs, boobs or vulva, I get it. Trust me, I do. BUT the number one thing I have realised as I've grown more comfortable in myself and my sexuality is that once you get to the point of a sexual encounter the other party involved isn't thinking about your perceived flaws. When it comes to sending nudes, or sexting, I can almost guarantee that throughout the lead-up, and once you get to the point of sending a nude, that person will be in awe of your body (and also your confidence!)
How do I even start the sext sesh?
As someone who suffers from anxiety, I hate when people tell me to "just relax", but it's impossible to have a sexual experience that is positive for both parties if you're stressed. We are living in extremely uncertain times, which can cause a high level of personal anxiety which isn't particularly conducive to an orgasm. Sex (yes, even virtual sex) reduces stress, but it's near impossible to want to be vulnerable while you're in survival mode. Before you pick up that phone, check in with yourself. Figure out what you want out of the session, and maybe touch yourself to ease some tension and get in the mood.
There is no need to dive right in with a full frontal nude straight up (although that can be fun). The thrill of sexting comes from the tension and the build up. If this is something you're just figuring out, the slow burn also helps you figure out your boundaries, and what you enjoy in this realm. Make the first move by sending a flirty, but maybe not explicit, photo. My favourite go-to? A singlet with no bra or a cute photo in a bra and jeans. It doesn't scream "bend me over the kitchen counter" but it opens the door to a fun exchange that can lead to something more . . . satisfying. Take the pic, caption it something simple and vague like "thinking about you" and go from there.
IF, and that is a big if, they don't pick up on these cues, be a little more explicit. If it's a partner you've had before, reminisce on a previous sexual experience you've shared. For example, "I'm lying here thinking about that time we went away for the weekend and barely left the bed." This should get the conversation going.
But Abbie, what do I actually say?!
OK! Even I admit, this is daunting. Sexting, and dirty talk in general, doesn't need to be complex or even very explicit to start with. You don't need to act like you're writing an erotic novel with Fabio on the cover. Keep it simple. The sex advice god Dan Savage has the best advice I've heard. If you're struggling with dirty talk, focus on three things: what you're going to do, what you're doing, what you've done (in no particular order). I've slightly adapted this to make it more relevant to sexting, and seeing this is Sexting 101, I've even given you examples to adapt to your own needs. Thank me later.
What you want to do . . .
"I can't wait to be with you and feel you touching me"
"I want to feel you inside me/be inside you"
What you're doing to yourself . . .
"I'm lying here wet/hard thinking about you"
"I'm trying not to cum thinking about you"
What you've done (in a previous encounter) . . .
"I keep replaying that time we [insert fun sexy time here], and I can't wait to [expand on fun sexy time]"
"Remember when we first met and spent that day exploring each other? My favourite part of that was . . ."
These can be used in any form of virtual sex, and before you know it you'll become so comfortable in saying what you want, and how you want it, that it will become second nature. I sometimes get stuck trying to impress a potential suitor and revert to these old faithful, and have a pretty high success rate.
And there you have it, the beginner's guide to sexting during COVID-19. Now get out there (and by out there, I mean please stay inside) and explore the big wide world of sexting from the comfort of your own home.