How to Talk to Your Partner About Having Kinky Sex
Abbie Chatfield Explains How to Have the Kink Conversation With Your Partner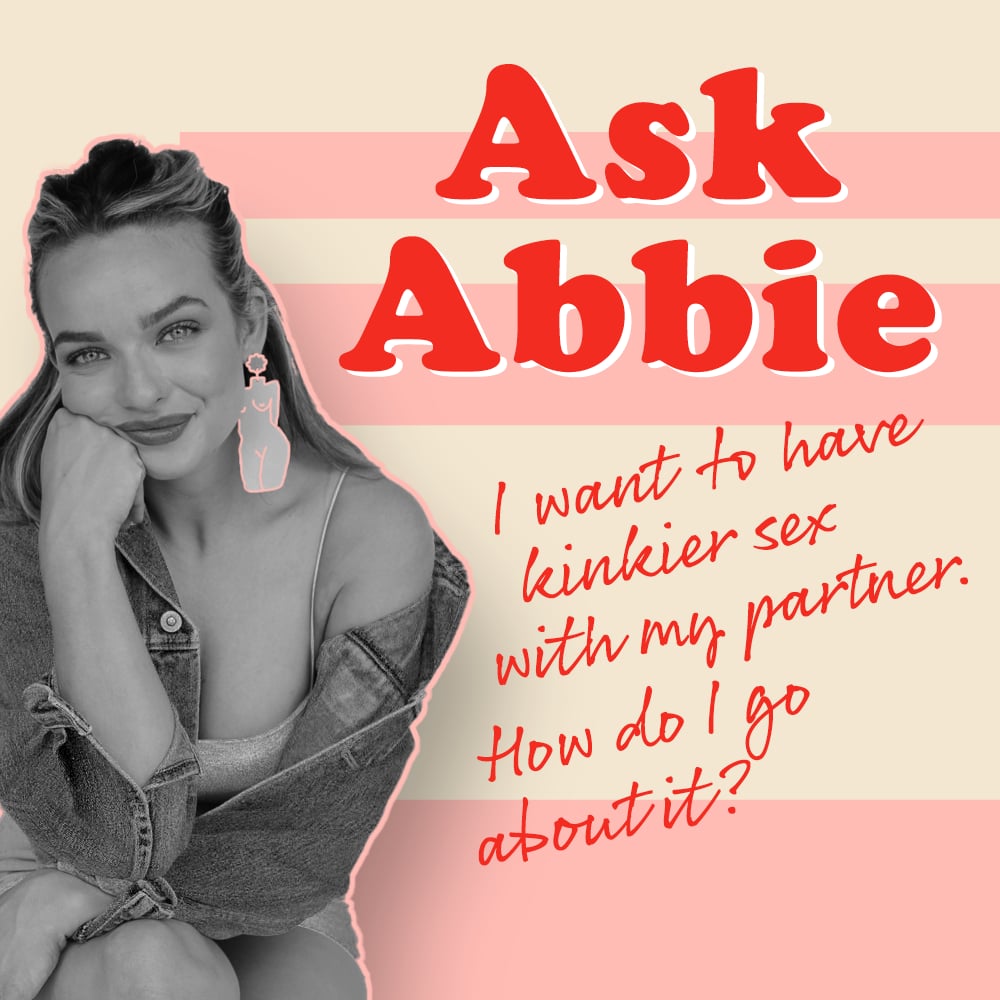 Reader question: I want to explore a more kinky sex life with my partner. How do I have the discussion and get started?
OK, here we go! This one is a little more complicated than others. There are so many different types of kink and equally as many ways to explore. It can be daunting telling a partner about your kinks. Society has constructed so much shame around "vanilla" sex, it's no shock that you may find it difficult to talk about your kinks to your partner.
Sooooooo, what's your kink?
I'm assuming that if you've asked this question, you have a specific kink in mind, but if you're just looking to "spice up your sex life", take some time to figure out what it is you actually want before talking to your partner. In recent years, thanks to 50 Shades of Grey, the go-to kink is light BDSM, with a submissive woman and a dominant man. While this is an absolutely valid kink (as all kinks are), you may assume you'll enjoy this dynamic without actually checking in with yourself to see which parts of this scenario you are drawn to. Even within this specific genre of kink, there are sub-categories that you may prefer more than others. You may like the bondage element, but not so much the flogging, or vice versa.

A great resource for finding out what actually turns you on is this Erotic Blueprint quiz by Miss Jaiya. The quiz will help you to understand your kinks and also find the right language to be able to do more research and then talk to your partner about changing things up.
Speak before you act!
It is essential that you talk to your partner, but not during sex. Figure out what your kink is, find the language for it and talk to them over dinner or another non-sexual time. Even though expressing your kink is important, and it is completely valid that you would want to incorporate it into your sex life, you need to give them an opportunity to give informed consent — asking for them to participate mid-coitus isn't exactly fair. A conversation also helps you explain why you want to add kink into the bedroom and what you like about it, and gives your partner the opportunity to talk about their kinks. Who knows, there may be something they've been wanting to try but have been too scared to bring up. During this conversation talk about hard and soft boundaries, and what you want to get from the experience.
If there is a certain aspect of the kink that either of you are unsure about, find some porn or erotica that exhibits your kink and watch it together. Test the waters a little and see if you are able to enjoy the experience. Having an example right in front of you gives you a chance for both of you to point out what you like and dislike. When discussing your hard and soft boundaries, you should also discuss a safe word. A safe word will stop all play, but I find it useful to also have a "proceed with caution word" for when you're enjoying something, but need to ease into it. For example, the word "notebook" might mean stop, but "pencil" might mean pause, check in and proceed in a different way. The better the communication is between the two of you, the more likely it is that you will enjoy the kink together.
Finally, it's time
After you have done your research, and spoken to your partner, you can act out your kink. Try to manage your expectations the first time you involve kink in your sex life. As we all know, porn is an edited and filtered version of sex, it's not going to show the mistakes. The messiness of sex still exists even with well-thought-out kink play. Expect to have fun, expect to enjoy the scene, but don't get turned off when something doesn't go exactly to plan.

As you get further into experiencing your kink IRL, you may find you enjoy certain aspects more or less than you anticipated. Try to keep having conversations about your kink experience and maintain a level of openness. There is a difference between enjoying watching someone in a BDSM scene, and actually being the person in the scene. Be sure to use your safe words as much as needed. For the experience to be enjoyable, there has to be continued consent on both sides.
So, there you have it, my very basic introduction to kink. The main point I want you, the reader, to take away from this is that communication is the foundation of any sexual experience, especially kink, so keep those lines open and enjoy.