Aziz Ansari Sexual Assault Alleger Criticisms
Grace's Encounter With Aziz Is Entirely Reflective of the Female Experience in 2018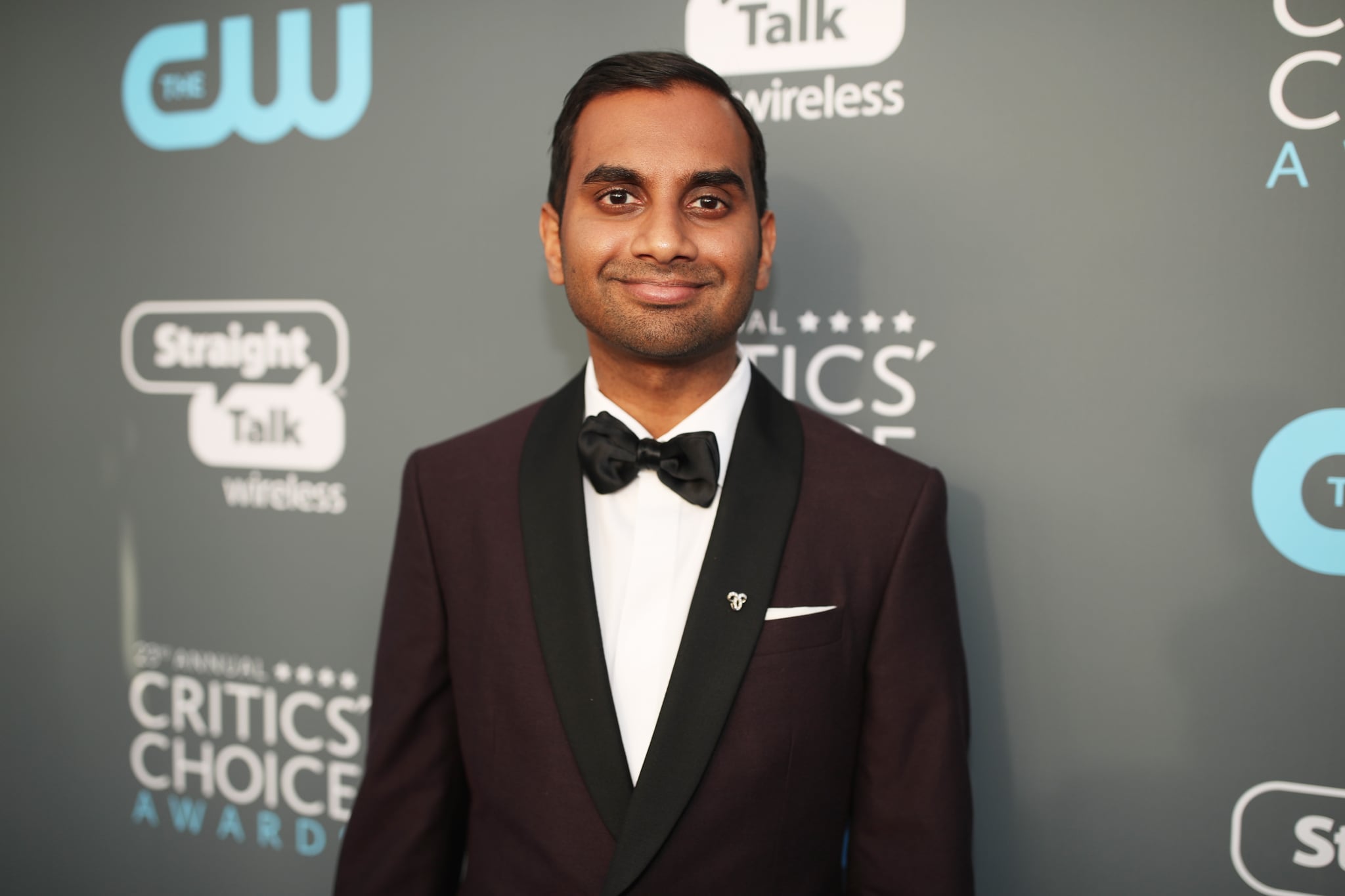 This feature is dedicated to our #NoChangeNoFuture initiative. From the Women's March, to Australia voting yes to same sex marriage, and the #MeToo movement, 2017 taught us to look beyond ourselves and come together as a collective of powerful women who are writing our own history. Join us as we cancel setting one-dimensional personal resolutions this January and commit to being the change we want to see. Because without change, there is no future.
Over the weekend Aziz Ansari became the latest Hollywood star to be accused of sexual assault. In the line-up of men who've had allegations brought against them, Aziz is one of the more surprising (if you can even still find any sexual allegation surprising anymore).
Aziz has spoken loudly about his stance on feminism and consent on talk shows, in his stand-up routines and through his award-winning Netflix series Master of None. Last week he was one of the men wearing a Times Up pin at the Golden Globes.
It was this last sartorial detail that spurred 23-year-old, Brooklyn-based photographer known only as "Grace", to share a detailed retelling of an encounter with Aziz where she felt he took advantage of her and ignored her requests to end his advances.
Grace's story, which was told to Babe, has been met with much criticism, particularly for the fact that Grace didn't just leave Aziz's apartment and the "niceties" that open and close her text message to him.
"This isn't sexual harassment, he isn't her boss and he didn't force her to do anything for a job-related favour. Just because she can't convey clear signs does not make him a sexual predator. She should have got up and left if she felt that bad," read one comment on Babe's Instagram post that's on the kinder end of the scale. "Seriously, this. There's no crime in being skeezy and pushing for sex because you're not aware the other person doesn't want it. Also worth noting that many women PREFER guys to take the lead and be more dominant. I know I've been in situations like 'Grace's' and I'm sure 90% of the women reading this have too . . . A guy wants it and we're not but when it happens, we put on our Big Girl pants and we extract ourselves from the situation so we don't end up on the news. Yes, it's different when a man is physically restraining you and having his way with you, but that's CLEARLY not what happened here," read another.
The comments have a point. In the encouraging "girl boss" landscape of the last few years, when surrounded by our friends and in the safety of our own space, we all believe we'd pull on our "big girl pants" when faced with a situation like Grace's. We'd tell him a firm "ABSOLUTELY NOWHERE!" answer to his persistent "Where do you want me to f*ck you?" and address him as "Dear pig" in the follow-up message. But it's not always so easy when it's suddenly happening to you.
Over the holiday season I woke up to sequence of messages from my own sister, Amelia, 27, describing an encounter she'd had with a male friend who stuck his hand up her skirt and grabbed her boob while they were out at a bar with a large group of friends. My sister, who is a force to be reckoned with — even on a bad day — was furious that it had happened, but even more annoyed that she hadn't made an example of him then and there.
"I really thought I would stand up for myself now"
"I'm so f*cking mad at myself for being the complacent female you get trained to be in the society of 'smile and walk away because it's just drunk silly boy behaviour'" she wrote me. "I haven't had someone be like that since I was in my early 20s and I really thought I would stand up for myself now, but I fully didn't and was like, 'yeah ha, bye mate, nice seeing you' like a f*cking idiot."
The next day she sent her own message to her aggressor.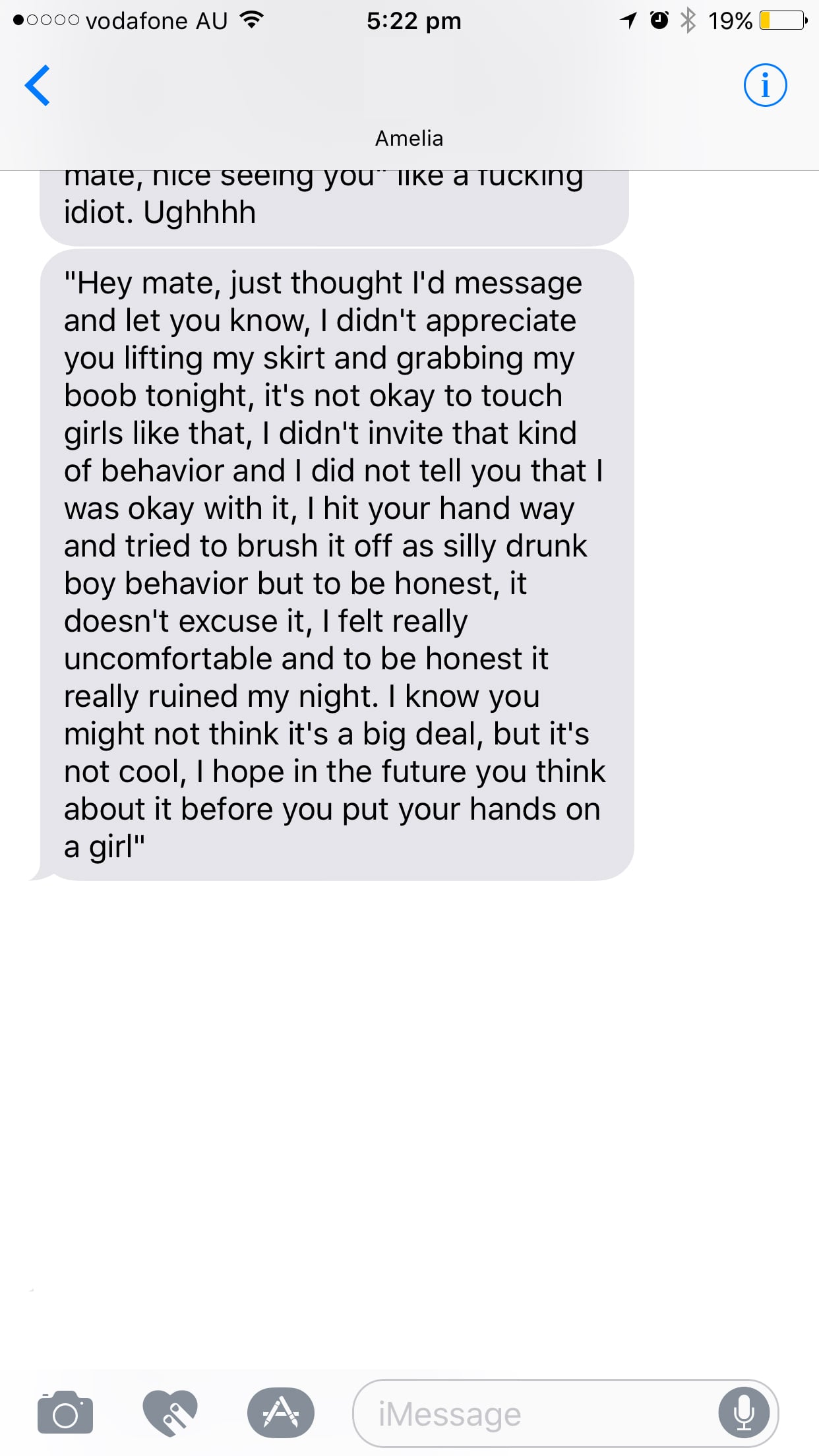 Amelia's encounter happened in moments, while Grace's was hours-long but both women felt disempowered.
There are other things that come into play when thinking about exactly why Grace didn't just leave. She says herself, that she liked Aziz. This is totally understandable. His pursuit was flattering, and he is a Hollywood "good" guy. Many women have been in a position where they find themselves trusting the social discourse over their own intuition. And there would be an element of shock in discerning whether he'd crossed the line.
The power in the situation is also heavily weighted to Aziz; he's a decade older, successful and established in a industry she's trying to break, and they are in his big, fancy home. Even now, it's "female nature" to keep the peace, avoid conflict, be kind. Plus, in a situation like Grace's, for any woman, there's always the looming possibility that being more aggressive in rejecting advances could make things worse.
With the stream of allegations of sexual assault against Hollywood and other industries' leading men, there is a lot to wade through. But it is not a time to decide whose sexual assault was worse, or which assaulter is worse. That is not our responsibility. It is our responsibility to work towards a place where women always feel empowered.
It takes more than a slogan to change the mindset, stereotypes and cultural understanding. Rather than criticising Grace for what she should have done, we need to be encouraging her, and women like her, to tell their stories. We need to stand up for other women we see in circumstances where they don't feel comfortable and we need to believe in ourselves. If you want to see the change, you have to be it.