DashCam Video of Man Punching Woman Road Rage Attack in NSW
NSW Man Punches Woman in Road Rage Attack — and Then It Gets Worse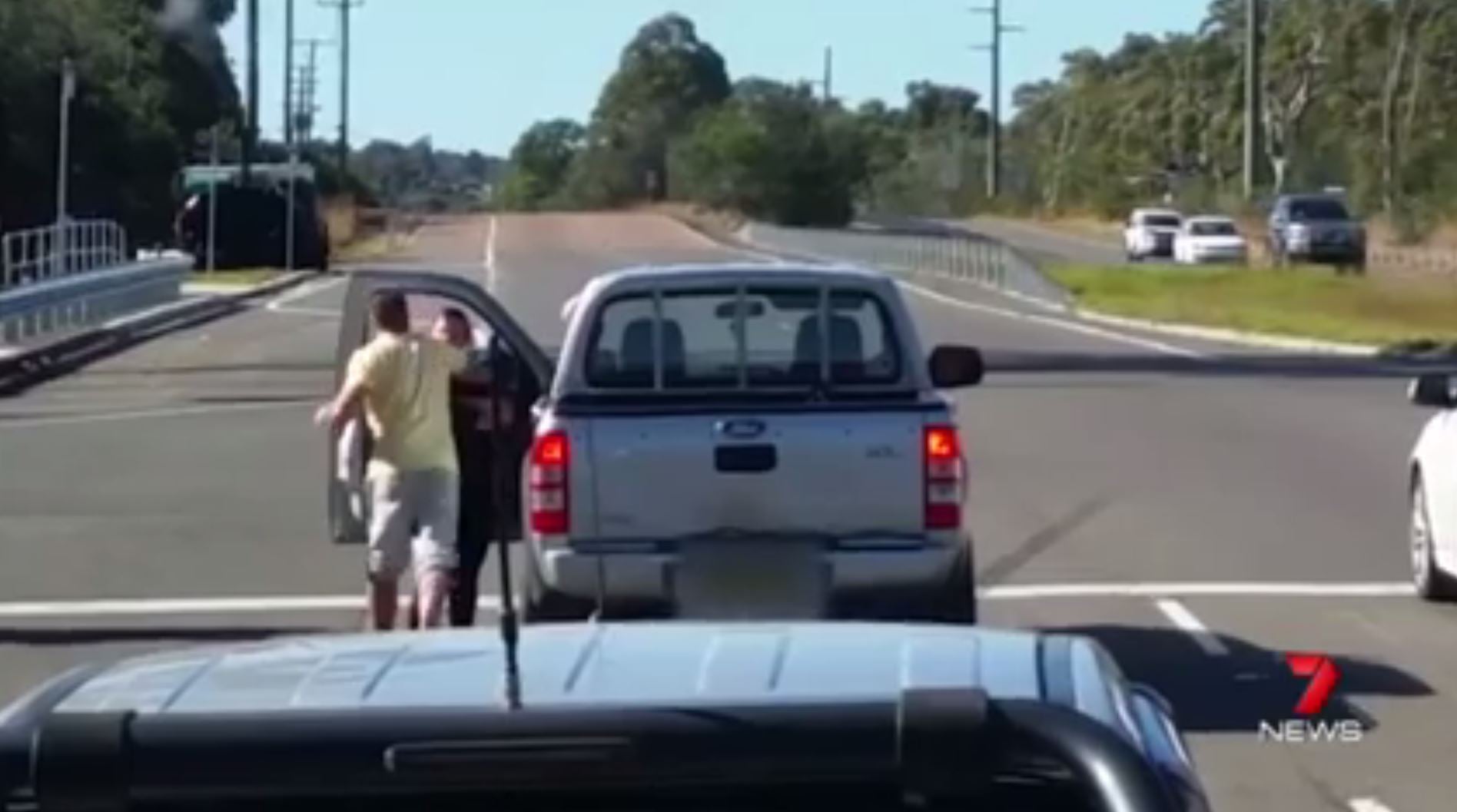 Update: A 41-year-old man handed himself in to Wyong Police station at 9 a.m. Wednesday morning, after footage of him allegedly punching a woman in the face went viral on Tuesday. A police report detailed that the man, from Windermere Park, has been charged with assault occasioning actual bodily harm. He was granted conditional bail and will face the local court on August 30.
Previously: Horrifying footage of a man punching a woman in a road rage attack at Lake Munmorah on the NSW Central Coast has gone viral, less than a day after it reportedly took place. Shared to Facebook by user Dwayne Pillidge, the 16-second video shows an unidentified man in a yellow shirt approaching the female passenger of the ute in front of him. Without warning, he punches her in the face and walks back to his car, while she rushes back into her seat.
Dwayne explained that the attack seemed to be the result of an earlier altercation, but that there's obviously no justification for this type of behaviour. "This is after the woman in the front car was tossing things from her window at his car," he wrote. "I don't care what your reason, it is not OK to hit a woman."
Unfortunately, not everyone agrees with him. In the hundreds of comments left below the clip, a vast majority of the (male) commenters are in support of the violent male. We won't repeat some of the comments here, but rest assured, they are pretty distressing.
Police are currently investigating the incident, with a spokesperson from the force telling POPSUGAR Australia that they are very keen to speak to any witnesses.
A police report filed this morning gave more details, with a press conference to be held shortly. "It's believed the incident occurred on the Pacific Highway at the intersection of Elizabeth Bay Drive about lunchtime," says the report. "A witness to the assault alerted police; however, those involved had left the scene when officers arrived. At this time there has been no formal complaint made."
Lake Munmorah road rage

Lake Munmorah: Police say they have been supplied with video that clearly shows the number plate of a vehicle being driven by a man who was involved in a road rage incident near Elizabeth Bay Drive yesterday. Report on 7 News at 6pm. Story: https://yhoo.it/2uTwNxY #LakeMunmorah #7News

Posted by 7NEWS Sydney on Monday, July 24, 2017
If you have any information in relation to this incident, call Crime Stoppers on 1800 333 000.